An elderly woman succumbs to dementia - or demons - in Natalie Erika James' accomplished genre debut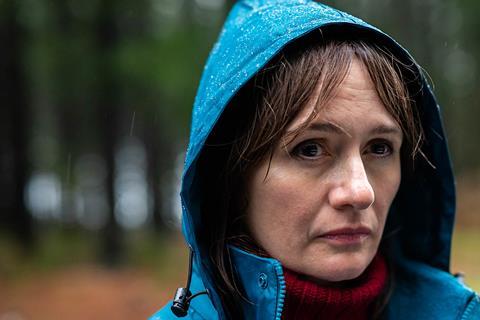 Dir: Natalie Erika James. Australia. 2019. 89mins
A murkily effective horror, Relic takes senile dementia as its central theme, reimagining it as a kind of creeping darkness which engulfs both sufferers and those who are left to look after them. It's a chillingly effective premise – after all, what is more horrifying than the gradual attrition of the personality and memories of a loved one until all that remains is a stranger? Strong central performances from Emily Mortimer, Robyn Nevin and Bella Heathcote, as three generations of women from one family, contribute to a sense of claustrophobic unease; a tone which is unnecessarily bludgeoned home by the over-excitable sound design.
Delivers enough panicky chills to ensure that horror fans will be watching James' future career with interest
The first feature from Natalie Erika James, Relic has impressive industry support: it was co-produced by Jake Gyllenhaal's Nine Stories and financed by Anthony and Joe Russo's AGBO, which also handles international sales. The film, which was developed through Screen Australia's Gender Matters program, follows in the footsteps of Jennifer Kent's The Babadook with a world premiere in the Midnight section of the Sundance Film Festival. And while it might not match that film's cultural impact, it is likely to appeal genre fans looking for punchy new talents.
Comparisons with The Babadook are apposite. Both are Australian productions; both are directed by women; both are distinctively female in their perspective, with terror and empathy working in tandem, with their emphasis on malignancy within the home and on the carer compelled to nurture something which may or may not be evil. Both films also have a complicated relationship with closet space.
But other influences are strong here. James nods to the Japanese horror of the 90s and 2000s. Sullen patches of oozing damp and mysterious stains on the walls suggest a kinship with Hideo Nakata's Dark Water, likewise the theme of abandonment which causes an unquiet entity to claim what it needs from the current residents of a building.
The building in question is a large, handsome house, isolated in woodland somewhere a couple of hours outside of Melbourne. It still looks impressive from the outside, but when Kay (Mortimer) and her daughter Sam (Bella Heathcote) visit, summoned when Kay's mother, Edna (Robyn Nevin) is reported missing, they find that the interior has begun to be consumed by chaos.
The same is true of Edna, when she mysteriously reappears sporting a bruise but refusing to talk about where she has been. Sometimes, she's sharp and lucid, her hair coiled in a neat roll. At others, she seems to be worlds away, straggly and unravelled, whispering urgently to herself and lashing out at her daughter and granddaughter like a cornered animal. The house, too, flips back and forward between somewhere homely and familiar and a place which grumbles and creaks its displeasure. It's a place which breeds shadows. There's an eye-straining lack of daylight which, while it does add to the atmosphere, can make it a little tricky to work out what is going on. It does, however, effectively cloud the question of which threats are real and which are imagined.
By the third act, such questions are moot as the screenplay, by James and co-writer Christian White, unleashes a long simmering family shame which has been trapped within the building and seeks to do the same to the women. In a way, this climax, with its clawed walls and airless crawl-spaces, is less interesting than the slippery psychological horror which leads up to it. But it certainly delivers enough panicky chills to ensure that horror fans will be watching James' future career with interest.
Production company: Carver Films
International Sales: AGBO films
Producers: Anna McLeish, Sarah Shaw, Jake Gyllenhaal, Riva Marker
Screenplay: Natalie Erika James, Christian White
Editing: Denise Haratzis, Sean Lahiff
Cinematography: Charlie Sarroff
Production design: Steven Jones-Evans
Music: Brian Reitzell
Cast: Emily Mortimer, Robyn Nevin, Bella Heathcote