A depressed Balkan widow plans her final days in Bojan Vuletic's dark comedy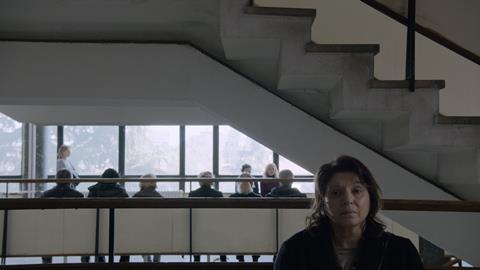 Dir/scr: Bojan Vuletic. Serbia/Bulgaria/Macedonia, 2017. 94 min.
Branded a black comedy by its author, it doesn't take very long to realise that Bojan Vuletic's new film is indeed very dark but comedy is in scant evidence. If the original intention was to offer a satirical portrait of a world derailed by political and economic transitions, the pain and sorrow do stand out but much of the irony is lost in this bleak story of a widow who sees no good reason to go on living in a world which has no use for her.
Vulatic's treatment of life in the Balkans, spiked with a touch of Kafka, doesn't offer much relief or hope
Eventually, as she prepares to commit suicide, her encounters during the few days she allows herself before pulling the trigger and the deadpan situations they provoke may ring bells and elicit smiles at home, but Vuletic's (Rendezvous in Belgrade) latest will need careful handling elsewhere.
Ms. J (soulfully played by Mirjana Karanovic) lost her husband one year ago. A former administrative secretary, made redundant with no redundancy pay when her last place of employment went out of business, she shares her flat with her two daughters, Koviljka (Danca Nedelkovic) and Ana (Jovana Gavrilovic) her ancient mother-in-law (Mirjana Mira Banjac). Ana's boyfriend, Milan (Vucic Perovic) may not live there but is never very far away.
Feeling lost in a world she no longer understands, the once spunky lady who kept everyone's spirits up with her singing now barely finishes a whole sentence, is unable and even uninterested in communicating with anyone, including her offspring. She feels she has nothing left to look forward to.
A week before the anniversary of her husband's death, she pulls out the pistol he left behind and in the course of the next six days she will try to find a bullet to fit in it. She approaches a stone mason to add her name to the tombstone, obtains a certificate covering her entire thirty-odd years of employment, fixes her her life insurance, even returns a chair to her downstairs neighbour. She tries, without much success, to placate her embittered older daughter, Ana, whose modest income keeps the whole family going and to warn her boyfriend that he will be soon in charge of the household.
But nothing is as easy as it sounds in a country still very much at grips with the instant shift from one economic system, communism, to another, capitalism, with all the inevitable upheavals whose traces and victims are everywhere.
Vulatic's treatment of life in the Balkans, spiked with a touch of Kafka, doesn't offer much relief or hope. More often bitter rather than sarcastic, relentlessly proceeding at the pace of a funeral march (appropriate, given its subject), Mrs J's message is underlined by Jelena Stankovic's precise camera work which never attempts to prettify the image but its detailed framing helps to stress the points it makes.
Holding the picture together, Karanovic is a consummate performer who never steps out of her role, her face a mask of bewildered defeat at things she cannot comprehend or care for anymore. Constantly pushed, be it by the dysfunctionality of her family, the vulgarity of peddlers on the street, the greedy salesmanship of the graveyard stonemason, the bureaucratic bluntness and corruption of state organisations, the desolation of abandoned workplaces or the sheer loneliness of her existence, she has given up. The plot's final twist brings in some sunlight, suggesting that even these clouds have somewhere, a silver lining, just enough to make life worth living.
Production companies: SEE Film Pro, Geopoly Film, Skopje Film Studio
International sales: Soul Food (tijana.visnjic@soulfoodfilms.com)
Producers: Nenad Dukic, Pavlina Jeleva, Tomi Salkovski
Executive Producer: Miroslav Mogorovic
Cinematography: Jelena Stankovic
Editor: Vladimir Pavlovski
Production design: Zorana Petrov
Main cast: Mirjana Karanovic, Jovana Gavrilovic, Danica Nedelkovic, Mirjana Mira Banjac, Vucic Perovic