Dir: Tim Story. US. 2016. 102mins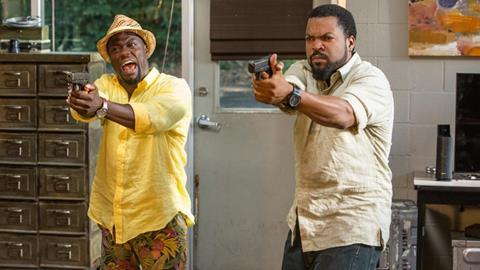 With a script that's about as inventive as the title, Ride Along 2 does little more than rehash the formula that two years ago teamed Ice Cube and Kevin Hart in an amiable if unambitious action comedy. Though a fresh setting and a couple of new characters might slightly broaden the sequel's demographic appeal, this cruising speed buddy cop outing isn't likely to earn the would-be franchise many new fans.
Hart and Cube revive their easy chemistry, but find nothing fresh to do with it.
With the same release slot as the original – which ended up grossing $134.9m in North America – the sequel opens in the US through worldwide distributor Universal on Jan 15, for the Martin Luther King holiday weekend. Openings in the international marketplace – where the original managed only $19.5m – follow through the early spring.
This time out, screenwriters Phil Hay and Matt Manfredi (one of the teams that worked on the original) have Hart's motor-mouth bungler Ben starting his career as an Atlanta cop and preparing for his wedding to the sister of Cube's hardass detective James.
Trying – pretty much as he did in the original — to show up his annoying brother-in-law-to-be, James lets Ben in on a trip to Miami to investigate an international drug ring. And Ben – pretty much as he did in the original – screws up repeatedly before ultimately saving the day.
Returning director Tim Story does a competent job guiding the stars through plenty of mildly amusing banter and some decent gunplay and car chases. Hart (Get Hard) and Cube (most recently seen in 2014's 22 Jump Street) revive their easy chemistry, but find nothing fresh to do with it.
New characters include a shady computer hacker played by Ken Jeong, in less manic mode than he was in The Hangover series; a sexy Miami homicide detective played by X-Men: Apocalypse's Olivia Munn; and a standard issue crime lord played by Law & Order's Benjamin Bratt.
The Miami setting gives the film an excuse to parade bikini-clad extras and adopt a Fast and Furious vibe that's accentuated by a cameo from that franchise's Tyrese Gibson.
Production companies: Will Packer Productions, Cubevision
Worldwide distribution: Universal Pictures
Producers: Will Packer, Ice Cube, Matt Alvarez, Larry Brezner
Executive producers: Nicolas Stern, Ron Muhammad, Scott Bernstein, Chris Bender, J C Spink
Screenplay: Phil Hay & Matt Manfredi
Director of photography: Mitchell Amundsen
Production designer: Chris Cornwell
Editor: Peter S Elliot
Costumer designer: Olivia Miles
Music: Christopher Lennertz
Website: www.ridealong.com
Main cast: Ice Cube, Kevin Hart, Ken Jeong, Benjamin Bratt, Olivia Munn