Young Scottish surfer Ben Larg tries to make a spash on the international stage in Martyn Robertson's warm documentary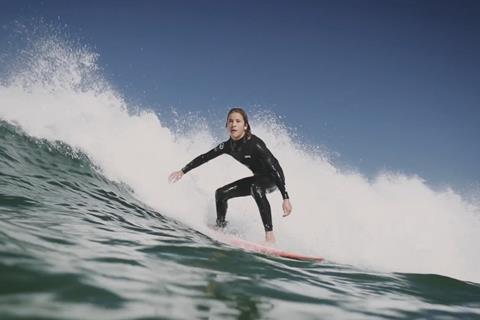 Dir: Martyn Robertson. Scotland, 2021. 86mins
Ben Larg was just 12 when he became Scotland's Under-18 Surfing Champion; Ride The Wave documents the years that follow, as he tries to break into international competitions. The record of his David and Goliath struggles and professional development should readily connect with surf and sports festivals. Yet it is the portrait of the concerns and challenges faced by his tight-knit family that make it more distinctive, and lend it a broader appeal for broadcasters following its world premiere at Galway's Film Fleadh.
Robertson's skill lies in maintaining a warm human touch throughout
Director Martyn Robertson takes a conventional approach to the smooth-flowing narrative. This is a film that sensitively eavesdrops on family life, as soaring drone shots provide the visual attractions of dramatic coastlines, blinding white beaches kissed by blood orange sunsets and mountainous waves crashing to shore in Scotland, Ireland, Portugal and Japan. Robertson's skill lies in maintaining a warm human touch throughout. Larg could become a world class surfer but he is still an adolescent who needs to tidy his room, take his turn at emptying the dishwasher and stop being so hard on himself. "I don't have much potential to get far, " he gloomily laments.
Ride The Wave charts Larg's physical and emotional growth as he leaves home on the island of Tiree in Scotland to compete against much older athletes at the International Surfing Association championships in Miyazaki, Japan and the European Surf Championships in Torres Vedras in Portugal. He is pesemistic about his potential but. nevertheless, we watch him turn into someone with the look of a stereotypical California surfer dude, with his lean frame and long hair bleached by the sea and sun.
Ben is accompanied on his travels by his loving father Marti, a joiner who runs a surf school on Tiree. As we come to know Ben's mother Iona and younger sisters Robyn and Lilly it becomes evident that he could not have a more supportive family. Ben's ambitions continue to grow as he sets his heart on becoming a Big Wave Surfer, testing himself against some of the treacherous waters around County Sligo.
The dilemma for Marti and Iona is how much to protect their teenage son and how much to allow him the freedom to pursue his dream, however dangerous that may be. Safety expert Peter Conroy provides able evidence of what could happen to him, along with footage of those who have suffered broken bones and life-changing accidents. It is enough to chill the heart of any parent.
Ride The Wave also provides a sense of the difficulties that Ben has faced on Tiree. Viciously bullied at school, he has been forced into the persona of a loner. His accomplishments as a surfer have marked him out from the crowd and made him a friendless outsider. One of the most heartwarming elements of the film is the way in which Ben finds his tribe within the surfing community, making friends and savouring the camaraderie offered by those who are equally committed to risking life and limb against nature in the raw.
Production companies: Blackhouse Films, Urbancroft Films
International sales: Met Film Sales vesna@metfilm.co.uk
Producers: Martyn Robertson, Louise Storrie.
Cinematography: Jamie Dempster, Julian Schwanitz
Editing: David Arthur
Music: Scott Twynholm