Filmmaker Dominik Mencej announces himself as a significant new talent with this achingly tender road movie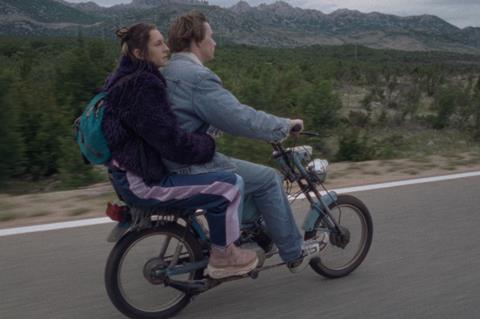 Dir: Dominik Mencej. Slovenia/Serbia/Italy/Croatia/Bosnia and Herzegovina. 2022. 107 mins.
A beautiful kind of aching tenderness suffuses 1999-set Slovenian road movie Riders (Jezdeca), the blandly-titled but quietly excellent debut feature from director and co-writer Dominik Mencej. Adjectives such as promising and auspicious don't quite cut it: the picture, bowing in the main competition at Sarajevo, feels very much like the arrival of a fully-formed new European talent.
One of the most convincing and unsentimental evocations of loving friendship in recent memory
Plentiful further festival play is amply deserved for this multinational co-production. And while a low-budget indie hailing from a relatively obscure corner of the former Yugoslavia — its cast toplined by a quartet of youthful unknowns — may appear a tough theatrical sell, adventurous distributors should certainly give this lyrical gem a close look.
The most effective exercises in nostalgia are often of the double-layered variety: revered classics such as George Lucas' American Graffiti and Peter Bogdanovich's The Last Picture Show are set in a relatively recent past and deal with young characters who themselves hanker after even earlier eras. Pretty fast company, but then again those were sophomore features for both Lucas and Bogdanovich — Mencej's sole previous big-screen credits are a pair of shorts (most recently 2014's The Springtime Sleep) which won domestic prizes but made little impact elsewhere.
Mencej's eponymous riders are a pair of 23-year-old lads: mild-mannered Tomaz (Timon Sturbej) and hot-headed, punkish Anton, nicknamed Tunc (Petja Labovic). Lifelong best pals, they find themselves becoming frustrated with the limited horizons of their remote village. Inspired by a viewing of Dennis Hopper's 1969 countercultural landmark Easy Rider on VHS tape — amusingly mislabelled "Easy Riders" — the pair take to the road. Their somewhat rickety conveyances are mopeds, customised by car mechanic Tomaz to fancifully resemble the Harley Davidsons on which Hopper and Peter Fonda famously roared across the USA's wide-open freeways.
In classic road-movie fashion, what follows is an episodic picaresque with a loose, mainly improvised itinerary. Widescreen visuals by cinematographer Janez Stucin capture underpopulated Slovenian and later Croatian landscapes with a grainy, Super 16 look that is more a matter of gritty charm than picture-postcard prettiness.
During their travels, the duo experience various adventures and scrapes, as well as several encounters with the opposite sex. Most prominent of their fellow-travellers is the initially gruff-seeming veteran biker Peter (Nikola Kojo), who provides something of a father figure for two young men previously lacking in same.
Easy Rider (not one frame of which is glimpsed here, surprisingly) is only the most prominent among several cinematic reference points for Mencej and co-writer Boris Grgurovic. There is more than a whiff of Monte Hellman's Two-Lane Blacktop too — dark-haired, charismatic Labovic a dead ringer for James Taylor — and echoes of Gus Van Sant's My Own Private Idaho.
Tomaz, superbly incarnated by Sturbej in what should be a star-making performance, comes across like a central-European cousin of River Phoenix's narcoleptic Mikey. This blond, vulnerably innocent and ardently spiritual dreamer spends considerable chunks of the running time asleep and/or experiencing religious-themed visions — the film opens, disorientingly, amid one such dramatic hallucination.
Unfolding in audaciously non-linear fashion but always easy to follow, Riders — whose opening credits drop some 20 minutes in — plunges the viewer into Tomaz's idiosyncratic mindspace via impressionistic montages thanks to consistently virtuoso work from editors Andrej Nagode and Matic Drakulic. Indeed, so entrancing is the flow of images, sounds and sequences that these two cutters arguably deserve just as much credit as Mencej and Grgurovic (the very last shot wraps proceedings up in deeply satisfying fashion).
A fleeting cameo by Slovenia's greatest post-independence screen performer Peter Musevski — who died in March 2020 — reveals that Riders was filmed some time ago (in fact, summer 2018) and thus enjoyed a protracted post-production, presumably pandemic-extended. If so, lockdown time was notably well-spent. Much more than merely the sum of its big-screen antecedents, this emotionally resonant, multilayered picture is an amiably unfussy immersion in a bygone time — the richly textured backdrop for one of the most convincing and unsentimental evocations of loving friendship in recent memory.
Production companies: Staragara, Antitalent, Sense Production, Transmedia, Novi film, RTV Slovenia

International sales: Staragara, office@staragara.com
Producers: Jozko Rutar, Srdjan Sarenac, Igor Princic, Milan Stojanovic, Miha Cernec, Danijel Pek

Screenplay: Dominik Mencej, Boris Grgurovic

Cinematography: Janez Stucin

Production design: Iva Rodic

Editing: Andrej Nagode, Matic Drakulic

Music: Luca Ciut

Main cast: Timon Sturbej, Petja Labovic, Elma Jukovic, Nikola Kojo, Anja Novak