Dir: Laura Poitras. Germany/US, 2016, 84 mins.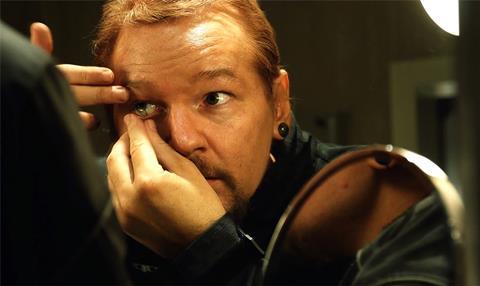 Sometimes all a documentary needs to do is to get us in the room with somebody we're curious about. Laura Poitras did this, and a lot more, in Citizenfour, by taking us to meet US whistleblower Edward Snowden; she pulls off the same trick in Risk, a film which tracks WikiLeaks founder Julien Assange and his team between the summer of 2011 through to the present day. The film includes extensive footage shot inside the Ecuadorian embassy in London, where the Australian journalist and cyber-activist, under order of extradition to Sweden for questioning on allegations of sexual offences, was granted asylum in August 2012.
"What you need to understand about me is that I'm obsessed with our political struggle. I'm not a normal person".
Those familiar with Poitras' work will know not to expect an even-handed 'for and against' documentary; it's telling, in this regard, that the names of Assange and his closest advisors unspool in the final credits as if they were the stars of the movie. They are, of course: Poitras, herself the target of an undercover US government investigation, combines an undisguised sympathy with the WikiLeaks mission with a savvy instinct for storytelling through characters, enacting Jean-Luc Godard's belief that all great documentaries tend towards fiction.
But neither is this a hagiography: the Assange that emerges from Risk is a complex figure, his passion merging at times into the obsession of the conspiracy theorist, a man with the haunted look of someone who seems voluntarily to have put large parts of his humanity, not to say personality, on hold in order to dedicate himself body and soul to a cause.
After its Cannes Quinzaine premiere, Risk will be embraced wherever there is an interest in the subject and a debate about questions of internet democracy and censorship. And despite the necessarily handheld, available-light nature of much of the footage, it all looks presentably cinematic, thanks to some sharp, sensitive camerawork by DoP Kirsten Johnson and a soundtrack that weaves in tracks by David Bowie, Nine Inch Nails and Radiohead.
The film is divided into ten chronological chapters, some introduced by explanatory intertitles of tweet-like brevity that fill us in on the main facts. In addition to Assange, the major players are WikiLeaks' former Investigations Editor and de facto spokesperson Sarah Harrison, and one of the organisation's most active advisors, US journalist and computer security expert Jacob Appelbaum.
Harrison features in the documentary's tasty opening scene, set just before WikiLeaks' release of a huge archive of unredacted US government cables, when we sit in on a phone call she makes to the State Department in Washington – a conversation which Assange himself soon takes over. The preppy, peppy Appelbaum's moment of glory – and it's a courageous one on his part – comes during a Cairo IT conference when, from the podium, he turns to some of his fellow speakers, the CEOs of Egyptian service providers and phone companies, to accuse them of complicity in the Mubarak regime's crackdown on Twitter and the blogging community.
Along the way, the cases of Bradley (or Chelsea) Manning and Edward Snowden hove into view: in Washington, a WikiLeaks lawyer protests against Manning's "inhuman and degrading treatment", while Harrison disappears briefly from the picture, and straight into the director's previous, when she flies to Hong Kong to assist Edward Snowden.
But Assange is the main focus here. In one revealing passage, it's made clear that he really does believe that those sexual offences charges are at least in part the result of a "feminist conspiracy"; at the same time, he is shown to be a passionate and articulate speaker, though one with a slightly chilling tendency to make calculations about the number of people that need to be sacrificed in order to win a political battle. We see him preparing for his flight to the embassy, hair dyed auburn, in tinted contact lenses, wearing wraparound shades and a biker jacket. We also see him, through a monitor connected to embassy CCTV cameras, keeping watch on the police who are keeping watch on him, and later, after boxing with a personal trainer, gasping for air by a just-open window.
The arrival of Lady Gaga at the embassy to interview Assange supplies a moment of light relief, but also one of the film's revealing moments, as the pop star lounges in a chair filming the WikiLeaks founder on her compact camera. Whether out of sheer idiocy or calculating genius, she drawls "What's your favourite kind of food?". A strained, uncomfortable, exasperated Assange begins to sketch out some kind of answer but interrupts himself to say "What you need to understand about me is that I'm obsessed with our political struggle. I'm not a normal person".
Production companies: Praxis Films, Field of Vision, First Look Media
International sales: Submarine, josh@submarine.com
Producers: Brenda Coughlin, Laura Poitras
Executive Producers: Sam Esmail, Michael Bloom, Adam Pincus, Charlotte Cook, AJ Schnack, Jess Search, David Menschel, Josh Braun
Cinematography: Kirsten Johnson
Editor: Melody London, Laura Poitras
Music: Jeremy Flower
Featuring: Julian Assange, Sarah Harrison, Jacob Appelbaum
Main cast: Julian Assange, Sarah Harrison, Jacob Appelbaum