A successful lawyer's life begins to unravel in 1970s Argentina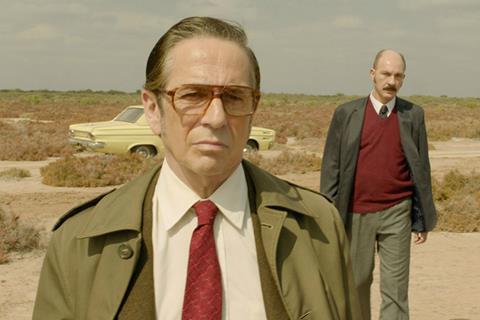 Dir/Scr Benjamin Naishtat. Arg-Bra-Fr-Neth-Ger. 2018. 109mins
Deceptive appearances and fatal disappearances convey the rotten heart of 1970s Argentina in Rojo. Writer/director Benjamin Naishtat's subtle, twisting, state-of-the-nation drama works effectively as a noir-like thriller, and as an exploration of a country that has lost its moral compass. The intriguing, unsettling material and commanding performances should earn this festival invitations and commercial attention following its world premiere at Toronto.
The murky morals of the period are matched by the director's choice of a muddy visual palette
A lengthy pre-title sequence sets the tone as we witness a collection of ordinary citizens quietly looting an abandoned home. Naishtat (History of Fear (2014),The Movement (2015)), places his initial focus on Claudio (Dario Grandinetti) and his family. A respected provincial lawyer, Claudio is a pillar of the community in the Granada of 1975. He looks like a man with nothing to hide. Grandinetti plays him with the quiet authority of someone accustomed to respect. One Saturday evening, he is confronted by a stranger in a busy restaurant. The encounter is tense and ill-mannered as the two men square off like western gunfighters. The situation escalates from verbal sparring to physical violence before the story advances to events three months later.
Already we are hooked enough to speculate on what transpired, who truly carries the blame and what it reveals about life in this tight-knit community. The focus gradually spreads to reveal a world in which nothing is pure and nobody is completely innocent. It is an era when there are lucrative deals to be made that are not entirely legal, when those who insult or offend you might leave a party and never be seen again. Everyone turns a blind eye, nobody is willing to rock the boat and the sense of paranoia suggests a whole community infected with an incurable amorality.
The murky morals of the period are matched by the director's choice of a muddy visual palette. Claustrophobic offices have walls covered in wooden panels, nights are treacly, danger lurks in the shadows and there is something altogether oppressive and unhealthy in a film that feels stained with guilt. At one point there is an eclipse in which the sun is obscured and the world grows dark in the long shadows much, one assumes, like Argentina at this period.
Late in the day, Columbo-like detective Sinclair (an enjoyably theatrical Alfredo Castro) arrives from Buenos Aires to investigate a missing person. His presence could spell a long-awaited reckoning or a further reflection of how much the country has abandoned any pretence of law and order.
Naishtat draws out the individual stories, building a wider perspective on this society and offers enough quirky moments and unexpected developments to keep the audience on their toes. The lively musical score from Vincent Van Warmerdam runs a gamut of influences from the jazzy melancholy of Bernard Herrmann's Taxi Driver to the insistent call of Michael Nyman.
Production company: Pucará Cine
International sales: Luxbox info@luxboxfilms.com
Producers: Barbara Sarasola-Day, Federico Eibuszyc
Production design: Julieta Dolinsky
Editing: Andrés Quaranta
Cinematography: Pedro Sotero
Music: Vincent Van Warmerdam
Main cast: Dario Grandinetti, Andrea Frigerio, Alfredo Castro