Debut animation from UK-based Locksmith Animation is deft and appealing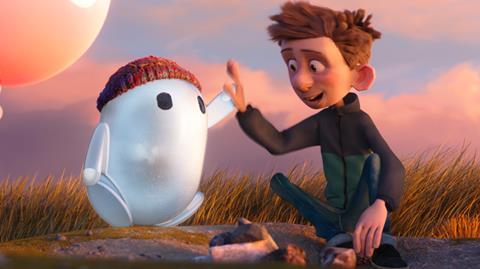 Dirs. Sarah Smith, Jean-Philippe Vine, Octavio E. Rodriguez. UK. 2021. 106 mins
In a technologically super-connected world, popularity can be quantified in likes; friendships measured in algorithmic overlaps. And loneliness, as socially awkward Barney Pudowski (voiced by Jack Dylan Grazer) knows only too well, is magnified by the deafening digital silence that results when you are the only kid at school without a B*Bot, a customised robot pal which curates your social landscape. The first feature from London-based high-end digital animation studio Locksmith Animation, Ron's Gone Wrong transcends the familiarity of the story (there's a thematic an overlap with Big Hero 6 and How To Train Your Dragon, to name just two) with deft writing, appealing animation and a big heart crammed into a small malfunctioning robot.
Transcends the familiarity of the story
Locksmith was founded by Arthur Christmas director Sarah Smith and Shaun The Sheep producer Julie Lockhart with the aim of matching the quality and the commercial heft of the output of the top US animation studios. Of the directing team, Jean-Philippe Vine cut his teeth in the animation department of several Pixar films, and Octavio E. Rodriguez worked as a story artist on Coco and Incredibles 2, among others. While it's not quite Pixar-slick, Ron's Gone Wrong, which will be released by Disney/20th Century Studios on October 15th in the UK, and October 22nd in the US, certainly feels like a step in the right direction. However the decision to set the film in America, albeit a fictionalised near future version of the US, seems like a missed opportunity to to establish a distinctively British flavour to the studio's output.
Twelve-year-old Barney is a little bit different from the other kids. His mother died when he was young; his father is struggling to keep his failing novelty toy business afloat. And his Hungarian granny (Olivia Colman) is full of love and garlic sausage, but her words of advice ("a wise man can pickle anything, even a glove") are of little use to a boy who is still scarred by the disaster of his sixth birthday party. For this year's birthday, Barney hasn't even bothered to hand out the invitations. Meanwhile, his father realises that the gift of a set of rock hammers is not going to cut it, and that Barney desperately wants to fit in with his peers.
His father bypasses the three-month B*Bot waiting list and obtains one which – literally – fell off the back of a lorry. Ron (Zach Galifianakis), as Barney calls him, is defective. His data failed to completely load and he isn't connected to the B*Bot network. His safety controls are incomplete. But what at first seems to Barney to be the latest humiliation in a lifetime of disappointments starts to take on a new dimension when his renegade bot attacks a bully in a playground. And Barney realises that, at long last, he's having fun.
The film makes some solid points about the detrimental effects of too much screen time, about data capture and the evil tendencies of big tech. But there's a lightness of touch which should ensure that younger audiences are on board with the message rather than put off by it. Older animation fans might find the look of the picture familiar – the character design, for example, is not dissimilar to that of Arthur Christmas. But there's a sequence in which Barney and Ron hide out in the woods which is strikingly beautiful, harnessing light and nature in a shimmering counterpoint to the gaudy tech-based world of the school yard. And the film is full of nicely observed details – for example the way the B*Bot's inventor, himself a sometime lonely geek, always has the label of his T-shirt sticking up at the back of his neck. These small touches matter. Animation, like friendship, is all about caring about the little things.
Production company: Locksmith Animation Studio
Worldwide distribution: 20th Century Studios
Producers: Julie Lockhart, Lara Breay
Screenplay: Peter Baynham, Sarah Smith
Cinematography: David Peers, Hailey White
Animation Direction: Eric Leighton
Editor: David Burrows, James Cooper, Sim Evan-Jones
Production design: Nathan Crowley, Aurélien Predal
Music: Henry Jackman
Main voice cast: Zach Galifianakis, Jack Dylan Grazer, Olivia Colman, Ed Helms, Ron Delaney, Justice Smith, Kylie Cantrall, Ricardo Hurtado