A highly attractive coming-of-age story set in a remote Kyrgyzstan village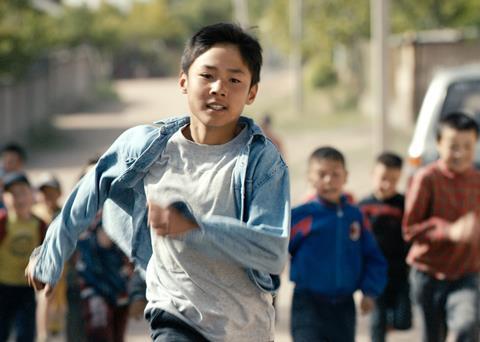 Dir: Mirlan Abdykalykov. Kyrgyzstan. 2019. 88 mins
Mirlan Abdykalykov's second feature Running To The Sky (Jo Kuluk) is a coming of age drama told with such charm and sensitivity that it registers high on the likeability scale. The story of a Krygyzstan boy starting to negotiate the possibilities and pitfalls of the adult world is sure to delight audiences drawn by its big heart and an expressive central performance from Temirlan Asankadyrov. Further festival invitations seem certain to follow from its recent world premiere at Busan.
Abdykalykov's portrait of childhood on the cusp of adolescence is marked by a generosity of spirit and a sharp understanding of human nature
There is a calm simplicity to Abdykalykov's storytelling that is extremely engaging. 12 year-old Jekshen (Asankadyrov) lives in a remote mountain village. Cinematographer Talant Akynbekov captures the atmospheric qualities in the embrace of the mountains, the low, grey clouds and the barren, dusty landscapes. Jekshen's parents are divorced and now Jekshen clings loyally to his father Saparbek (Ruslan Orozakunov), an alcoholic who is deep in debt. The father's unreliability is common knowledge. Callous schoolmates make fun of the situation. Relatives and kindly strangers do their best to provide Jekshen with support.
Jekshen can run faster than anyone else in school and his ability might be the key to the family's salvation, especially given the prizes offered in some local races.
Actor/director Abdykalykov (Heavenly Nomadic) delivers a portrait of childhood on the cusp of adolescence which is marked by a generosity of spirit and a sharp understanding of human nature. There is an echo of Francois Truffaut's work in Jekshen's tale. Unlike Truffaut's Antoine Doinel, Jekshen is studious, hard-working and resolute. His tendency is just to get on with life and make the most of any situation. There is no self-pity in his approach to life and the film seems to match that in its avoidance of sentimentality. In one scene a gnarled old tree is shown to have a green shoot of fresh growth and that sense of hope permeates the entire film.
Temirlan Asankadyrov coveys all the pathos in Jekshen's life. His features convey a real spectrum of emotions from the awkward embarrassment at the way others treat his father to the quiet glow of pleasure when a sober dad lets him drive a tractor and they plough the fields together. He is a youngster determined to do the right thing regardless of the consequences. An opportunity arises for him to make a new life but he will not countenance abandoning his father. "He would die without me," he explains.
Throughout the film, Abdykalykov deploys a well cast ensemble who are as expressive as Asankayrov in the way they convey emotion without the need for dialogue. When Jekshen's grandfather visits, the way his face lights up at the sight of the boy tells you everything about the love between them.
Compact and well-paced, Running To The Sky confronts Jekshen with the realities of a world where adults are imperfect, promises are broken and life is never going to be fair. The fact that he is unphased by disaster and unspoilt by triumph makes him such an endearing soul.
Production company: Oy Art Film
International sales: Pluto Film daniela@plutofilm.de
Producer: Altynai Koichumanova
Screenplay: Ernest Abdyjaparov, Mirlan Abdykalykov
Prouction design: Adis Seitaliev
Editing: Evgeniy Krokhmalenko
Cinematography: Talant Akynbekov
Music: Murzali Jeenbaev
Main cast: Temirlan Asankadyrov, Ruslan Orozakunov, Meerim Atantaeva,