Dir/scr: Benoît Delépine, Gustave Kervern. France-Belgium. 2016. 101 mins.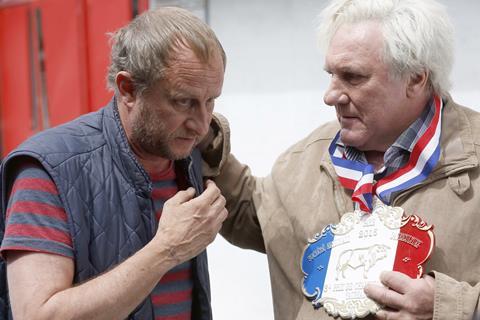 Reprising their favourite genre – the oddball road movie – and reuniting with two of their favourite actors, Gérard Depardieu and Benoît Poelvoorde, French directing duo Benoît Delépine and Gustave Kervern attempt a kind of Gallic Sideways in this occasionally funny but also frequently wearisome and abrasive tale of a love-starved, cattle-breeding father and son's bonding trip on the wine roads of France.
While they have their droll moments, a picaresque string of quirky on-the-road encounters also expose the terminal thinness of a sketchy script
The best that can be said of Saint Amour is that a bittersweet lament for the decline of rural France lurks behind its rambling structure and series of seemingly improvised on-the-road events. But that's not enough to redeem a baggy, often dull film that lacks the heart of Mammoth or the topicality of the pair's recessionary black comedy Louise-Michel. Saint Amour will gain some commercial traction from Dépardieu's genial, shambling presence as an ageing farmer bewildered by progress and his son's lack of enthusiasm for his trade.
It may also be that the adoption of a broader comic tone than is usual in this hicks-on-the-loose story whose main female characters include a male-fantasy lesbian and a broody but sex-starved early-menopause sufferer, will translate into broader than usual results. But although there's something of smash hit Welcome to the Sticks in the film's play on French country versus city clichés, this is a resolutely low-budget number whose handheld look and shambolic script could put the brake on its box office prospects.
An over-long prologue, set at an agricultural show on the outskirts of Paris and shot (as it were) on the hoof, mixes genuine trade-fair attendees with actors as it establishes the conflict between Jean, Dépardieu's stressed, workaholic father, interested only in the success of his prize bull, and his depressed son Bruno. The latter, played in heavily mannered, tic-ridden style by Poelvoorde, sees the show as his one, week-long release from a job he has no love for, and as an excuse to get drunk at the regional wine-tasting stands. There are shades of Christopher Guest's Best In Show in this opening part, but the tone is more edgy than elegant, as Bruno, aided and abetted by a farmhand friend, gets alternately plastered, lovesick, aggressive and emotional.
Blink and you'll miss the narrative segue to the film's second part, which sees a suddenly contrite Jean – whose frequent advice-seeking phone calls home turn out to be directed at his dead wife's answering machine – indulging his mess of a son, and helping him to get a girl, by hiring a taxi to take him on a real wine tour of France, from Beaujolais (home to the Saint-Amour denomination which gives the film its punning 'holy love' title) to Burgundy, the Rhone Valley, Bordeaux and the Loire. Their driver, Mike (Lacoste) is a cocky young Parisian lothario whose brags about his amorous prowess turns out to be hollow boasts.
The scene is thus set not only for father and son to bond and emote, but for the arrogant city blade to be taken down a few pegs before becoming the third part of the brotherhood. But while they have their droll moments, a picaresque string of quirky on-the-road encounters – one of which features French writer Michel Houellebecq, no stranger to the directors, as a sad, creepy B&B owner – also expose the terminal thinness of a sketchy script. And this time round, Delépine and Kervern's trademark digs at political correctness feel more gratuitous than refreshing (here they're most obviously displayed in a former girlfriend of Mike's who he hopes to get lucky with, but discovers to be a wheelchair-bound paraplegic with lung cancer who has just had her ovaries out).
Production companies: JPG Films, No Money Productions, Nexus Factory
International sales: Le Pacte, c.neel@le-pacte.com
Producers: Jean-Pierre Guérin, Benoit Delépine, Gustave Kervern
Cinematography: Hugues Poulain
Editor: Stéphane Elmadjian
Production designer: MADPHIL
Music: Sébastien Tellier
Main cast: Gérard Depardieu, Benoît Poelvoorde, Vincent Lacoste, Céline Sallette, Gustave Kervern, Solène Rigot, Michel Houellebecq