Luca Guadagnino gives the maestro of footwear his due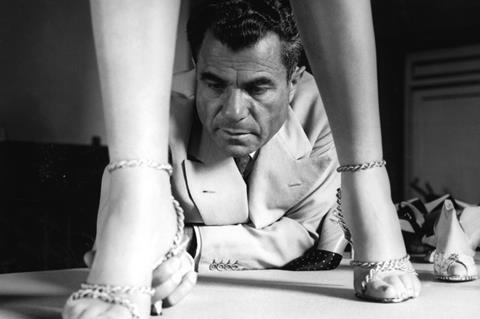 Dir. Luca Guadagnino. Italy. 2020. 120 mins
The rags-to-riches life of Salvatore Ferragamo is told with all the precision-engineered craft and elegance of his finest footwear in Salvatore - Shoemaker Of Dreams. Luca Guadagnino's lush documentary may be traditional in its use of talking head interviews and evocative archive footage, but it works a treat when the subject is this fascinating. Salvatore should be a comfortable fit for a potential audience that stretches from fashionistas to shoe fetishists, film buffs and beyond.
It is a story both intimate and epic.
Dedicated to Ferragamo's widow Wanda, who died in 2018, Salvatore feels like a respectful, official family portrait of a beloved husband, father and grandfather. Several generations speak with great fondness for a man who progressed from humble beginnings to global fame. Guadagnino recounts that individual story but places it firmly within the context of the times in which Ferragomo lived, from the mass migration of Europeans to America in the early 20th century, to the Hollywood of the 1920s and Italy under Mussolini in the 1930s. It is a story both intimate and epic.
Written by fashion expert Dana Thomas, Salvatore sees Ferragamo's life as marked by an "inexhaustible creativity" and a passion for shoes that began as a youth in the small Italian town of Bonito. His determination is extraordinary as he moves to Naples in 1909, learns his craft and returns home to open his first shop by the time he reached 12 years of age. He follows his brother to America and then heads west, arriving in Santa Barbara and becoming swept up in the burgeoning movie business. Some of the most delightful material in the film covers his time making shoes for movie-star friends such as Mary Pickford, Lillian Gish and Rudolph Valentino. He creates elaborate footwear for the Douglas Fairbanks fantasy The Thief Of Bagdad (1924) and eye-catching "bad girl" shoes for Gloria Swanson in Sadie Thompson (1928).
One of the hallmarks of Salvatore is the calibre of those being interviewed. The roll call ranges from shoe designers Manolo Blahnik and Christian Louboutin to costume designer Deborah Nadoolman Landis, historians, critics and archivists. It is Martin Scorsese no less who discusses America as a land of opportunity and reinvention for Ferragamo and the countless thousands, like Scorsese's Sicilian grandparents, who arrived at Ellis Island. There is a sense of childlike wonder and romance to Ferragamo's story as he conquers Hollywood and returns to Italy intent on establishing his own business. The commitment to his craft is exceptional. He studies human anatomy to better understand feet. He constantly innovates in shape, form and material from his rainbow wedges to cork heels and famous "invisible shoe".
Beautiful Super8 footage, shot in black and white and colour by Ferragamo himself, vividly brings the past to life, capturing Florence in the 1920s, his family life and what seems like a lost age of innocence. A musical score that embraces Duke Ellington, Hoagy Carmichael and Aaron Copland adds to the romance of it all. Editor Walter Fasano balances the family films, interviews, audio recordings of Ferragamo's memoirs from the 1950s and a brief, kaleidoscopic, Busby Berkeley-style Shoe Ballet to create a smooth, flowing narrative that gives space to the many facets of his life. Guadagnino pays fitting testimony to Ferragamo's legacy, leaving the impression of someone who placed huge importance on family and on his calling to create fabulous footwear. His best epitaph comes in a comment where he concludes, "There are no bad feet, only bad shoes".
Production company: MeMo Films
International sales: Sierra-Affinity sales@sierra-affinity.com
Producers: Francesco Melzi d'Eril, Gabriele Moratti
Screenplay: Dana Thomas
Editing: Walter Fasano
Cinematography: Clarissa Cappellani, Massimiliano Kuveiller
Narrator: Michael Stuhlbarg