Dir: Brad Peyton. US. 2015. 114mins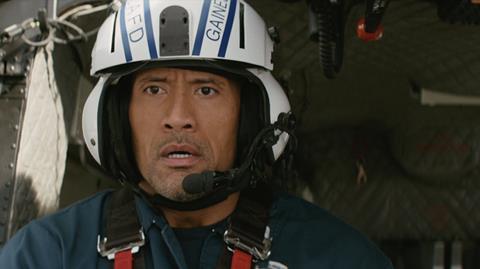 While its CG-assisted depiction of a massively destructive California earthquake certainly impresses (and frightens, if you happen to live in the so-called Golden State), clunky disaster thriller San Andreas has too many faults in other departments to add up as a satisfying big-screen entertainment. This Warner/Village Roadshow production will need all the help it can get from star Dwayne Johnson's box office pull (recently boosted, of course, by Fast And Furious 7) if it is to deliver commercially as an early summer contender.
The very earnest human drama fits awkwardly into the action and isn't helped by some unconvincing performances and weak dialogue.
Near-simultaneous openings – in 2D and converted 3D – through Warner in the UK, US and most other major territories from May 27 to 29 should maximise the film's potential in the pocket before the summer blockbuster rush, though a fast fade seems likely in the US. Internationally, Johnson (aka The Rock), the effects and the 3D could produce a box office haul significantly bigger than the domestic take.
The script, written by Lost showrunner Carlton Cuse, avoids the inconvenience of a story that's all prelude and aftermath by setting the action against a 'swarm' of major earthquakes, with the temblors getting more violent as they follow the famous San Andreas fault from Los Angeles to San Francisco.
In one of three plot threads, Johnson plays square-jawed search and rescue pilot Ray Gaines, who first plucks soon-to-be-ex wife Emma (played by Carla Gugino, from the Spy Kids series) from a collapsing LA skyscraper and then sets off with her for San Francisco hoping to save the couple's student daughter Blake (True Detective's Alexandra Daddario).
Meanwhile in Pasadena, an avuncular scientist (Paul Giamatti) tries to sound the alarm about the gathering seismic storm. And in San Francisco, Blake teams up with a dashing Brit (Australian Hugo Johnstone-Burt, from Home and Away) and his little brother (Ireland's Art Parkinson, from Game of Thrones) and tries to survive until her parents' rescue mission arrives.
Reuniting Johnson with his Journey 2: The Mysterious Island director Brad Peyton, the film delivers some decent set pieces early on, among them an exciting Hoover Dam quake scene. But the disaster footage – shot in Australia as well as in Los Angeles and San Francisco themselves – gets less effective as the story continues and goes over the top in the climactic tsunami sequence.
The very earnest human drama fits awkwardly into the action and isn't helped by some unconvincing performances and weak dialogue. Giamatti is wasted in his thread, which serves mostly to provide breathless scientific (perhaps pseudo-scientific) exposition for the geological mayhem.
The family reconciliation plot plays out even more predictably than is usual for the genre, though it does provide the story with one slightly less than noble and squeaky clean character, in the shape of Emma's rich property developer boyfriend (played, albeit briefly, by Ioan Gruffudd)
Production companies: New Line Cinema, Village Roadshow Pictures, RatPac-Dune Entertainment
Worldwide distribution: Warner Bros Pictures, Village Roadshow Pictures (select territories)
Producer: Beau Flynn
Executive producers: Richard Brener, Samuel J Brown, Michael Disco, Toby Emmerich, Steven Mnuchin, Rob Cowan, Tripp Vinson, Bruce Berman
Screenplay: Carlton Cuse
Director of photography: Steve Yedlin
Production designer: Barry Chusid
Editor: Bob Ducsay
Costume designer: Wendy Chuck
Music: Andrew Lockington
Visual effects supervisor: Colin Strause
Website: www.sanandreasmovie.com
Main cast: Dwayne Johnson, Carla Gugino, Alexandra Daddario, Ioan Gruffudd, Archie Panjabi, Paul Giamatti, Hugo Johnstone-Burt, Art Parkinson