Dir. Elite Zexer, Israel, 2016, 87 minutes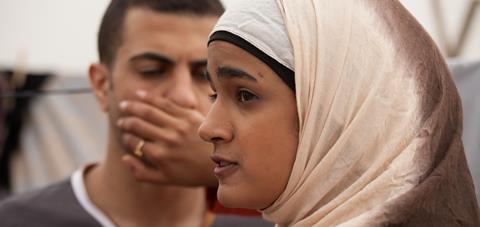 Sand Storm is a grim coming of age story, set in a Bedouin village in southern Israel. The setting is anything but romantic, and women born there should not expect much. This drama about women in an Arab culture, made by an Israeli woman with Israeli money, is a natural for festivals and a limited theatrical run in Europe (especially France) and the US.
Arab critics may lament that Israelis are telling their stories, but they won't dispute the gritty reality on the screen
For all its ethnographic detail and its poignant story of generations of women condemned to secondary status, Sand Storm is unlikely to be shown publicly in Arab countries, which boycott Israeli films. Still, a potential debate over whether an Israeli writer/director's first feature should be revealing a Bedouin family's secrets may help bring the film attention and help with promotion.
In the eye of this storm is clever dark-eyed Layla (newcomer Lamis Ammar), who lives with her family in a makeshift house in southern Israel. We see a busy road and a railroad track in the distance, but things in the village don't get more modern than that. Layla covers her hair, yet she's looking beyond her family upbringing.
As the film opens, Layla is driving home with her father, Suliman (Haitham Omari) to his wedding to his second wife. Her mother, the stern Jalila (Ruba Blal-Asfour), is humiliated into helping organise the wedding with Suliman's dull chubby new bride, also dancing to celebrate the marriage and washing their clothes after the big event. A maze of drying laundry, hanging on lines that look like fences outside the family's house indicate what the future holds for the women there.
Subservience is enforced once again when Jalila, who answers Layla's mobile phone, learns that her daughter has a special friend, Anuar (Jalal Marsawa). It doesn't help that the young man from university has dazzling eyes and a winning smile. At stake is the honour of her father, who was maneuvering to marry Layla off to a local family.
Stories of younger generations paying a price for threatening a family's honour date to the earliest days of film in the Middle East. The plots often involve women seeking autonomy or falling in love with an outsider. So-called 'honour killings' of those transgressors of family custom still occur. Zexer's version of the honour story, within sight of the modern world, unfolds in a village that hasn't benefitted from Israel's high living standards. We don't see any Israelis in the entire film, although we do hear about them bulldozing Bedouin homes. Layla's dilemma is the predicament of a culture that lives alongside Israelis, but makes most of its own rules.
As Layla, Lamis Ammar carries herself with a self-confidence that's tested, to her chagrin, when her hopes collide with tradition. Playing Jalila, veteran actress Ruba Blal-Asfour carries fatalism in her every glance and movement. Jalal Marsawa, as Anuar, has mischievous eyes that promise more than a girl can find in village life. We'll be seeing more of this actor.
Sometimes Sand Storm has the leaden feel of a parable, in contrast to the more playful, much-praised Saudi drama, Wadjda (2012), which set a young girl's aspirations against her father's marriage to an additional wife. It's lightened a bit by Khadija Alakel, playing Tasnim, Layla's spirited younger sister, who spies on the family's goings-on with a naughty irreverence. She watches the stormy drama unfold from behind an arabesque-patterned grille, an indication that her spirit may also be reined in.
DoP Shai Peleg works wonders in natural light, even at night, cutting away from the conflicts to the endless tasks that women perform, as men meet and make deals with each other. Arab critics may lament that Israelis are telling their stories, but they won't dispute the gritty reality on the screen.
Production companies: 2-Team Productions, Rabinowitch Fund for the Art - Tel Aviv, Gesher Multicultural Film Fund
Producers: Haim Mecklberg, Estee Yacov-Mecklberg
Executive producers: Rami Yehoshua, Moshe Edery, Leon Edery, Yigal Mograbi
International sales: Beta Cinema beta@betacinema.com
Screenwriter: Elite Zexer
Cinematography: Shai Peleg
Editor: Ronit Porat
Production designer: Nir Adler
Main cast: Lamis Ammar, Ruba Blal-Asfour, Haitham Omari, Khadija Alakel, Jalal Masarwa