A Chinese actress returns to 1940s Shanghai to star in a play by her former lover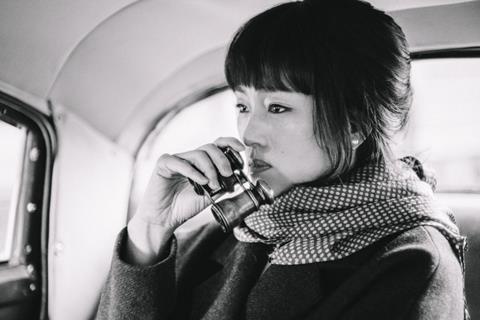 Dir. Lou Ye. China. 2019. 127mins
Theatre and reality merge to elegant but confused effect in Saturday Fiction, a handsomely appointed, visually austere black-and-white evocation of World War Two espionage from Chinese 'Sixth Generation' director Lou Ye (Suzhou River, Blind Massage). Set in Shanghai at a critical point in South East Asian history, the film offers a glamorous showcase for star Gong Li – still for many international art-housers the absolute icon of Chinese cinema.But beyond some knowing play with her star status and some glossily evoked Mata Hari spy stuff, the film doesn't bring out her strengths.With its sometimes confusing switcheroo-heavy narrative and specific references to historical detail, the film will not easily translate to global sales, although its star's prestige and sometimes jazzily-executed cloak-and-dagger intrigue will have some clout.
Gong Li's charisma remains undimmed, although she has some struggling to do against the dialogue's insistence that her character is an 'unknowable' woman
Opening titles introduce us to the setting – the city of Shanghai, occupied by Japan in 1937 and thereafter referred to as a 'solitary island', although its cosmopolitan French Concession, where the story takes place, remains a privileged neutral zone. The action begins with what appears to be a theatre production, although it soon blurs perplexingly with real life (and does throughout the film), as the play's director and lead actor Tan Na (Mark Chao) talks to a woman at a jazz dance about their experience of a factory strike.
The woman is, in fact, renowned stage and film actress Jean Yu (Gong Li), next seen in December 1941 returning to Shanghai after a spell in Hong Kong, ostensibly to star with Tan, her former lover, in his new play Saturday Fiction at real-life Shanghai theatre the Lyceum. Amid clouds of paparazzi, Jean checks in at the French Concession's luxurious Cathay Hotel, where she is welcomed by manager Saul Speyer (German actor Tom Wlaschiha, from Game of Thrones), who is also conducting intelligence operations for the Allied Forces. Jean has other reasons for being in town: one is to find her ex-husband, who has been arrested by Japanese forces, the other is a summons from bookseller and spymaster Frédéric Hubert (French auteur cinema stalwart Pascal Greggory), who has been a father figure to her while running her Mata Hari espionage missions over the last few years.
Also involved in the increasingly tangled mix are Bai (Huang Xiangli), a young female reporter and fan of Jean's with her own acting ambitions and sideline in espionage; Mo Zhiyin (Wang Chuanjun), the theatre troupe's dandyish and thoroughly untrustworthy producer; and Captain Saburo (Joe Odagiri), a Japanese military intelligence officer, in town to impart his army's latest operational codes, which Hubert is desperate to crack. It just so happens that Jean resembles Saburo's dead wife, triggering an elaborate demonstration that warfare is simply a specialised form of theatre, especially when spycraft is involved.
The narrative would be sufficiently daunting to follow if the film didn't make such heavy play on the thin line between fiction and reality; the frequent blurring between the two Saturday Fictions – Lou Ye's and Tan Na's – is muddily executed to begin with, without the play being so unconvincing as a piece of stage drama. Tan's play seems to consist entirely of a large cast dancing to somewhat anachronistic jazz (abstract be-bop several years before its time) while the lead characters converse mutedly at a table. On opening night, the main players seem far too engaged in their private affairs, political and other, to actually seem very involved in the production's success. Things reach a grimly protracted conclusion when Japanese agents storm the Cathay, the ensuing gunplay – jazzily but confusingly edited –overwhelming the rest of the action, to diminishing returns.
For the most part, the film can't be faulted on visual sheen, cameraman Zeng Jian cloaking the often rainy city in densely atmospheric greys in various tones of silver and smoke. Zhong Cheng's production design brings out wartime Shanghai's distressed splendour and the luxurious goldfish-bowl splendour of the hotel (not to mention its labyrinth of secret passages and surveillance rooms). Historical detail is generally plausible, although occasional touches like Gong Li's outsize, super-chic dark glasses and Mo Zhiying's fancy, superpimp-style wardrobe undercut claims to realism and make the film seem rather like a large-scale dressing-up party – although, given the reality-fiction interplay, that might be part of Lou Ye's strategy.
Gong Li's charisma remains undimmed, although she has some struggling to do against the dialogue's insistence that her character is an 'unknowable' woman of mystery – but she very watchably imbues Jean with a steely desperation and a certain weary sensuality that will click with viewers who remember her in Ju Dou and Raise the Red Lantern. Joe Odagiri is effective as the anxious, vulnerable Saburo, and Greggory's pensive, soft-spoken Hubert contributes a very downplayed style of European psychological realism to this otherwise larger-than-life affair. Only Mark Chao – star of Tsui Hark's Detective Dee films – seems somewhat lost in an insipid role as the somewhat passive and out-of-it Tan Na.
Production Companies: Qianyi Times, Yingfilms, Bai An Films, Tianyi Movie & TV, Zhuoran Films, Uep, Qianyiyuan, Fanyu Media
International sales: Wild Bunch International ediederix@wildbunch.eu
Producers: Chang Jihong, Lou Ye, Dong Peiwen, Wu Yi, Zhang Jin,
Huang Xin, Chang Jihong, Li Xinyue
Screenplay: Ma Yingli
Based on books by Hong Ying, Yokomitsu Riichi
Cinematography: Zeng Jian
Editors: Lou Ye, Feng Shan Yu Lin
Production design: Zhong Cheng
Main cast: Gong Li, Mark Chao, Joe Odagiri, Pascal Greggory, Tom Wlaschiha