Wr/dir Koji Fukada. Japan. 2015. 112 mins.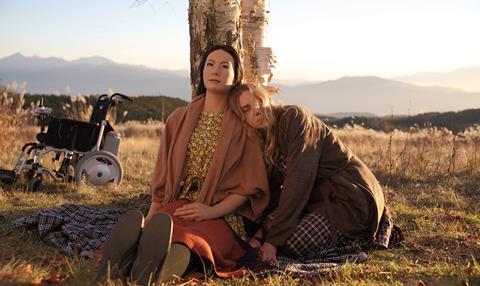 There's this to be said for Sayonara: it opens up a new era of cinematic casting. Geminoid F, the co-star of Koji Fukada's dour and bloodless account of the aftermath of an apocalyptic nuclear incident in Japan, is an android – a real one, developed by robotics expert Hiroshi Ishiguro at Osaka University.
Fukada's fourth feature has all the hallmarks of a dry, mannered theatrical text in its long, talky sessions between thinly developed characters and allergy to action.
She's humanoid enough for those not in the know to assume she's an actress playing a robot with the help of a little CGI; in fact, she looks a little like Icelandic singer Bjork with a slight case of lockjaw.
It's a paralysis that extends to the film itself, a half-boiled tale set in the near future that plays on Japan's post-Fukishima traumas without saying anything very interesting about them, or making much of the human-android relationship at the heart of the story. Based on a play by respected Japanese dramatist Oriza Hirata, founder in the 1990s of a new school of "contemporary colloquial theatre" and more recently a pioneer of the use of robotics in the theatre, Fukada's fourth feature has all the hallmarks of a dry, mannered theatrical text in its long, talky sessions between thinly developed characters and allergy to action.
After a prestige arthouse Japanese run, even the android angle is unlikely to make overseas distributors want to say hello to Sayonara, though a few smaller festivals may respond to the film's curiosity value after its Tokyo International Film Festival debut.
An initial montage of TV news reports, filling us in gauchely on the series of terrorist nuclear reactor attacks that form the background of the story, suggest an action-packed dystopian adventure. But soon enough, fast-forwarding five months, we're in the country house where listless Tanya (Bryerly Long) lollops on a divan while her android helpmate, Leona, who is confined to a battery-powered wheelchair, offers to get in the groceries – despite not being a 'shopping robot'. She also comforts her affectless mistress by reading out, in their original languages, fragments of poetry by the likes of Bokusui Wakayama, Arthur Rimbaud and Carl Hermann Busse.
What plot there is centres on the slow drying up of supplies in the radiation-struck country, where residents wait patiently (aside from one standard-issue angry man) to be evacuated – a system that is based on a lottery number system. Long (who also took the role of Tanya in the play's original Tokyo run) delivers all her lines in a dull monotone, and assumes the same drawn, pained expression throughout, as if reluctant to out-perform her android co-worker, hardly reacting even when a friend reveals that she killed her own son nine years before. A sex scene between Tanya and her mostly absent boyfriend Satoshi (Arai), about whom we learn next to nothing, is similarly passionless.
Along the way there are some small moments of atmospheric melancholy and emotional connection – for example in an episode involving a young couple who are on their way to get married to increase their chances of being selected for evacuation together, though they are little more than kids. But the charming, truthful, Rohmer-esque touch Fukada displayed in his previous two features, Hospitalite and Au Revoir l'Ete, is in short supply here.
Sayonara's post-nuclear limbo that may be a metaphor for our current malaise, but that's very much a take-it-or-leave it message in a film utterly debilitated by its own anomie. Perhaps its most interesting feature, in the end, is the autumnal world evoked by the photography, with its sudden colour surges and fade-outs, and by the fusty costumes, comfortably shabby antique decor and wheatfield landscapes surrounding the farmhouse that is the setting for most of the action. It's an East Asian brand of American Gothic, an Andrew Wyeth painting reimagined as a rural Japan in the wake of nuclear disaster.
Production company: Phantom Film Co Ltd in association with K&AG, TOKYO GARAGE, AtomX, Addix, Letre, KATSU-do
International sales: ColorBird Inc, info@colorbird.co.jp
Producers: Keisuke Konishi, Hiroyuki Onogawa, Koji Fukada, Bryerly Long
Executive producers: Keisuke Konishi, Hideharu Konaka, Koji Fukada, Mikiyo Miyata, Daisuke Sakai, Makoto Adachi, Kazuyoshi Okuyama
Screenplay: Fukawa, based on the play by Oriza Hirata
Cinematography: Akiko Serizawa
Editors: Naohiro Urabe, Koji Fukada
Production designer: Kensuke Suzuki
Technical advisor: Hiroshi Ishiguro
Music: Hiroyuki Onogawa
Main cast: Bryerly Long, Geminoid F, Hirofumi Arai, Makiko Murata, Nijiro Murakami, Yuko Kibiki, Jerome Kircher, Irene Jacob