Dir. Radu Jude. Romania/Germany. 2016. 141 mins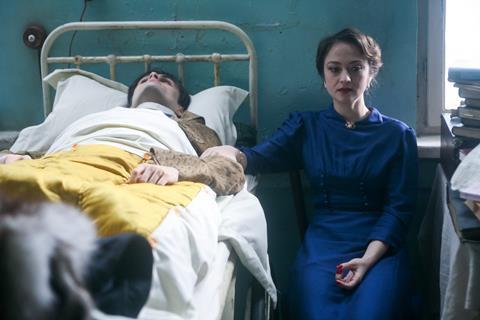 Aferim! director Radu Jude opens a window onto a very different period in Romania's past in Scarred Hearts, a fastidious, rigorously unsentimental adaptation of the autobiographical novel by Max Blecher. The story of a young man's thoughts and feelings in the shadows of death wrestles with major philosophical issues about the meaning and purpose of human existence.
There is a dispassionate, observant quality to Jude's direction but enough humour and emotion in the story to warm the film
Precisely nuanced and unashamedly intellectual, Scarred Hearts has emotional undercurrents that should make it slightly more accessible than Aferim!. Critical support could help to position it as serious, substantial arthouse fare and to further consolidate Jude's reputation as a distinctive voice in current Romanian cinema.
Scarred Hearts claims to be "loosely" based on the writings of Max Blecher, the Romanian author and poet who died in 1938 at the age of 28. Diagnosed with spinal tuberculosis, he spent many years at a sanatorium on the Black Sea coast. His novel Scarred Hearts, often compared to Thomas Mann's Magic Mountain, is a distillation of those experiences and the film is both a faithful adaptation of the book and a celebration of Blecher's spirit.
Filmed on 35mm and in the Academy Ratio, Scarred Hearts feels almost literally like a window into the past. If it wasn't for the richness of the colours and the precision of the framing, we might almost take these as precious home movies, a notion underlined by the succession of black and white photographs from the 1930s which are among the first things we see on screen.
The story follows Emanuel (Lucian Teodor Rus), a chemistry student who has been diagnosed with Pott's Disease and will now seek a cure at a sanatorium. Initially, he suffers excruciating pain from a procedure to drain the pus from an abscess but it becomes clear that Emanuel is not prone to self-pity and neither is it something indulged by the medical team. Cheerful, businesslike doctors offer the gift of honesty rather than the balm of false hope.
As Emanuel is encased in a plaster cast to protect his spine and help a cure, his treatment looks like a punishment, but the sanatorium is almost like a boisterous Grand Hotel. Emanuel has friends to make, politics to debate, arguments to win and a romance to pursue with the beguiling Solange (Ivana Mladenovic). Life goes on even as death is in everyone's thoughts.
Scarred Hearts is set in 1937 and feels more outspokenly political than the novel. There are news reports on the radio, references to Hitler and heated debates over the rising tide of anti-Semitism. There may be tragic events in Emanuel's life but they are nothing compared to what is about to happen throughout Europe. If he is preoccupied by the insignificance of a single life in the great scheme of things, then global conflict is about to prove that point a million times over.
Radu has a fondness for static shots in which events unfold within the camera. There is a dispassionate, observant quality to his direction but enough humour and emotion in the story to warm the film. When Lucian in his plaster cast finally makes love to Solange in her leg brace, their contortions are like a scene from Cronenberg's adaptation of Crash. The sense throughout of bodies in decay and failing their owners might have made Scarred Hearts a great choice for a Cronenberg film.
Physical infirmity is matched by the vigour of the mind and Lucian Teodor Rus makes Emanuel a lively, vital presence. His lean, sinewy figure and pale complexion immediately give physical evidence of his character's declining health. He also conveys the intellectual curiosity of someone fascinated by what is happening to him and willing to treat it with a dismissive flippancy. In the end, he asks, what does his own private hell mean when all of life is a wasting of time, everyone will die and nobody's life will matter more than any other.
Jude makes us think and makes us feel and succeeds in making Blecher a presence in the film. Quotes from his writings punctuate the narrative as we read that "there is nothing more stupid than the pride of suffering" or that "darkness lay around us like thick wine". Jude ends with a shot of Blecher's tombstone, making the film a personal testimony to the writer and suggesting that this particular life did matter.
Production Companies: Hi Film Productions, Complizen Film
International sales: Beta Cinema beta@betacinema.com
Producer: Ada Solomon
Screenplay: Radu Jude, based on the novel by Max Blecher
Cinematography: Marius Panduru
Editor: Catalin Cristutiu
Production design: Cristian Niculescu
Main cast: Lucian Teodor Rus, Ivana Mladenovic, Ilinca Harnut