Dir. Christopher Landon. US, 2015, 93 minutes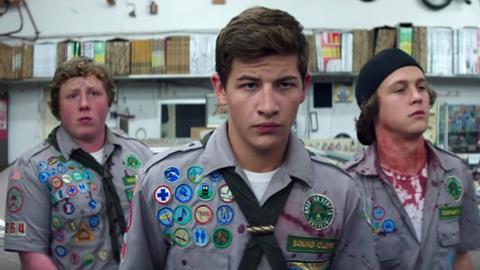 Attack The Block gave us hoodies versus aliens. American Ultra offered stoners versus genetically engineered soldiers. Now it's the turn of uniformed boy scouts, fending off the titular doomsday after a laboratory mishap. Genre fans close in age to the characters depicted onscreen should be appreciative of the enjoyably familiar mix of inspired comedy moments, smart zingers, grossout gags and nudity offered by the apostrophe-phobic Scouts Guide to the Zombie Apocalypse. The film's sexual politics present a more contested zone.
Story elements in Scouts Guide could hardly be more archetypal
Ben (Tye Sheridan), Carter (Logan Miller) and Augie (Joey Morgan) are best friends, and comprise the entire membership of the local scouts troupe. About to enter their junior year at high school, sweet-natured Ben and horn-dog Carter realise that the goofy uniforms and juvenile associations of their afterschool activity are torpedoing any chances with the opposite sex, and are ready to bail. But that would mean letting down exuberant man-child Scout Leader Rodgers (David Koechner) and especially scouting enthusiast Augie, a podgy teen who probably won't be an asset in the new cool lifestyle envisaged by his pals. Ben has the hots for out-of-his-league Kendall (Halston Sage), Carter's elder sister who is inconveniently dating arrogant-jerk high-school senior Jeff (Patrick Schwarzenegger).
All of these characters are introduced after an entertaining prologue, in which a dopey janitor (Blake Anderson), obliviously grooving with his mop to Iggy Azalea's Black Widow on his MP3 player, stumbles into a quarantined sector at his biotech employer, unleashing a zombie outbreak in the smalltown community of Deer Field. The sequence nicely sets the tone for a black comedy that gets ample mileage from stock characters, notably the grouchy, crazy old cat lover (Cloris Leachman) who lives next door to Carter's family, and suffers a beheading that is emphatically not reaching for contemporary Middle East-conflict resonance.
Story elements in Scouts Guide could hardly be more archetypal, with Carter persuading Ben to ditch poor Augie at scout camp, and steal away to the secret senior party. First, they make a pit-stop at the local strip bar, where they have already made the acquaintance of gorgeous cocktail waitress Denise (Sarah Dumont), who earlier helped buy them beer.
Denise is the sole survivor of the zombie attack that has already swung through "Alabia's", and she soon teams up with the boys in their mission to save Kendall and the partying seniors, whose secret soiree has been overlooked in the military's evacuation of the town. The lads, now reunited with Augie, tool up with improvised weapons at a hardware store in a scene virtually replicated from American Ultra.
Carter's obsession with naked breasts may prove tiresomely unreconstructed for some audience members – although, surely, the joke's on him. Much more creatively inspired is an outrageous gag involving Ben, a first-floor window, a male zombie, a trampoline, and what must surely be the most elastic penis in screen history. Predictably, however, the film ends up preferencing sweet romance over hormonal lust.
While Scouts Guide won't necessarily burnish the CV of an actor who's already shone in Terrence Malick's Tree of Life, Jeff Nichols' Mud and David Gordon Green's Joe, the film does allow Sheridan to show his leading-man mettle in very generic material, expanding the range of his casting options. Miller does well with most of the film's funniest lines. Old pro Koechner proves very game indeed as the Dolly Parton-loving Rodgers, who is an early zombie convert and suffers multiple physical humiliations throughout the film. Technically, Scouts Guide is nothing special, competently directed by Christopher Landon (Paranormal Activity: The Marked Ones). A preponderance of blandly lit municipal locations – including the town's Sheriff's Department and recreation centre – helps contribute to a flat look.
Production company: Broken Road
Worldwide distribution: Paramount Pictures
Producers: Todd Garner, Andy Fickman
Screenplay: Carrie Evans, Emi Mochizuki, Christopher Landon
Cinematography: Brandon Trost
Editor: Jim Page
Production designer: Nathan Amondson
Music: Matthew Margeson
Main cast: Tye Sheridan, Logan Miller, Joey Morgan, Sarah Dumont, David Koechner, Halston Sage, Cloris Leachman, Patrick Schwarzenegger, Niki Koss