Lav Diaz presents a Philippine rock opera exploring 1970s military rule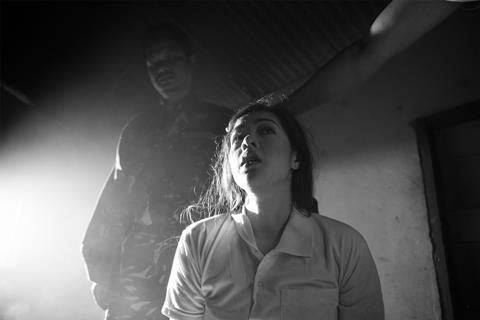 Dir/scr: Lav Diaz. Philippines. 2017. 234mins
Music, dreams and the fantastic have featured before in the work of prolific Filipino auteur and world-class duration champ Lav Diaz, but he pushes these elements to new limits in Season of the Devil. It may be his most experimental work yet, although every Diaz film, in which semi-improvisational narratives often seem to meander towards their own organic form, is to some degree experimental. Season of the Devil, however, is new in that it's almost entirely sung, with Diaz's own a capella compositions giving a melancholic, haunting, somewhat Brechtian register to a drama rooted in the violent abuses of the Marcos regime.
While Diaz establishes a distinctive style, he doesn't emerge as the Sondheim of Manila
Lasting just under four hours, the film is a bagatelle compared with some Diaz films, which often clock in at eight hours and above. Yet the comparative lack of incident and the slowness – exacerbated by the moody, often repetitive songs – mean that even Diaz acolytes may find this harder going than some of his longer but more narratively driven work. It's a film of boldness and considerable beauty, but without the potential to find wider audiences enjoyed by his Norte, the End of History or his 2016 Venice Golden Lion winner The Woman Who Left.
A female voice-over establishes that the action takes place in 1979 and is based on real events, and that the film is a "tribute and a memorial" to real people, "my friends". The background is the creation, under President Ferdinand Marcos of the CHDF (Civilian Home Defence Force), of paramilitary units designed to quell insurgency among the population. At the start, two leaders of such a unit – a crop-haired female soldier (Hazel Orencio) and a man with a scarred face (Joel Saracho) – vow to use myth and superstition to exercise a reign of terror over the citizenry.
Much of the film follows their brutal actions in a remote village called Ginto, where an idealistic young woman, Lorena Haniway (Shaina Magdayao), goes to set up a village clinic. She leaves behind her poet husband Hugo (Piolo Pascual) who goes to pieces in her absence and hits the bottle, rejecting the attentions of a devoted young woman, Angelita (Angel Aquino). Hugo is also kept company throughout the narrative by another woman (Bituin Escalante), named in the credits as 'Kwentista' – storyteller in Tagalog – who functions as a sort of chorus figure.
Eventually, Hugo rouses himself to travel to Ginto, where the paramilitary are terrorising the village under the ostensible command of a monstrous puppet leader, Chairman Narciso (Noel Sto Domingo) – a sort of nightmare version of Marcos himself – who delivers unsubtitled harangues in a Hitlerian shriek, and has a second face at the back of his head, à la Voldemort. Despite the initial talk of superstition, this is one of the few overtly fantastic elements in the film, although various demon-masked figures occasionally appear, mysteriously manifesting themselves to a young boy (who may be Hugo himself in his childhood).
Gradually working up to a series of violent climaxes, the film is described by Diaz as a 'rock opera', although 'folk opera' might be closer to the mark. There's no instrumental backing, except for acoustic guitar over the end credits number, and the songs are decidedly unrocky laments, except for a bleakly mocking 'la la la' refrain in the soldiers' signature number. Written by Diaz himself, the songs are rueful and lyrical, and recur throughout with variations; they're also very simple and hypnotically incantatory and while Diaz establishes a distinctive style, suffice to say he doesn't emerge as the Sondheim of Manila. Not all the cast establish themselves as natural singers, which is perhaps part of the film's distanciation strategy, although professional singing star Escalante, a.k.a just 'Bituin', brings the soundtrack to life with her authoritative interventions.
Ostensibly realistic narrative occasionally then yields to the realm of nightmare, as in the number 'Talampunay Blues' (referring to a plant with narcotic properties) in which Lorena is drugged and raped. The black and white photography by Diaz regular Larry Manda is magnificent as ever, using wide angle lenses to create highly composed landscapes and interiors and also framing characters in such a way as to enhance their mythic status.
Dedicated, an end caption tells us, to the victims of martial law, Season of the Devil may be one of Diaz's more downbeat, even languid works, but it's no less angry and intense a cri de coeur, albeit one that's often challenging to connect with.
Production companies: Globe Studios, Epicmedia Productions Inc, Sine Olivia Pilipinas
International sales: Films Boutique contact@filmsboutique.com
Producers: Bianca Balbuena, Bradley Liew
Executive producers: Quark Henares, Lav Diaz, Bianca Balbuena
Cinematography: Larry Manda
Editor: Lav Diaz
Production design: Popo Diaz
Music: Lav Diaz
Main cast: Piolo Pascual, Shaina Magdayao, Pinky Amador, Bituin Escalante, Hazel Orencio