Dir: Billy Ray. Spain-US. 2015. 111mins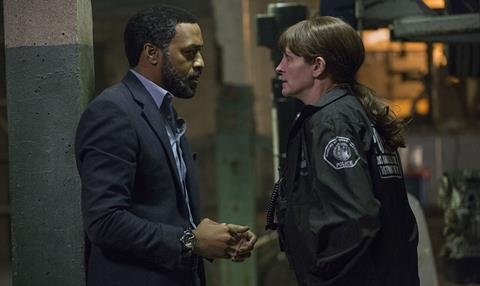 The past haunts the present in unconvincing and overheated fashion in Secret In Their Eyes, an English-language remake of the 2009 Oscar-winning thriller that fails as both a character study and an exploration of the dangers of obsession.
A lot of dour emoting adds up to very little actual drama.
Writer-director Billy Ray has assembled a fine ensemble headed by Chiwetel Ejiofor, Nicole Kidman and Julia Roberts, which only makes the awkwardness of this ill-conceived misfire all the more uncomfortable. In studying how the death of a teenager 13 years ago still eats away at its central characters, Secret never rises above cable-movie pulp, a lot of dour emoting adding up to very little actual drama.
Scheduled for a Nov 20 release in the US, Secret has scant buzz, which — considering the star wattage of its cast — will probably be a warning sign to potential viewers to stay away. Audiences familiar with El Secreto De Sus Ojos, which took home the 2010 Best Foreign-Language Film Oscar, and fans of the three leads may decide to give this adaptation a try. But glum reviews and a packed marketplace will probably conspire to doom the film's theatrical prospects.
As the film begins, Ray Kasten (Ejiofor), who oversees security for the New York Mets, makes an urgent trip to Los Angeles to see his former colleagues — District Attorney Claire Sloan (Kidman) and investigator Jess Cobb (Roberts) — in order to deliver some important news. After years of futile tracking, Ray believes he's found the man, named Marzin (British actor Joe Cole), who killed Cobb's daughter in 2002 and got away scot-free.
Kasten's announcement sets Secret in motion, and much of the movie consists of flashbacks in which we see the circumstances of Cobb's daughter's murder, Kasten's time as an FBI agent before he joined the private sector, and the investigation into the murder, which ultimately went nowhere. Meanwhile in the present, Kasten implores Sloan to reopen the case, as Cobb struggles with the prospect that this killer may finally be brought to justice.
Loosely based on director Juan José Campanella's original film, which itself was based on a novel by Eduardo Sacheri, Secret almost from the start misjudges the intensity of Kasten's determination to find this young woman's murderer. Normally a soft-spoken, empathetic, quietly intelligent actor, Ejiofor overdoes his character's obsessive tendencies — whether it's his doggedness about solving this cold case or his lingering feelings for Sloan, the great unrequited love of his life. Because Ejiofor never elucidates Kasten's drive, the film is guided along by an underdeveloped protagonist whose ambiguous motivations aren't intriguing or compelling.
An Oscar-nominated screenwriter (for Captain Phillips) whose previous directorial efforts (Shattered Glass, Breach) revealed a skill for crafting thoughtful, intimate thrillers, Ray struggles to make this tame whodunit electrifying. Working with editor Jim Page, he does a decent job intercutting between 2002 and 2015 until they're almost indistinguishable, creating a blurring effect that suggests how the characters' lives have been unalterably chained to the past.
But Kasten's investigative zeal in both eras lacks even the gritty forward momentum of a cop show, and so there isn't much suspense regarding whether he can get his man or not. (It's worth recalling that Campanella, an Argentinian filmmaker, cut his teeth directing American television dramas like Law & Order, and his El Secreto had a page-turning juiciness this remake lacks.)
Setting the film in his native Los Angeles, Ray tries to use the 2002 flashbacks as social commentary, depicting a time when the city was consumed with fear that it would be the victim of the next metropolitan terrorism attack after witnessing the assault on the World Trade Center in New York the previous year.
This anxiety plays out in Secret rather superficially, though, as Kasten keeps having his investigation be thwarted by a district attorney (Alfred Molina) who wants him to stop chasing this isolated case and instead refocus his energies on counterterrorism efforts. Unfortunately, Ray can't evoke the post-9/11 paranoia that swamped cities like LA, nor does he adequately articulate the anger and guilt that's supposedly enveloping these characters in the wake of Cobb's daughter's brutal killing.
In such a limp thriller, Roberts actually gives a nervy performance, playing Cobb as a woman who seems to have been emotionally disembowelled after her daughter's death. At one point in Secret, Kasten tells her that she looks 100 years old, and the actress is suitably pale, withdrawn and haggard, her colourless expression saying all that's needed about the pain of a mother who's lost a child.
As for Kidman, she mostly serves as Ejiofor's unattainable love interest, and with a few smoky looks, she's able to convey everything that's seductive about Sloan. She and Ejiofor have some chemistry, but the characters don't evolve believably from acquaintances into something more complicated. (Sloan has a fiancé back in Philadelphia, but it's hard to grasp exactly what she sees in the perfectly pleasant but unremarkable Kasten.) Alongside a sharp supporting cast that includes Dean Norris and Michael Kelly, Secret's leads do what they can and never embarrass themselves. But the film's so disposable, it vanishes right in front of your eyes.
Production companies: STX Entertainment, IM Global, Route One, Union Investment Partners, Gran Via, Site Productions, Willies Movies, A.I.E., Ingenious Media
US distribution: STX Entertainment, https://stxentertainment.com/
International sales: IM Global, www.imglobalfilm.com
Producers: Mark Johnson, Matt Jackson
Executive producers: Stuart Ford, Deborah Zipser, Russell Levine, Lee Jea Woo, Robert Simonds, Matt Berenson, Jeremiah Samuels, Juan José Campanella
Screenplay: Billy Ray, based on the film El Secreto Se Sus Ojos written by Juan José Campanella and Eduardo Sacheri
Cinematography: Danny Moder
Production design: Nelson Coates
Editor: Jim Page
Music: Emilio Kauderer
Website: http://secretintheireyes.movie/
Main Cast: Chiwetel Ejiofor, Nicole Kidman, Julia Roberts, Dean Norris, Michael Kelly, Joe Cole, Alfred Molina