Albert Dupontel's lavish production set in the wake of the First World War also stars Nahuel Perez Biscayart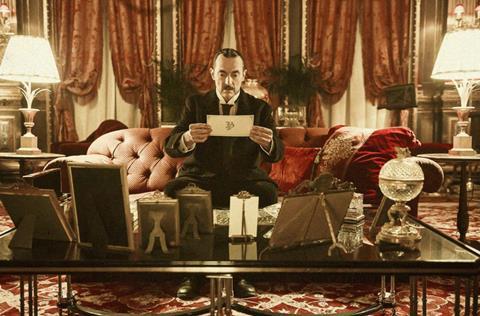 Dir/scr: Albert Dupontel. France. 2017. 117 mins
One of the most satisfying French costume pictures since Margueritte set the bar so high in 2015, screenwriter/director/actor Albert Dupontel's lavish adaptation of Pierre Lemaitre's Goncourt Prize-winning 2013 novel See You Up There (Au revoir la-haut) deploys assured visual bravado in the service of a bittersweet tale of poetic justice set in the final days of the First World War and the two years to follow.
A sometimes melancholy, sometimes funny but always emotionally honest portrait of making do with the cards one is dealt
This exploration of the destructive reverberations of combat after the recognised hostilities are over may be set just about a hundred years ago but demonstrates that there's no expiration date on the relevance of decrying the absurdity of war. As this splendidly cast tale of revenge makes clear, some will grow rich and some will be cheated whatever the original principles or affronts that pitted soldiers against each other. Propulsive but always clear story-telling and appealing Paris settings make this an excellent candidate for curious audiences beyond France.
At the outset, an ex-soldier in his late 40s, Albert Maillard (Dupontel) is telling a French officer in Morocco how he came to be under arrest. The bulk of the picture consists of one long flashback that begins in the trenches on November 9, 1918 as a French messenger dog makes its way across seemingly endless and utterly desolate battlefields to deliver the news that the war is about to end after four long years. Albert explains that nobody was interested in continuing to fight the Germans across the way since the only thing more stupid than being the first soldier to fall in a conflict was surely being the last.
But his unit's villainous commanding officer, Lieutenant Pradelle (a delectably dastardly Laurent Lafitte) says the war isn't over yet and sends his men into a bloodbath apparently just for the hell of it. Albert is buried alive by an explosion but saved in the nick of time by his good friend, Edouard Pericourt (Nahuel Perez Biscayart from BPM), a skilled artist who sketches striking portraits in the trenches. Unfortunately, moments after the rescue, Edouard suffers wounds that leave his throat and jaw mostly sheared away. He looks normal above his moustache but must wear extensive bandages and later masks to conceal what is left of his once-sweet face. Sustenance is injected into his neck and he'll never speak again although he can grunt in agony. In the hospital and then back in civilian life, Albert tends his friend as best he can, even beating up other vets to steal their morphine.
Edouard is dependent on the addictive pain-killer but eventually finds artistic solace in designing extraordinary masks that express his creativity as well as make it possible for him to go out in public now and then. Albert takes a series of dull jobs as an elevator operator and a sandwich-board man. They get by with the help of a non-judgmental street urchin named Louise (Heloise Balster).
The devoted pair hit upon an inspired scam. Edouard will design elegant memorials to the war dead which every city and hamlet in France is clamoring for and they'll get paid up front for each commission but will simply keep the cash and never make, let alone deliver, a single statue. They are aided in this elaborate swindle by the fact that both are believed to be dead.
The despised lieutenant and his wife (Emilie Dequenne), Edouard's estranged father (Niels Arestrup) and household maid (Melanie Thierry), at least one humorless civil servant (Michel Vuillermoz) and the wild revelry of post-war Paris combine into a sometimes melancholy, sometimes funny but always emotionally honest portrait of making do with the cards one is dealt.
By the time Albert's account lands back in Morocco, the audience is effortlessly on the side of those who usually get the short end of the stick in matters as lofty-on-the-surface yet horrific and profit-driven as war.
All of the characters are memorable with special mention for Lafitte as a walking template for entitled arrogance and Perez Biscayart who conveys a touching range of complex emotions mostly with his eyes. Production design, fluidly ambitious camera moves and the score are definite stand-outs in a project whose budget was well spent on just about every frame.
Production companies: Stadenn Prod., Manchester Films, Gaumont, France 2 Cinema
International sales: Gaumont, alexis.cassanet@gaumont.com
Producer: Catherine Bozorgran
Screenplay: Albert Dupontel with Pierre Lemaitre, based on Lemaitre's novel Au revoir la-haut
Cinematography: Vincent Matthias
Editor: Christophe Pinel
Production design: Pierre Queffelean
Mask design: Cecile Kretschmar
Music: Christophe Julien
Main cast: Albert Dupontel, Nahuel Perez Biscayart, Laurent Lafitte, Niels Arestrup, Emilie Dequenne, Melanie Thierry, Michel Vuillermoz, Heloise Balster