Dir: Michael Patrick King. US. 2010. 146mins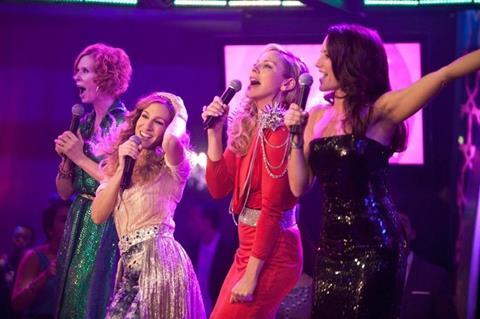 Since its small screen inception in 1998, Sex and the City has served as a chatty, fashionable sounding board for the thrills and travails of big-city professional women, and the turbulence in romantic expectation that the changing landscape of gender roles has wrought. The follow-up to the series' enormously successful transition to the big screen, Sex and the City 2 spins forward its heroines on an adventure abroad. The result is a bloated, wearyingly unsubtle and dramatically inert valentine to conspicuous consumption.
Director Michael Patrick King, cinematographer John Thomas and crew rarely construct a frame that isn't awash in eye-popping colour.
The same devotees who two years ago delivered a $57 million opening weekend will turn out in droves, but tepid word-of-mouth should dent repeat business and casual fan earnings. More surprising than the original film's $152 domestic gross was its international haul of $262 million, and the exotic, Middle Eastern setting of this sequel should only further cement the franchise's percentile export appeal.
Picking up two years after the first film, Sex and the City 2 again centres around the friendship of successful writer Carrie (Sarah Jessica Parker), lawyer and mother Miranda (Cynthia Nixon), sexually rapacious Samantha (Kim Cattrall) and stay-at-home mom-of-two Charlotte (Kristin Davis). After finally tying the knot with long-time beau John Preston (Chris Noth), aka Big, Carrie is about to publish her fourth book, a memoir on the first year of marriage, even as she and her husband struggle to transition into an adult relationship with neither (or at least less) wild sex nor kids, the latter of which they've decided not to have.
After the blowout wedding of their gay best friends that opens the movie (affording a chance for a Liza Minnelli cameo), there's an hour of Manhattan-set domestic handwringing. When Samantha receives an all-expenses-paid invitation to visit the oil-rich city of Abu Dhabi, she arranges for her friends to come along. There, Carrie improbably stumbles across ex-fiancé Aidan (John Corbett), inflaming her identity crisis.
Writer-director Michael Patrick King, who served as show runner on the TV series for most of its duration, aims for a comedy of material extravagance, but his tone is so wilfully broad as to cause dissociation with almost any sentient adult, regardless of income bracket. While not without a bit of clever banter, the movie's overly demonstrative acting style — embodied in varying degrees by all four female leads — seems pitched at small children.
Noth's engine runs low enough to make some of Big and Carrie's relationship squabbles come off as recognisably human, and the film's other notable exception, its most striking and genuine moment, is a scene in which Miranda and Charlotte commiserate about the stresses of motherhood. Otherwise King's glib, affected direction repeatedly, overwhelmingly reduces character's complications to wince-inducing, pantomimed melodrama.
The idea of juxtaposing liberated modern American women to a more restrictive social climate works on a conceptual level, but there's loads of awkward speechifying (Miranda is the sociocultural emcee), and much of the comedy (including an air-quote empowering karaoke version of "I Am Woman") is lame.
On a purely visual level, the movie often delights. Morocco, more friendly to a Western production with this type of storyline, gorgeously doubles for Abu Dhabi. King, cinematographer John Thomas and crew rarely construct a frame that isn't awash in eye-popping colour. Working with a reported wardrobe budget of $10 million, Oscar-nominated costume designer Patricia Field also gives armchair fashionistas much to ogle.
Production companies: HBO Films, New Line Cinema, Village Roadshow Pictures (US)
Domestic distribution: Warner Bros. Pictures
Producers: Michael Patrick King, John Melfi, Sarah Jessica Parker, Darren Star
Executive producers: Richard Brener, Toby Emmerich, Marcus Viscidi
Screenplay: Michael Patrick King, based on characters from the book by Candace Bushnell and the television series created by Darren Star
Cinematography: John Thomas
Production designer: Jeremy Conway
Editor: Michael Berenbaum
Music: Aaron Zigman
Main cast: Sarah Jessica Parker, Kim Cattrall, Kristin Davis, Cynthia Nixon, Chris Noth, Evan Handler, David Eigenberg, John Corbett, Max Ryan, Alice Eve, Dhaffer L'Abidine. With cameos from Liza Minnelli, Miley Cyrus, Penelope Cruz