A documentary about the 1980s New york graffiti artist Richard Hambleton is intense and involving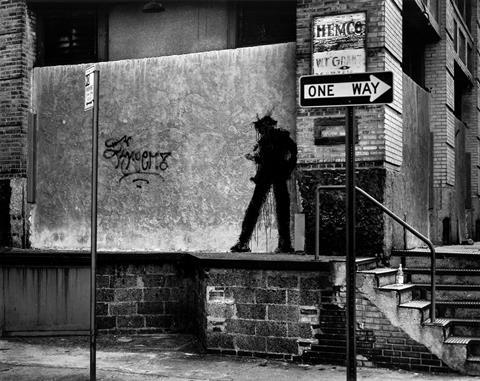 Dir/prod: Oren Jacoby. US, 2017, 83 mins
The myth of the tortured artist collides with the art documentary in Shadowman, a wholly engaging and often gripping look at the chaotic career of troubled 1980s graffiti artist Richard Hambleton. Spray-painting his street art at the same time as Keith Haring and Jean-Michel Basquiat in New York's glittering, depraved art scene of the early 80s, Hambleton is unique in having survived – just about. Reclusive, cancer-ridden, drug-addled, self-sabotaging, he's the dark core of Oren Jacoby's fascinating film. If it's hard to describe his mad genius in words, it's easy to watch it here.
Hambleton is the maverick who recklessly injects as much as he can ever earn, Burroughs-style, and is sly and obstinate as a mule in the process
It's not just that Hambleton pre-dates Banksy; the line between the two artists is close enough to be shaded. And although the films are entirely different – Shadowman is a straight-up, chronological documentary with fascinating archival footage – 2010's Exit Through The Gift Shop is a clear commercial parallel, as is last year's Uncle Howard, set in the same milieu. The festival circuit certainly beckons for Shadowman; one could excitedly talk about another Hambleton revival, if this film didn't clearly indicate how morbidly meaningless that is to him, or how close he is to death.
Born in Canada, where he first made his name In the 1970s with his "Image Mass Murder" crime scene paintings – outlines of "victims" chalked on pavements – a debonair young Hambleton was painting his brushed-black conceptual shadow figures on the streets of a run-down New York by the early 1981, Jacoby's earliest footage of the artist at work. His fame spread quickly and globally - he painted shadowmen on the Berlin Wall in 1984. But, like his contemporaries, Hambleton quickly fell victim to his own appetites in an age of excess, and he disappeared from the art scene for over 20 years.
One could say that film-maker Jacoby has been lucky, but he has also worked hard for that luck. Some of the archive footage here is compelling: black-and-white sequences of Hambleton and the ravaged East Village of the early 80s, but also scenes from inside a squat which leave no doubt as to the nature and extent of the artist's addiction. The discovery of this footage is certainly good fortune for a film-maker, but the dedication with which this documentarian has followed his erratic prey is to be commended.
Jacoby has hinged his film on a successful 2009 retrospective of Hambleton's work, where gallerists Vladimir Restoin Roitfeld and Andy Valmorbida worked with Giorgio Armani to present the artist to new audiences – from his Shadowmen to the Marlboro Man-inspired work and also the "beautiful paintings". But Hambleton is brilliant, ruined, endlessly, furiously frustrating to all who know and love him. He is decaying inside and out, and his physical condition is shocking - he has advanced scoliosis and cancer has eaten away at his face, even as he has refused medical treatment.
Working endlessly outside the system, Hambleton has survived to reach an addled 62 years of age, outliving Basquiat (who died at the age of 27) and Haring (dead 31), amongst other compatriots; in the face of art market shock tactics and "bad boys", he's the maverick who recklessly injects as much as he can ever earn, Burroughs-style, and is sly and obstinate as a mule in the process. Stuttering and stammering, Hambleton is still keenly himself, even though he's also a shadow of him former self. Yet the talent seems to hold. Jacoby delivers an adroit portrait of the artist at work in a technical package which wraps itself smoothly around this intense, surprising story.
Production company: Storyville Films, Motto Pictures
International sales: Submarine, info@submarine.com
Executive producers: Andy Valmorbida, Julie Goldman, Christopher Clements, Carolyn Hepburn
Cinematography: Oren Jacoby, Bob Richman, Tom Hurwitz
Editor: Abhay Sofsky
Music: Joel Goodman