Skilfully-calibrated thriller from debut director Sam Quah heads out into the UK during an interrupted home run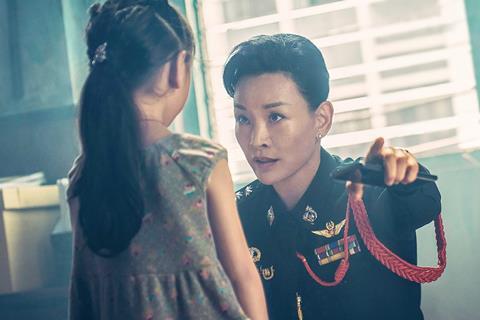 Dir: Sam Quah. China. 2019. 112 mins
"If you've seen over a thousand films, you can accomplish anything", insists the protagonist of A Sheep Without A Shepherd, unaware that his passionate belief in the educational capacity of cinema is about to be put to the test. This remake of Jeethu Joseph's Indian Malayalam-language thriller Drishyam (2013) relocates events to Thailand where a devoted father uses his extensive knowledge of crime films to cover up an act of manslaughter committed by his daughter. Although the premise is undoubtedly far-fetched, Malaysian director Sam Quah succeeds in constructing the kind of tightly wound suspense piece for which disbelief can be suspended.
Relishing her juiciest role in years, Joan Chen plays her intimidating police chief to the hilt
Propelled by strong word of mouth, this multi-national production has now raked in $176 million in China. One of the last big hits before the pandemic forced the country's cinemas to close prior to Lunar New Year, it has since returned to screens as the industry tries to restore public confidence in the safety of movie-going before releasing delayed titles. Trinity Cine Asia will launch A Sheep Without a Shepherd theatrically in the UK on August 21 and its performance will be an early indicator of international big screen demand for Asian fare in the 'new normal'. Even if ticket sales are modest, it will surely accumulate viewers once it hits streaming platforms.
In a Thai village, unambitious Chinese immigrant Li Weijie (Xiao Yang) is content running an internet equipment service and spending his spare time watching films. Yet this relatively simple life is ruptured when his teenage daughter Li Ping (Xu Wenshan) and wife Ayu (Tan Zhuo) accidentally kill Suchat (Bian Tianyang), an entitled rich kid who has been trying to blackmail Li Ping into performing sexual favours. Returning home from a business trip to find his wife distraught, Weijie consults his crime film collection for how to dispose of the evidence and provide his family with a watertight alibi.
These are necessary measures because Suchat is the son of mayoral candidate Dutporn (Philip Keung Ho-Man) and chief of police Laoorn (Joan Chen) implying that a fair hearing is unlikely. Unfortunately, Weijie still ends up in Laoorn's crosshairs after being spotted getting into Suchat's car on the day of the reported disappearance. A driven investigator who has no qualms about fabricating evidence to guarantee a conviction, Laoorn proves to be a fearsome adversary. Preparing for the worst, Weijie conducts mock interrogations to ensure that each family member's account of their whereabouts holds up to relentless scrutiny.
A Sheep Without a Shepherd risks being a referential exercise as it opens with a fantasy jailbreak sequence which segues into Weijie's enthusiastic explanation of the montage technique while posters for The Shawshank Redemption (1994) and Catch Me If You Can (2002) are placed in the background at key moments. However, the film buff conceit becomes less prominent as the story develops and Quah focuses on how two very different families respond to stress and how fateful decisions are related to social status. Much of the gut wrenching tension stems from whether Weijie's family can maintain an innocent façade despite being traumatised, and whether establishment figures Dutporn and Laoorn will resort to abusing authority to find out what has happened to their son.
Best known for his comedic turns, Xiao gives an unexpectedly layered performance as the outwardly easy-going techie whose light-hearted manner belies not only his sense of familial responsibility but also his intuitive smarts. Relishing her juiciest role in years, Joan Chen plays her intimidating police chief to the hilt complete with severe haircut and an imposing pair of sunglasses. Yet she also imbues Laoorn's stern ferocity with a palpable sense of maternal strife that prevents the film from sliding into simple minded class warfare territory.
Making his feature-length debut under the auspices of executive producer Chen Sicheng, whose Detective Chinatown (2015) memorably used its Thai setting, Quah has created a tangible melting pot which is vividly shot in yellow, blue and gothic green tones by cinematographer Zhang Ying. Familiar cultural elements such as Buddhist temples and Mauy Thai boxing matches are incorporated but more interesting is the depiction of grassroots tensions during election season as the disgruntled community becomes galvanised by the harassment of Weijie's family. In this respect, supporting players like Qin Pei as a helpful immigrant noodle shop proprietor and Shi Mingshuai as the police department's seething bad apple are as crucial to the sense of milieu as Zhao Xuehao's authentic production design.
Aside from a score by Cho Hye Won which is frequently too insistent in its effort to escalate the drama, A Sheep Without a Shepherd is skilfully calibrated entertainment bolstered by involving performances from a uniformly terrific cast.
Production company: Hengye Herdsman Pictures Co.
International sales: Wanda Pictures, wanda_sales@163.com
Producers: Cary Cheng, Huang Bin, Jerry Zhang, Xiang Huaquan, Yang Ziewei
Screenplay: Yang Weiwei, Zhai Pei, Li Peng, Fan Kaihua, Qin Yuqian, Lei Sheng
Production design: Zhao Xuehao
Editing: Tang Hongjia, Zu Xinyu
Cinematography: Zhang Ying
Music: Cho Hye Won
Main cast: Xiao Yang, Tan Zhuo, Joan Chen, Philip Keung Ho-Man, Paul Chun