When her best friend goes missing, a New Mexico waitress embarks on a dangerous desert mission to find her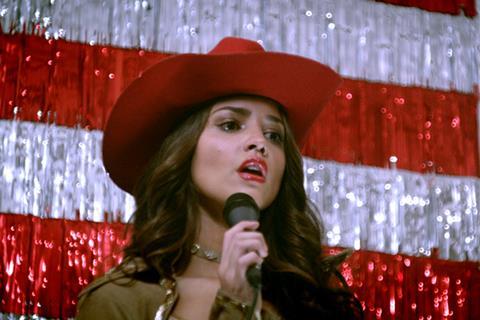 Dir: Alexandra McGuinness. Ireland, UK. 2019. 100mins
Heidi (Lucy Fry) is a diner waitress who makes a living serving up stewed coffee to truckers who eye her as if she's an item on the menu. Jane (Eiza González) works in a casino but dreams of stardom as a rodeo queen. The friendship between the two is both safety net and escape from a hardscrabble daily slog in the unforgiving New Mexico desert country. Then Jane disappears and Heidi, initially the more lost and directionless of the two, is forced to confront the dangerous secrets of the desert in order to find out the truth. This striking drama vividly captures the sense of uncertainty of transient lives, but loses power in a final act which gets somewhat mired in hallucinatory dream logic.
McGuinness puts emphasis on creating an emphatic sense of place
The second film from Irish director Alexandra McGuinness following London-set Lotus Eaters, She's Missing has a Lynchian sense of mystery and is a prickly and distinctive portrait of female friendship. Perhaps a little offbeat to make much of a mark theatrically, the film could find an audience through streaming platforms.
McGuinness puts emphasis on creating an emphatic sense of place. The parched backdrop somehow seeps into every frame. There's a dusted, soft quality to the light in the interior scenes; repeated overhead exterior shots show networks of baked riverbeds threading through the landscape like dried out veins. There's a sense, which builds throughout the film, that the desert is almost a malevolent presence. It's certainly an uncaring one, as the wall of missing person posters in Heidi's diner attests.
Impulsive Jane sees her life in the sun-baked backwater as something to escape, by any means necessary. But Heidi is more rooted: the screenplay drops hints of an unsettled backstory which prompts her to cling to the stability of the unremarkable life she has made for herself. She is thrilled when, out of the blue, she is contacted by the aunt she never knew, but loyalty to Jane prevents her from relocating.
Jane has no such qualms, flooring her BFF with the announcement of a whirlwind engagement and marriage to a soldier. But life in the flat, grey community where the spouses of military personnel while away their time doesn't sit well with Jane's dreams of rodeo glory. And she is curiously snippy about Heidi's relationship with a wannabe cowboy. After Jane tries and fails to earn the crown of rodeo queen, she simply vanishes. And Heidi soon realises that she is the only person who cares.
Of the two central characters, Heidi is the more satisfyingly developed. Fry fleshes out a character who has an unassuming charm despite her early diffidence. And an increasingly steely toughness is a welcome addition to the character's arsenal as her quest for Jane leads her to a cult-like desert community of cactus juice addicts, led by Josh Hartnett wearing a beatific smirk and a kaftan. Jane, meanwhile, is petulant and mercurial, but her character's motivation is clouded.
An ominous score, full of metallic clanks and groans, helps build the tension and sense of threat. But a languid, cactus-fuelled trip at the opening of the third act causes pacing issues and a lack of focus which rather undermines the picture's climax.
Production companies: Ripple World, TW films
International sales: Carnaby International Sales & Distribution office@carnabyinternational.com
Producer: Anna O'Malley, Eamonn Cleary, Dominic Wright, Jacqueline Kerrin
Screenplay: Alexandra McGuinness
Production design: Carol Uraneck
Editing: Mairead McIvor
Cinematography: Gareth Munden
Music: David Harrington
Cast: Lucy Fry, Eiza González, Josh Hartnett, Sheila Vand, Antonia Campbell-Hughes