Cooper Raiff's debut feature wins the online narrative feature competition at SxSW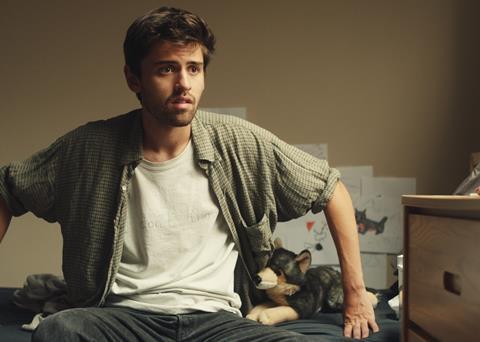 Dir/scr. Cooper Raiff. US. 2020. 101 mins.
The edgiest thing about Shithouse is its title. It's false advertising too, as Shithouse turns out to be a sweet spot, a tiny debut from 22 year-old writer/director Cooper Raiff which has just won the top prize in the freshly-online SxSW Film Festival's narrative section. This story of a homesick college freshman, played affectingly by Raiff himself, doesn't break any new ground - it doesn't even try - but his film is still an appealing charmer which seems very well suited to its new online berth. Streaming services should come calling, at least.
It's a small film, a little world, yet to its participants fresh out of High School, it can feel scarily big
A small story like this, the tale of a lonely 19 year-old boy from Dallas living far from home at college in California, is quite rare in cinema at the moment with its sad middle-class white male protagonist, and there's a retro feel to its simple staging. Raiff is fond of jaunty string guitar interludes, for example, as the film's principals spend time wandering around campus late at night divesting themselves of their life stories. He's certainly seen Before Sunrise. But that also gives Shithouse a gentle innocence, despite its title. The best films about college are by people who are still there, or have just left, and you can see why Jay Duplass helped Shithouse along after being shown a rough cut.
Subtitling the "thoughts" of an anodyne stuffed animal is just one of several cute moves which don't linger long enough to become cloying (admittedly, however, the 101-minute running time is not exactly in harmony with the depth of the content here). A reliable element of the college romantic comedy is that there will be a slacker room-mate and the friend-less Alex (Raiff) is gifted with a good one in Sam (Prey's Logan Miller), a supposed water polo player and a terrible stand-up comic whose less attractive elements include incipient alcoholism and soiling himself. Alex's attempts at friendship are roundly rebuffed. "You tried," says the soft toy. "Let's go home."
Although he's miserable and desperately homesick for his loving mother (Amy Landecker) and sister, who are always at the end of the phone, Alex won't give up that easily. Essentially, he wants to grow up. But it's hard. He agrees to go to a campus party in a place called Shithouse, where he meets his RA (resident assistant) Maggie (Dylan Gelula). She, like another drunken girl, isn't even interested in knowing his name before manoeuvring him towards the bedroom. Girls want him for sex, boys don't want him at all, yet he's clearly a nice guy. There's a real sense here of how sad and lonely life can be for these young adults as they cut the ties with home to embark on their great college adventure. And Alex is telling the truth when he admits he "literally has zero friends" at college after six months. ("You could say my roommate Sam is a friend but we hate each other, so we're not really friends.")
A dead turtle called Pete has a part to play in bringing no-ties Maggie and the super-needy Alex together – she says he's like Jennifer Garner in 13 Going On 30, and she's not far wrong. But Raiff steadily shows us who they are and how they got to be this way; Alex is mourning his father and Maggie is too, in her own way. Just shy of the hour mark, Raiff abruptly opens the curtains on the next day and pulls the rug out from under the audience. It's not going to be a good one for Alex.
Production values here are competent, if very basic – it's a small film, a little world, yet to its participants fresh out of High School, it can feel scarily big. Raiff directs himself to a surprisingly sympathetic performance. We'll be hearing more of him, even though it's quite a relief when that jolly guitar he's lined up for the score has played its last chipper note.
Production company: CMR Production
International sales: ICM Partners
Producers: Will Youmans, Divi Crockett
Screenplay: Cooper Raiff
Cinematography: Rachel Klein
Editing: Cooper Raiff, Autumn Dea
Production design: Teddy Padilla
Music: Jack Kraus
Main cast: Dylan Gelula, Cooper Raiff, Amy Landecker, Logan Miller, Olivia Welch