Hirokazu Kore-eda turns in a masterful ensemble piece about a 'family' living on its wits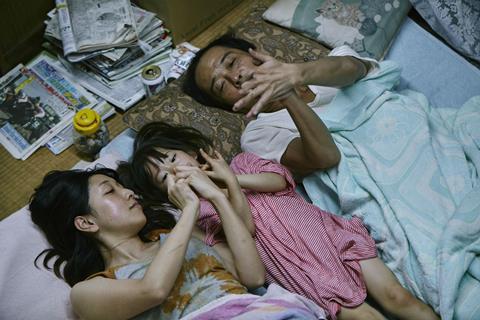 Dir/scr: Hirokazu Kore-eda. Japan. 2018. 121 mins.
What makes a family a family? That's the question at the core of prolific auteur Hirozaku Kore-eda's latest drama, which neatly wrong-foots the audience as it progresses. At first, it seems to be gearing up as a bittersweet fable, a contemporary Japanese update of It's A Wonderful Life, but as the layers of the story about an alternative family living on its wits are peeled back, we are confronted with a steely critique of society's (and humanity's) failings – one not seen in the director's work, with this level of clarity, since his quietly devastating 2004 work Nobody Knows.
We realise that we've been bamboozled into smiling most of the way through a heartbreaking film.
Some of the credit must go to the stellar casting and performances. It's difficult to single out one of the six actors in this alternative family unit as it's a true ensemble display. But Kore-eda's deft command of tone is a key factor too in a film that may turn out to be one of his most exportable. Internationally, it could surpass even Like Father, Like Son – which tapped into a similar debate about the difference between bonds of blood and bonds of affection that are built patiently over months and years.
Kore-eda's economy of means comes through in the film's captivating first five minutes, where we see father Osamu (Lily Franky) and Shota (Jyo), his son of perhaps 13, entering a supermarket and shoplifting like seasoned pros, each covering for the other. Returning home on this freezing night, they find a hungry little girl called Juri (Miyu Sasaki), all alone on the balcony of a ground-floor apartment, and invite her back to eat in the home they share with grandma Hatsue (veteran Kilin Kiki), Osamu's younger street-smart partner Noboyu (Sakura Ando), and the latter's apparent half-sister Aki (Mayu Matsuoka), who turns out to be a sex worker in a peep show club.
Somehow, Juri ends up staying the night, and when they discover the bruises and scars on her arms, it seems only natural for this odd family to keep the adorable poppet on in a cluttered house where love, support and gluten cake (the little girl's favourite food) are in plentiful supply, and nobody needs to go to school.
The impulse to give a vulnerable young child a better life is so strong, and Yuri's gradual embrace of her new brother, mother, father, aunt and granny so affecting, that we follow the lead of her adopted family and put aside, for the moment, the uneasy thought that she's been kidnapped. Yuri even looks cute when inducted into the father-and-son shoplifting act – again, the audience's misgivings are defrosted by the glow of Kore-eda's warm comedic touch. By the end, we realise that we've been bamboozled into smiling most of the way through a heartbreaking film.
The director's work with DoP Ryuto Kondo and production designer Keiko Mitsumatsu is key to the film's probing of intimacy, especially in the scenes set in the cluttered home of this family of chancers who all live on top of one another in a tiny old house where boxes are piled high and cables snake across the floor. The effect is to generate warmth by cramming people together and piling things up – but that sort of warmth goes quickly cold when the bodies separate and the towers of junk topple. An eclectic soundtrack by legendary Japanese rock musician and electronica pioneer Haroumi 'Harry' Hosono of Yellow Magic Orchestra plays intriguingly against the grain at many junctures – laying cool nightclub swing jazz, for example, over that initial shoplifting scene.
Production companies: Aoi Pro. Inc., Gaga Corporation, Fuji Television Network Inc.
International sales: Wild Bunch, ediederix@wildbunch.eu
Producers: Kaoru Matsusaki, Akihiko Yose, Hijiri Taguchi
Production design: Keiko Mitsumatsu
Editing: Hirokazu Kore-eda
Cinematography: Ryuto Kondo
Music: Haruomi Hosono
Main cast: Lily Franky, Sakura Ando, Mayu Matsuoka, Kilin Kiki, Kairi Jyo, Miyu Sasaki