Dir: Martin Scorsese. US. 2016. 161mins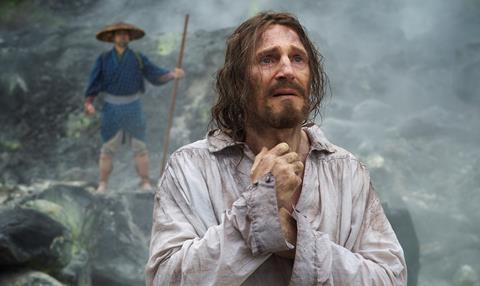 An act of faith which is as unyielding as the Christian devotion that dominates its characters' lives, Silence makes no apologies for its solemn tone and the uncompromising way it grapples with the almighty. But those willing to go along on Martin Scorsese's arduous journey will find themselves eventually rewarded by a drama that plays out like an anguished summation of the 74-year-old filmmaker's career-long obsession with the inherent paradoxes of living spiritually in a world beset with earthly temptations. Uneven, sometimes repetitive but also powerfully moving and thought-provoking, Silence is an imperfect movie that's very hard to shake.
Some may find Silence's agonised self-flagellation far too ponderous and tortured.
Opening in late December in the US and early 2017 in the UK, Silence will be an event movie for cineastes and Scorsese fans, with curiosity further stoked by the fact that the director has wanted to make a film of the Shūsaku Endō source novel for nearly three decades. Star power from Andrew Garfield, Adam Driver and Liam Neeson will help, but a lengthy run time and difficult subject matter will naturally limit commercial appeal.
Silence follows Rodrigues (Garfield) and Garrpe (Driver), 17th century Portuguese Jesuit priests who travel to Japan to track down their mentor, Father Ferreira (Neeson), who went missing a few years ago. Their mission is not an easy one, though: Christianity is outlawed in Japan, and those openly practicing the religion are subject to torture and death. Undaunted, Rodrigues and Garrpe sneak into the country, hoping to determine Ferreira's whereabouts.
Scorsese has been interested in adapting Endō's 1966 novel ever since he read it after directing The Last Temptation Of Christ. (Japanese director Masahiro Shinoda previously made a film version in 1971.) The Oscar-winning filmmaker has often focused on characters torn between their faith and the realities of secular life, but not since Last Temptation has the director, who entered a Jesuit seminary as a teenager, so urgently explored both the doubt and devotion that characterise true believers — especially when they're persecuted for their faith.
Strikingly lensed by Rodrigo Prieto to emphasise the timeless, pastoral beauty of mid-1600s Japan — the film was actually shot in Taiwan — Silence transports us to a lush forest paradise where danger lurks beyond the vast expanse of trees. Rodrigues and Garrpe encounter Japanese Christians worshiping in secret in their villages, but the priests know that their movements could raise suspicion among the local authorities, who have spent decades ridding the country of believers. Not since Terrence Malick's equally contemplative The Thin Red Line has the serene natural world collided so forcefully with the ever-present threat of manmade violence.
Working with frequent cowriter Jay Cocks, Scorsese eventually focuses on Rodrigues after the two priests split up, which proves to be a relief considering that the characters' interpersonal dynamics aren't particularly engrossing. There's a sense that these men represent different ways of approaching faith — one believing that a person should never renounce God, the other believing that pretending to apostatise in order to stay alive is understandable — but these capable actors fail to build much rapport, which reduces their spirited debates to dry intellectual exchanges.
Once Silence trains its sights on Rodrigues, though, the film gradually begins to build in intensity. Imprisoned and antagonised, this priest goes through serious psychological ordeals. During these trials, Tadanobu Asano is subtly effective as a smug interpreter who loves mocking Rodrigues for his blind devotion to an unseen deity, while Yôsuke Kubozuka is wonderful as a Judas-like Christian who reveres this priest yet is all too willing to betray him for some pieces of silver.
With the dialogue concentrated on the mysteries of faith — and how Rodrigues' rigid insistence on God's existence might be its own form of self-deluded arrogance — Silence is an esoteric undertaking that appeals more to the head than the heart. But the film's slow, steady, grim pace becomes a gripping metaphysical test of Rodrigues' spiritual commitment. The character isn't particularly well-drawn, but Garfield's earnestness in the role sells Rodrigues' mental and emotional breakdown.
As the mentor who's gone missing, Neeson has to shoulder the burden of portraying an enigmatic figure whose late arrival into the narrative must justify the build-up. Neeson proves equal to the task, nicely underplaying Ferreira in such a way that it speaks to another of Silence's central themes: how the passionate idealism of youth can morph with age, experience and weary resignation. Some may find Silence's agonised self-flagellation far too ponderous and tortured. But Ferreira's appearance elevates the movie beyond matters of Christian doctrine to universal questions about how society should best confront all forms of intolerance — and whether belief in something greater than oneself is sufficient compensation for the cruelty and bigotry of the material world.
Production companies: SharpSword Films, AI Film, Catchplay, IM Global, Verdi Productions, EFO Films, YLK, G&G, Sikelia, Fabrica de Cine
US distribution: Paramount, www.paramount.com
UK distribution: Studiocanal, www.studiocanal.com
International sales: IM Global, info@imglobalfilm.com
Producers: Martin Scorsese, Emma Tillinger Koskoff, Randall Emmett, Barbara De Fina, Gastón Pavlovich, Irwin Winkler, Vittorio Cecchi Gori, David Lee
Executive producers: Dale A. Brown, Matthew J. Malek, Manu Gargi, Tyler Zacharia, Ken Kao, Dan Kao, Niels Juul, Chad A. Verdi, Len Blavatnik, Aviv Giladi, Lawrence Bender, Stuart Ford
Screenplay: Jay Cocks & Martin Scorsese, based upon the novel by Shūsaku Endō
Cinematography: Rodrigo Prieto
Production design: Dante Ferretti
Editor: Thelma Schoonmaker
Music: Kim Allen Kluge & Kathryn Kluge
Website: www.silencemovie.com
Main Cast: Andrew Garfield, Adam Driver, Tadanobu Asano, Ciarán Hinds, Issey Ogata, Shinya Tsukamoto, Yoshi Oida, Yosuke Kubozuka, Liam Neeson