'Dirty God' director Sacha Polak and star Vicky Knight reunite for this drama based loosely on Knight's own life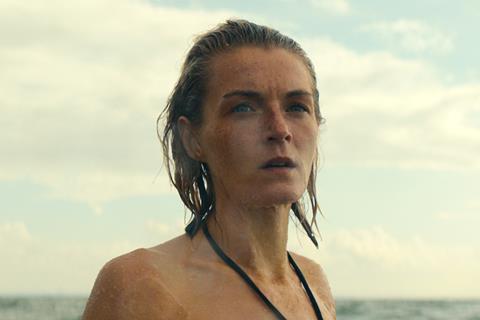 Dir/scr: Sacha Polak. Netherlands, UK. 2023. 103mins
Franky (Vicky Knight), a nurse in her early 20s, forms a relationship with Florence (Esmé Creed-Miles), a young female suicide survivor who passes through her hospital. For a while, at least, the relationship offers Frankie the chance to move past the trauma of a horrific house fire that scarred her as a child, fifteen years before. But Florence's increasingly unpredictable behaviour together with Franky's raw anger at her father's abandonment and the unresolved questions about the fire make for an explosive combination in this handsomely shot but scattershot and uneven drama.
Knight is a compelling and fiercely persuasive performer
The latest picture from Sacha Polak sees the writer/director reunited with Knight, the non-professional star of her previous project, Dirty God. Both films focus on a young, working-class British woman struggling to come to terms with an ordeal that has left its mark both on her body (Knight is a real-life burn survivor) and her psyche. But Silver Haze, which was based on improvisations and recollections from Knight's own life, covers a little too much ground and lacks the propulsive focus of Dirty God. It should, however, generate interest on the festival circuit following its Panorama debut, as well as among arthouse distributors looking for unflinching female-led storytelling. The film will be released in France by The Jokers and Cineart holds the rights for Benelux.
The film is at its most persuasive in the less scripted scenes – the interplay between Franky's family during a birthday party for her younger sister Leah (Charlotte Knight) is vital and deftly captured, the camera darting between the characters and picking up on the affectionate in-jokes and tensions . But the family dynamic is strained. The girls' mother is unpredictable and, it is suggested, troubled by addiction and psychiatric disorders. And the news of Franky's sexuality is received with open hostility and insults, screamed across the street and prompting feverish twitching of the neighbourhood net curtains.
So Franky makes the move from that over-crowded and somewhat toxic home in Dagenham, East London, to live with Florence's kind and non-judgemental grandmother Alice (Angela Bruce) and autistic brother in Southend. It's a much more inviting place. Alice wears her terminal cancer diagnosis lightly, embracing the life she no longer takes for granted. For Franky, she's a rock. But for brittle, privileged Florence, whose suicidal impulses and eating disorders are just the tip of an extensive list of mental health issues, her grandmother is yet another thing to kick against. Florence is a tricky role for Creed-Miles, who is a charismatic presence but sometimes struggles to find the truth in the character's writing.
Polak's collaborative, open approach means that the snapshots of various elements of Franky's life are intensely felt and authentic. However, they are not always cohesive, and a rather diffident and wafty score fails to tie the disparate elements together. It seems possible that the film presented something of an editing challenge: it grows increasingly disjointed as Franky finally moves towards reconciliation with her father and something approaching closure. Still, throughout it all, Knight is a compelling and fiercely persuasive performer.
Production company: Viking Film, Emu Films
International sales: New Europe Film Sales office@neweuropefilmsales.com
Producers: Marleen Slot, Michael Elliott
Cinematography: Tibor Dingelstad
Production design: Elena Isolini
Editing: Lot Rossmark
Music: Ella van der Woude, Joris Oonk
Main cast: Vicky Knight, Esmé Creed-Miles, Charlotte Knight, Archie Brigden, Angela Bruce