Dir. John Carney. Ireland, 2015, 105 mins.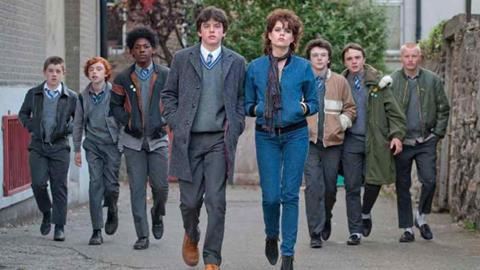 John Carney's 1980s-set Sing Street is like a barnstorming tribute group. It's crowd-pleasing, heart-warming, hits all the right notes, and is eager to please. It's easy to love, even if it's not quite playing originals. This toe-tapping musical about a Dublin schoolboy who wants to be in a band and the lost girl he falls in love with is certain to be successful for US distributor The Weinstein Company, which will stress the screen and stage success of the director's Once and Begin Again on its commercial release.
Sing Street will have boundless appeal for anyone who ever tried their hand at being in a school band, while mining the 1980s for laughs and bad New Romantic hairdos.
And yet, even as the film sails along on 80s nostalgia gags and infectious original songs, it's clearly a confection without the emotional punch – or technical prowess – of the films in whose giant footsteps it follows, most palpably The Commitments, but also Billy Elliot. This is no Roddy Doyle at work. At the end of the day, it isn't so much the boy-girl romance that gives Sing Street its authenticity, but the love story between Conor (newcomer Ferdia Walsh-Peelo) and his lost-soul brother Brendan, played most likably by Jack Reynor.
Sing Street will have boundless appeal for anyone who ever tried their hand at being in a school band, while raiding the 1980s for laughs, bad New Romantic hairdos and familiar pop anthems. It's a commercially potent combination, which Carney mines with admirable determination (because Conor is young and doesn't really know what music he likes, his band's appearance changes according to who he's been listening to. One day it's Duran Duran, the next, The Cure – teeing up a string of funny costume gags).
The boys' parents (The Commitments' Maria Doyle Kennedy and Aidan Gillen, from Game of Thrones), have fallen on financial hard times in the 1980s recession and have moved Conor to a sink school in inner-city Dublin's Synge Street (pronounced 'Sing'). It's a tough adjustment for the soft-natured Conor, and he comes up against both the Christian Brothers who run the school with fists of iron and bullies from the local estate. But things look up when he spots the gorgeous Raphina (Lucy Boynton), who is set to emigrate to London where she wants to become a model.
Inspired by Duran Duran's Rio, Conor persuades Raphina to be the girl in his band's next video. Now he only has to form one, knocking on doors in a Commitments tribute with his pint-sized manager Darren (Ben Carolan) until he finds the multi-talented rabbit lover Eamon (Mark McKenna) and forms the basis of Sing Street, who perform original songs composed by Carney and Gary Clark. The first, The Riddle of The Model, is particularly amusing, but fortunately they get better, riding a crescendo to the final show-stopper at the school disco.
More emotionally absorbing, however, is the relationship between stoner Brendan and his little brother. Brendan has dropped out of college and sits at home listening to his parents argue; a music fanatic, he sees potential in Conor but also an opportunity for the young boy to leave Dublin behind, even if it means they separate. With the film dedicated to brothers everywhere, there seems little doubt that this is the true heart of the piece.
Performances in Sing Street are strong across the board, with Reynor providing a solid grounding for the younger actors to play against. Newcomer Walsh-Peelo is perfectly cast and very confident, both in front of the microphone and as a sweet-natured teenager. It's a lovely role. Boynton, however, can come across as less assured, and the romance isn't as captivating as the film's other elements.
Apart from a few funny moments with video cameras, stagings are routine, if not ordinary. Set in 1985 Dublin, Sing Street has poured its effort into the music and visually, the film is unremarkable, letting the songs do the talking. Carney certainly knows how to knit together a soundtrack that elevates. The Commitments moved successfully onto the stage, as has Carney's own Once, and there seems no reason for Sing Street not to do the same.
Production companies: A Likely Story, FilmWave, Distressed Films, Cosmo Films
International sales: FilmNation Entertainment
Producers: Paul Trijbits, Christian Grass, Anthony Bregman, Martina Niland, John Carney
Screenplay: John Carney, from a story by Carney and Simon Carmody
Cinematography: Yaron Orbach
Editors: Andrew Marcus, Julian Ulrichs
Production design: Alan MacDonald
Music: Gary Clark, John Carney
Main cast: Lucy Boynton, Maria Doyle Kennedy, Aiden Gillen, Jack Reynor, Kelly Thornton, Ferdia Walsh-Peelo