Good-natured comedy about an all-male synchronised swimming troupe directed by Gilles Lelouche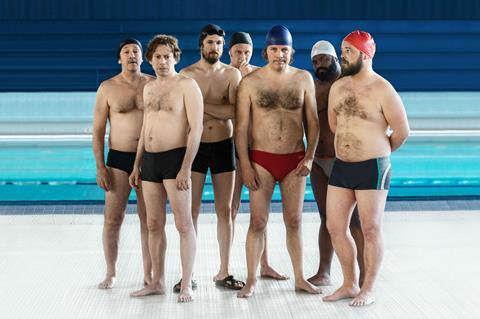 Dir Gilles Lellouche. France/Belgium. 2018. 122mins
You wait ages for an all-male synchronised swimming comedy and then two come along at once. Gilles Lellouche dives in first with Sink Or Swim (Le Grand Bain), a surefooted crowdpleaser with enough warmth and the committed talents of a stellar ensemble cast to fend off any sense of predictability. It should make commercial waves on its domestic release later this year and travel well.
Sink Or Swim works because of a screenplay with some genuinely funny moments and a jaunty, confident approach from Lellouche
The Full Monty appears to have been the inspiration for both Lellouche and the forthcoming British effort Swimming With Men. There is a similar sense of emasculated, middle-aged men tackling their demons by committing to the most unlikely of public acts. Sink Or Swim doesn't cut quite so deeply but has a likeable charm and sneaks up on the viewer in its more reflective, emotional moments.
Mathieu Amalric's Betrand is unemployed, depressed and sending his days playing Candy Crush when he spots a sign seeking new members for an all-male team of synchronised swimmers. Amateurs are welcome, which is just as well given that the rum bunch of current members are neither very synchronised nor especially professional.
Under the indulgent tutelage of coach Delphine (Virginie Efira), the team starts to train regularly and the sessions in the pool prove as valuable as the time spent bonding over drinks in the pub or relaxing in the sauna. Every one of them has a problem of some kind from businessman Marcus (Benoit Poelvoorde) teetering on the brink of bankruptcy, to glowering uptight Laurent (Guillaume Canet) and an aging rocker (Jean-Hugues Anglade) who still nurtures dreams of stardom after 17 albums and no hit records.
There is nothing too surprising about how Sink Or Swim unfolds as the men bicker, develop a sense of solidarity and regain self-respect from their involvement in the group and a reckless decision to compete in the World Championships. There are training montages, fights, foolishness and sentimental life lessons along the way.
Sink Or Swim works because of a screenplay with some genuinely funny moments and a jaunty, confident approach from Lellouche that displays his sure comic timing and faith in the performers. Jean-Hughes Anglade is rather touching as a gentle man still hoping to impress his daughter, Jonathan Zaccaï is a hoot as the slow-witted but endlessly kind-hearted Thibault and it is a delight to see Mathieu Amalric's Bertrand slowly coming back to life and seizing his moment.
The music choices, including Olivia Newton-John's Let's Get Physical and the Vangelis Chariots of Fire theme, are all a little on the nose and the film feels overlong as it nudges the two hour mark. There are reservations, but this is still a well-made, feel good entertainment that will win the audience over long before the big finale in Norway.
Production companies: Tresor Films, Chi-Fou-Mi Productions,
International sales: Studio Canal anne.cherel@studiocanal.com
Producers: Alain Attal, Patrick Quinet, Hugo Sélignac
Screenplay: Ahmed Hamidi, Gilles Lellouche, Julien Lambroschini
Production design: Florian Sanson
Editing: Simon Jaquet
Cinematography: Laurent Tangy
Music: John Brion
Main cast: Mathieu Amalric, Guillaume Canet, Benoit Poelvoorde, Jean-Hugues Anglade