Dir: Jason Moore. US. 2015. 118 mins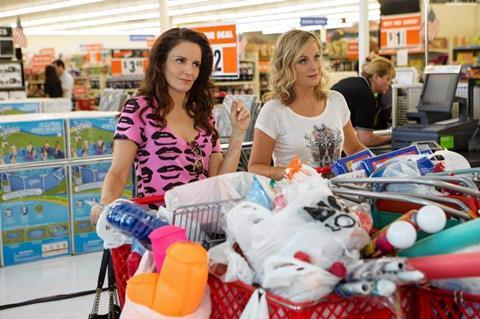 Tina Fey and Amy Poehler headline Sisters, a raucous and outrageously (if harmlessly) crude slapstick comedy about two immature early-fortysomething siblings who decide to host one last legendary party at their childhood home before it's sold. Customised for Fey and Poehler by veteran Saturday Night Live and 30 Rock writer Paula Pell, here making her debut as a solo screenwriter, the movie should play well with female fans of the duo, who last shared the big screen together (uncredited) in 2013's Anchorman II: The Legend Continues.
It comes as a bit of a shock to hear the normally ladylike Fey mouth a torrent of barbed, off-colour penis and vagina jokes
Significant acting contributions by current SNL performers Bobby Moynihan and Kate McKinnon and alums Maya Rudolph, Rachel Dratch, and Chris Parnell should draw in viewers from the show's broad fan base in the US, although these players will have less resonance in the international marketplace for Universal.
Sisters' rat-a-tat wisecracks and some visual gags are much dirtier, however, than those permitted on SNL or 30 Rock,and it comes as a bit of a shock to hear the normally ladylike Fey – who plays Kate Ellis, the older sister – mouth a torrent of barbed, off-colour penis and vagina jokes. Credit to Pell, most of them are pretty funny.
Nothing, though, tops the sustained mid-party scene in which Poehler's younger sister Maura has to help her new-found boyfriend James (Ike Barenholtz) get rid of her long-neglected music box. Just when they were about to have sex for the first time, James accidentally impaled himself on the ornament's tiny ballerina, triggering its constant rotation in his rectum but muffling its tinkling Beethoven tune.
As well as being a trash-talker par excellence, Kate is a confident, bra-flashing beautician whose dissolute ways have provoked more sensible attitudes in the teenage daughter, Hayley (Madison Davernport), she's brought up alone. Tired of her mother's recklessness, Hayley has spent the summer away from her – Kate misunderstands where exactly – while staying in touch. At the start of the film, they face imminent homelessness.
Though grieving divorcee Maura lives as haphazardly as Kate, she is a lifelong prude who in lieu of expressing herself sexually has devoted herself to giving help to others while desperately needing it from her sister and their happily married and sexually active parents (James Brolin, Dianne Wiest).
When not working as a nurse, Maura distributes small cards printed with tritely uplifting spiritual epigraphs to all and sundry.
Kate and Maura hurry to Orlando, Florida, to confront their mom and dad for selling the suburban family home there. Since they can't do much about it, the girls decide to throw the kind of big bash they used to host in their teens and invite their old high-school friends, partially to irk the smug young New York couple who have bought the property.
The slow-to-start shindig turns into a comic riot. Dratch hilariously recycles her party-pooping SNL character Debbie Downer. Rudolph hams it up as the supercilious realtor desperate to join the fun, having been omitted from the guest list by her high-school nemesis Kate. John Leguizamo lays it on thick as a lascivious ex-squeeze of Kate's who brings in a musclebound dealer (deadpanning WWE star John Cena) to give the party a narcotic lift. Moynihan gives the most over-the-top performance as the tiresome class clown who loses his marbles after accidentally ingesting a noseful of cocaine.
Until James's mishap occurs, Barenholtz's cliché-foiling hunk and a demure Korean pedicurist (Greta Lee), subjected early on to some mock-racist linguistic satire by Poehler (breaking into her SNL persona), are the only characters that confound expectations.
The party serves, of course, to teach Kate and Maura that it's high time they grew up and took responsibility for themselves – in Kate's case, herself and Hayley. The comedy's strength resides in the sisters needing to exchange their values as the unfolding chaos begins to resemble a macrocosmic version of their private lives. When Kate discovers where Hayley spent the summer, a massive rift opens between the sisters – Pell and director Jason Moore finding a striking visual metaphor for it. This broaches sobering – and welcome – issues of trust and betrayal, but so tardily that their resolution strikes a discordant note.
Moore, an experienced Broadway director, otherwise guides Sisters splashily but without any indications of personal style, but none is really expected on this kind of writer-driven project nor would it have enhanced its box-office prospects. The technical credits are fine; the hard-partying soundtrack generic.
Production company: Little Stranger
Worldwide distribution: Universal, www.universalpictures.com
Producers: Jay Roach, Tina Fey, Eric Gurian
Executive producers: Brian Bell, Amy Poehler, Jeff Richmond
Screenplay: Paula Pell
Cinematography: Barry Peterson
Production design: Richard Hoover
Editor: Lee Haxall
Music: Christophe Beck
Website: www.sistersfilm.com
Main cast: Tina Fey, Amy Poehler, Ike Barinholtz, Madison Davenport, Dianne Wiest, James Brolin, Maya Rudolph, Bobby Moynihan, Kate McKinnon, Greta Lee, John Cena, John Leguizamo. Rachel Dratch, Chris Parnell.