Jamie Bell plays the part of a reformed neo-Nazi in Guy Nattiv's gritty drama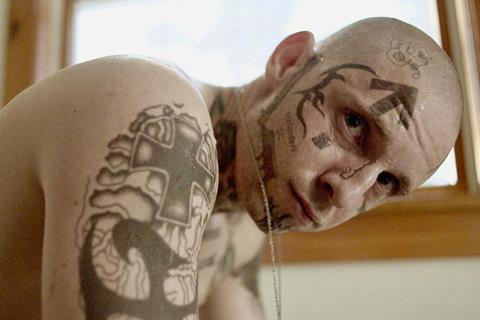 Dir/scr Guy Nattiv. US. 2018. 110 mins
Love triumphs over the darkest recesses of human hatred in Skin. Writer/director Guy Nattiv transforms the true story of reformed racist Bryon Widner into a powerful, if sensationalist, drama with a fierce central performance from Jamie Bell. It is a heartening, inspirational tale to counteract our depressing times but there is so much evil on display that the challenge will be in persuading audiences that they want to spend time in the company of these characters.
The journey to redemption makes for a much tighter and more involving second half
Bell brings a fully committed Method-school intensity to his performance as Widner, a vicious neo-Nazi raised by white supremacists and taught never to question their authority. Prosthetics, weight gain and contact lenses are some of the tools he uses to further the transformation. Widner's elaborate facial tattoos are a map of hatred. He swaggers and glowers, driven by a seething inner anger. His life is a booze-fuelled swirl of sex, drugs and violence. This is a long way from the tender heartbreak of Bell's touching BAFTA-nominated performance in last year's Film Stars Don't Die In Liverpool.
The first half of the film is the weakest as Nattiv establishes Widner's character and the suffocating life of a neo-Nazi community led by Fred (Bill Camp) and the motherly Shareen (Vera Farmiga). An attack on a young black man is staged with little conviction and the violence, hardboiled dialogue and energetic sex start to feel like a wearying wallow in depravity.
When Widner is arrested by the police, he strips naked to reveal the tattoos on his thighs stating "Snitches Get Stitches". He will never betray his people or take the easy way out. We know something fundamental changes as the whole film is punctuated with scenes detailing the painstaking removal of Widner's most conspicuous facial tattoos. (Widner's experiences previously inspired the 2011 documentary Erasing Hate.
The change in Widner's life is a flirtation with sassy single mother Julie (Danielle Macdonald). Julie and her three children give Widner a glimpse of a different life and the better man he could become.
The journey to redemption makes for a much tighter and more involving second half as Widner confronts all the internal conflict and external threat working to convince him that a leopard cannot change its spots, never mind eradicate his tattoos. Skin is a little pedestrian and obvious in its early stages, skirting with the feeling of a television production. It is the nature of the story and the scale of the mountain that Widner had to climb that finally makes it into something more compelling.
Danielle Macdonald is exceptional as Julie, capturing both her fiercely protective relationship with her children and the weary vulnerability of a seen-it-all-before woman sizing up the risks and the rewards of a possible new relationship. There is a lot of (fine) acting going on in Skin but Macdonald is the one who disappears under the skin of her character and makes her feel real.
Production companies Maven Pictures, Sight Unseen Pictures, New Native Pictures, PaperChase Films, Lost Lance Entertainment, Brookstreet Pictures, Come What May Productions, Allusionist Picture House, Hua Wen Movie Group, TUGAWOOD Pictures
International sales: ICM Partners
Producers: Guy Nattiv, Oren Moverman, Jaime Ray Newman, Celine Rattray, Trudie Styler, Dillon Jordan
Production design: Mary Lena Colston
Editing: Lee Percy, Michael Taylor
Cinematography: Arnaud Poitier
Music: Dan Romer
Main cast: Jamie Bell, Vera Farmiga, Danielle Macdonald, Mike Coulter