Dir. Kevin Macdonald, USA, 2016. 76 minutes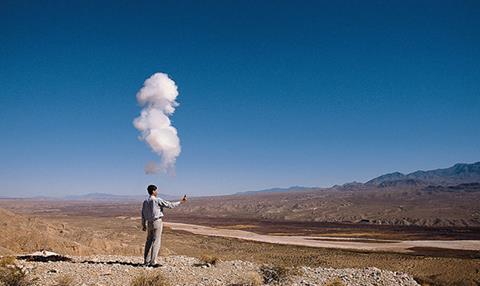 Many a contemporary artist has seen his career go up in smoke. For Cai Guo-Qiang, smoke, fire and explosions have made his reputation. In Sky Ladder: The Art of Cai Guo-Qiang, Kevin Macdonald (The Last King of Scotland, One Day in September) tracks the creation of an ambitious project by an artist who's had plenty of them.
Like Cai himself, the doc is a crowd-pleaser which reveals its complexities in a careful viewing
Last August, Cai constructed the film's title work, a ladder-shaped strand of fireworks, stretching upward for 1650 feet offshore in China's Fujian province. In this ancient land, the ladder burned intensely for all of two minutes and twenty seconds, and then glowed in the early morning sky. In a culture of monuments, old and new, it was an evanescent take on monumentality that self-destructs.
Sky Ladder will benefit from Cai's popularity worldwide. Besides playing on the festival circuit, in art houses and on television, the film is sure to show at the many museums and art fairs where the artist's work has been exhibited. Like Cai, the doc is a crowd-pleaser which reveals its complexities in a careful viewing.
This film, which surveys Cai's entire output in the bio-doc template, presents his career as a slow burning fuse heading toward incandescence. Trained as a theatre designer, Cai came up with the notion that gunpowder, like charcoal, could be a medium for drawings. Soon enough, he was blowing the stuff up – in his studio, on the ground, and in the air all over the world, from Doha to Paris to New York.
Cai's explosive creations have caught on, at the opening of the 2008 Beijing Olympics and at Asian-Pacific Economic Cooperation conferences in China. The work isn't all smoke and sizzle, though. Cai is also a painter, and has expanded his palette in fireworks to include colours that might be brushed onto a canvas. In one display, Cai follows some explosions with green streams of color, like stems of a plant shooting upward. Bursts at the top of those stems release clouds of pink, like flowers. The effect is a huge still-life in perpetual motion.
As Macdonald films Cai near his home town of Quangzhou, we learn that fire was part of this artist's life long before his weaponising of gunpowder. Cai explains that his father managed a government bookstore, and spent most of his pay on books. During the Cultural Revolution of the 1960s, books (other than Chairman Mao's Little Red Book) were condemned as bourgeois luxuries, as were paintings of anything but the Chinese leader. Cai recalls with regret that his father's library at home was set afire, and burned for three days.
Macdonald, at Cai's side with the camera, hasn't overdone the flourishes here, nor is he competing with his subject. Most of the film, after an overture of fireworks, is an observation of Cai's work and his family. For the Sky Ladder finale, however, the filming rose to the logistics of the project itself. When we see the Sky Ladder at its height, we're watching it from the perspective of two drones, one hovering in place, and the other circling around the elongated firework. The spectacular shoot was done without permits, a reflection of what a prominent artist can get away with in China.
Not all artists can break the rules so blithely. One example is the satirist Ai Weiwei, the subject of numerous docs, most of which stress the heavy-handedness of the Chinese government towards artists who cross political boundaries by criticising the state or mocking it. (Both Cai and Ai Weiwei have made statements about culture in flux with huge sculptures of creatures suspended in the air.)
Cai's involvement in the Beijing Olympics is questioned here. The artist responds by asking if critics noticed that Damien Hirst designed a British flag for the 2012 London Olympics. Sky Ladder doesn't resolve questions about artists working with the Chinese state. Bear in mind, however, that Cai has chosen to raise his family in New York.
Production companies: Great Wall Star Media, DJM Holdings, Explosion Art, Insurgent Docs
Producers: Wendi Murdoch, Hugo Shong, Fisher Stevens
Executive producer: Bennett Miller
International sales: Cinetic Media, info@cineticmedia.com
Cinematography: Robert Yeoman, ASC, Florian Zinke
Editors: Nick Emerson, Adam Biskupsi
Music: Alex Heffes