Jérémie Renier and Ava's Noée Abita star in this provocative drama set in an elite ski school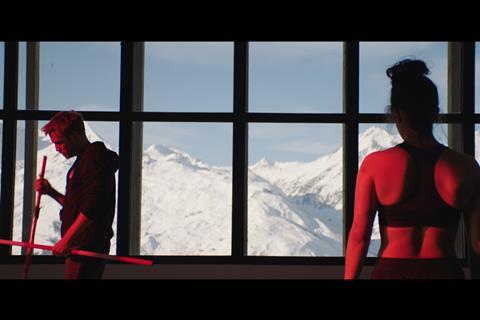 Dir. Charlène Favier. France. 2020. 93mins.
Slalom may be set in the snow in the French Alps but it establishes and maintains a hothouse atmosphere in which a gifted 15 year-old competitive skier's 40ish coach takes a very personal interest in her. Lyz Lopez (Noée Abita, superb) relentlessly and willingly pushes her body to the limit in pursuit of athletic excellence while others have emotional designs on it. Co-writer-director Charlène Favier — who started working on her screenplay long before #MeToo and news of sexual abuse in French athletics made headlines —has made an impressive coming of age tale perfectly suited to the current age.
The material feels especially topical but is also timeless
Fred (Jérémie Renier, outstanding) and live-in partner Lilou run a residential programme for high school athletes who show enough potential to possibly make France proud in the Olympics and whose grades are good enough to both study and train. It's a grueling regimen that Lyz enters without an emotional support system. Her divorced mother has just landed a new job in far-off Marseilles and dad is not in the picture.
It would be a lot to handle even for a young adult; for a 15 year-old it's overwhelming. Before long, Lyz deserves a spot on the podium just for juggling conflicting emotions and seismic stirrings. Downhill skiing — at which she genuinely excels —risks becoming an uphill battle.
Lyz's closest female friend is acting strangely, handsome Max is interested in her, Lyz's mother is wrapped up in her new job and a new boyfriend and Lyz's grades are slipping. Lilou suspects something unhealthy is afoot. But how do you prioritise when your closest adult supervision is drawing too close?
Accepting the insistence of unplanned bursts of sexual desire, carnal interludes are filmed with a keen eye for intimacy. The film excels at depicting physical sensations be they between two people or between Lyz and a ski slope. Lyz's introduction to gooey ejaculate is memorable and thrilling sequences of Lyz skiing communicate the oomph and joy of her sport. The material feels especially topical but is also timeless — how does a young person get her bearings in a whirlwind of obligations that require maximum concentration vs heady new experiences?
Both leads are perfectly cast. Versatile Abita proved she could carry a film in 2017's Ava as an adolescent losing her sight. Renier conveys the contradictions of a former pro clutching at vicarious triumph while wrestling with a nascent obsession that's objectively wrong but may have its uses in spurring his protégé to greater heights. Nothing is cut and dried on the emotional front and that's what renders the story anything but mundane.
Somewhere in the middle of all this, Fred gives a lyrical speech about menstruation that may have male viewers wishing they, too, got their periods. The menstrual cycle is on an expository roll in recent French films. In Alice Winocur's Proxima, Eva Green's astronaut-in-training for a one year space mission is asked whether she wishes to maintain or artificially halt her periods. The doctor says he'll add the weight of tampons to her allocation for personal items.
Production company: Mille et une productions
International sales: The Party Film Sales
Producers: Edouard Mauriat and Anne-Cécile Berthomeau
Screenplay: Charlène Favier, Marie Talon
Production design: Julie Wassef
Editor: Maxime Pozzi Garcia
Cinematography: Yann Maritaud
Music: Low Entertainment
Main cast: Noée Abita, Jérémie Renier