Jamie Foxx makes a high-octane return in Swiss director Baran bo Odar's bullet-strafed blitzkrieg about corrupt cops in Las Vegas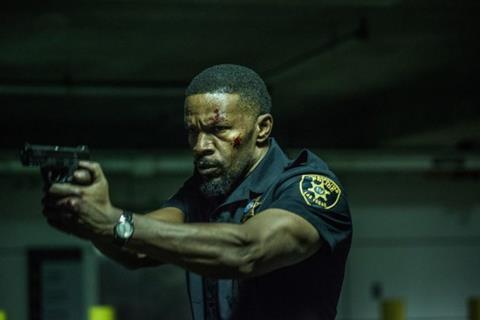 Dir. Baran bo Odar. USA. 2017. 95 mins.
A grimly determined Jamie Foxx goes up against a pummelling score and plot which peels so many onion layers of treachery that it appears as if the whole of the Las Vegas police department is complicit in the cocaine deal which goes south in the opening scene.
Swiss director Baran bo Odar leans heavily on bone-crunching sound design and a percussive score
If this rampaging, bullet-strafed blitzkrieg feels familiar, it's not just because it is a by-the-numbers remake of Frédéric Jardin's propulsive thriller Sleepless Night (Nuit Blanche). The film also pillages stylistic and thematic influences from many other, mostly superior, movies. A Taken-style Dad rescue melds with an undercover(-or-is-he?) Narc plot, topped with relentless, thunderously overstated fight sequences. It's the kind of role that an actor of Foxx's calibre could – and does – churn out on autopilot.
Since Foxx has been absent from cinemas for three years (his last film outing was in the remake of Annie in 2014), it's unlikely that his name will generate enough interest in this convoluted crime pic to counteract the lukewarm critical response. Audiences who prefer to feel a little roughed up by their action movies might show an interest, but it is doubtful that this picture will match the commercial performance of the similarly-paced and equally bloody John Wick films.
The synthetic sheen of the Las Vegas backdrop is given a grubby immediacy by camerawork that squirms and twitches. An opening heist sequence sprays bullets and leaves as many questions as it does bodies. A pair of masked men pull off the daring theft of twenty-five kilos of cocaine. But the thieves are a pair of corrupt cops – Vincent (Foxx) and Sean (Tip 'T.I.' Harris) – and the owner of the drugs, casino boss Rubino (Dermot Mulroney) is the kind of man who tends to get possessive about his stash.
Even with the benefit of hindsight at the end of the film, it's not entirely clear how the drug dealers link the theft to Vincent so quickly, but he is carjacked while grudgingly driving his 16-year-old son to football later the same day. The boy is kidnapped as leverage; Vincent is stabbed in the flank and told to return the cocaine if he wants to see his kid again.
It turns out that Rubino has his own reasons to worry. The drugs are promised to Novak (Scoot McNairy), the weaselly scion of a notorious crime dynasty. He's so ruthless that he cuts out his own cousin's tongue just so that it can serve as a plot device later on in the movie.
On the side of good is Bryant (Michelle Monaghan), an idealistic cop who is determined to root out the bad seeds in the police force. Bryant senses that Vincent is not all he seems and intercepts the sack of drugs that he is trying to return to its rightful owner.
Swiss director Baran bo Odar leans heavily on bone-crunching sound design and a percussive score which rumbles over the film like a pursuing helicopter. Performances are equally unsubtle; Foxx does a lot of steering-wheel pounding and wall-punching. The casino location is effective – it's a tawdry, teaming flesh pot of oblivious punters. But scenes set elsewhere are curiously murky, as if the sheer extent of the corruption has manifested itself as some kind of dissolute smog.
Production company: FilmNation Entertainment, Open Road Films (II), Riverstone Pictures, Vertigo Entertainment
International sales: FilmNation Entertainment info@wearefilmnation.com
Producers: Roy Lee; Adam Stone
Screenplay: Andrea Berloff
Cinematography: Mihai Malaimare Jr.
Editor: Robert Rzesacz
Music: Michael Kamm
Production Design: Tim Grimes
Main cast: Jamie Foxx, Michelle Monaghan, Dermot Mulroney, Scoot McNairy, Gabrielle Union, Octavius J. Johnson