Documentary about a Brussels judge is a surprising audience-friendly hit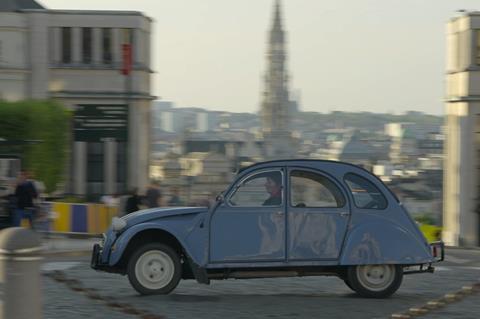 Dirs: Jean Libon, Yves Hinant. Belgium-France. 2017. 99mins
What, exactly, are we watching here? A documentary, surely? Everything points that way in this remarkable portrait of Brussels examining magistrate Anne Gruwez, and the sometimes grisly, sometimes comic, sometimes heartbreaking human stories that she is forced to deal with, and pass judgement on, day after day. But there's a certain tongue-in-cheek insouciance that has us reaching for Google after the end credits just to check that Gruwez really does the job she's credited with in the film. She does.
An engaging, compelling and surprising ride, given dramatic backbone by a cold-case investigation
Belgian audiences familiar with long-running Belgian TV show Strip-Tease, with which both directors have a close connection, will be familiar with the approach. Since 1985, this long-form-Candid-Camera documentary series has gone in search of outlandish true-life stories but applied a purist set of rules (no commentary, no captions, no interviews) to their capture.
But if So Help Me God feels at times like a mockumentary rather than a documentary, and if the occasional audience-testing shock tactic (like the graphic exhumation of a suspect's corpse) is in dubious taste, in the end style and subject achieve a near perfect match. Anyone who has spent much time with people who come into contact on a daily basis with human depravity know that irony and gallows humour are common defence mechanisms, and in this respect Libon and Hinant's breezy fly on the wall technique and lack of solemnity only serve to illuminate the courage and emotional intelligence that lurks behind this front-line magistrate's disarming badinage.
An engaging, compelling and surprising ride, the film is given dramatic backbone by a cold-case investigation Gruwez picks out of the files. All of which should translate into further festival play after So Help Me God's debut in competition at San Sebastian, but also to other berths, on screens big and small, in territories outside the film's core Francophone audience.
"It's nice when satisfied customers come back" quips judge Gruwez near the beginning of this deftly edited film to a hapless career criminal who has been hauled back into her office yet again. She's like an arch, eccentric schoolteacher, one who commands bemusement and respect in equal measure. At first it's the eccentricity that is highlighted as we see the judge driving her vintage Citroën 2CV through the streets of Brussels, or indulging in a spot of gardening at home accompanied by her pet white rat. Gradually, though, we begin to see the mettle behind the magistrate's gossiping auntie act, as So Help Me God alternates two main strands.
The first is that cold case investigation, which centres on the unsolved murder of two Brussels prostitutes twenty years earlier. The second, filmed in Gruwez's office in court, presents a selection of the detainees who have been sent her way immediately after arrest (in the Belgian legal system, examining magistrates like Gruwez have 24 hours after a suspect is booked to decide whether or not they should stand trial).
In the cold-case retread, she's helped out by a brace of macho police officers who become putty in her hands, while her daily office guests include a dominatrix who tells her - egged on by the clearly curious judge – about prostate massages, penile torture and other services she performs ("How many clients a day do you get?" Gruwez asks the plump maitresse, adding "I generally have around 12").
An astonishing degree of behind-the-scenes access to police investigations and judicial audiences is a major audience draw (the release forms must have filled several folders), with a harrowing trump card being played right at the end. But this is not just documentary voyeurism. It's a portrait of a remarkable woman, and a lesson about how to stay human, and do the right thing, when all around are abusing partners, severing heads, killing hookers and threatening dire revenge.
Production company: Le Bureau
International Sales: The Bureau Sales, sales@lebureaufilm.com
Producer: Bertrand Faivre
Cinematography: Didier Hill-Derive
Editor: Françoise Tourmen