A new teacher brings hope for a sensitive 10-year-old living in northeastern France's projects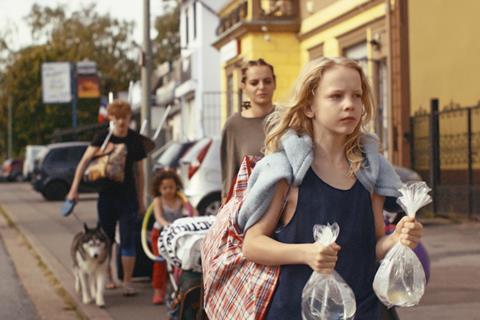 Dir/scr: Samuel Theis. France. 2021. 93mins
Ten-year-old Johnny (Aliocha Reinert) may have the face of an angel, but his living circumstances are far from heavenly. Living in a run-down high-rise in northeast France with his struggling young mother and two siblings, he finds himself shouldering more responsibility than he can handle — but a kindly new school teacher brings a sense of promise. As Johnny begins to explore his options, Samuel Theis' involving second feature, following 2014's Cannes award-winning Party Girl (Camera d'Or and Ensemble Acting), is not so much a journey of discovery, but a tumultuous snapshot of a life at a crossroads.
Expertly captures the confusion, fear and anger as a child attempts to negotiate both the hardships of life and his burgeoning sexuality
The conceit of a troubled young soul being nurtured and influenced by a caring educator is nothing new in cinema, and Softie certainly treads in the footprints of myriad other films from Dead Poets Society to The Class. It's most closely reminiscent, however, of System Crasher, although the softly-spoken, painfully shy Johnny is at the other end of the behavioural spectrum from that film's protagonist. Nevertheless, excellent performances and impressive cinematography give Softie its own identity, and further festival play, not to mention an arthouse release in select territories, seems likely following its Cannes Critics Week debut.
The trouble with Johnny — at least according to his feisty mother Sonia (a commanding Melissa Olexa) — is that he's just not tough enough. With his long blonde hair, slight frame and quiet demeanour, Johnny is at direct odds with the brutish masculinity on display around him: his mother's latest boxing-obsessed boyfriend; his older pot-smoking brother; the jeering teens who hang out on the estate. While Sonia bemoans Johnny's so-called weakness, it also works to her advantage; he can be relied upon to look after his younger sister Melissa (Jade Schwartz) when she is working, getting drunk or sleeping off her hangovers.
It's only when new teacher Mr Adamski (Antonie Reinartz) arrives at Johnny's school that the boy begins to question his lot in life; or, at least, begin to find the voice to do so. Mr Adamski recognises Johnny's intelligence and ambition, and encourages him to have confidence in himself; his girlfriend, Nora (Izia Higelin), also sees something in the young boy, and — perhaps wrongly — encourages a friendship. When Johnny begins to develop an attraction towards his teacher, however, fantasy begins to bleed dangerously into reality.
It's no surprise that Johnny is dreaming about a whole new life, when his home situation is so oppressive. And, while it's no doubt reflecting the appalling realities faced by many disadvantaged young people — indeed, the film is described by its director as being "largely autobiographical" — it's here where Softie can rely rather too heavily on genre cliche. While there is some sensitivity shown to Johnny's mother, for example, who finds herself trapped in a situation she can only escape through alcohol and a succession of boyfriends, her own situation is never explored beyond the neglect that motivates Johnny's own journey.
Yet perhaps that's forgivable in a film which is positioned squarely as Johnny's individual experience, and it expertly captures his confusion, fear and anger as he attempts to negotiate both the hardships of life and his burgeoning sexuality. In a performance that belies his young years, Reinartz embodies the repressed vulnerability of his character, and the increasing desperation that fuels his fixation on Mr Adamski. Crucially, however, Theis is careful to ensure that the story never succumbs to Jonny's immature understanding of things; even Mr Adamski, who acknowledges that Johnny is special, knows the limits of his profession. "I can't be a saviour to every student," he sighs.
Technically, Softie expertly maintains its protagonists' point of view. Cinematographer Jacques Girault strikes a beautiful balance between the hand-held tumult of childhood experiences — intense close-ups of Johnny adrift in the classroom, the frenzy of playground bullying — and more aesthetically staged sequences; faces lit by mobile phones in the night, Johnny running full pelt into a neon lit underground tunnel that fades into a dark nothingness.
Much is made of the film's evocative location of Forbach, a small town right on the border with Germany in which many of the residents speak the so-called "Franconian" hybrid dialect. It feels like a transient space, neither one thing nor the other; a place to pass through, rather than to put down roots. It's telling that when, early on, Mr Adamski asks his new students where they see themselves 20 years from now, most envision lives in far-flung destinations like Miami and Dubai. Johnny, however, has no answer to that same question; although, by film's end, he may just have enough self-confidence to take the first steps to breaking free.
Production company: Avenue B Productions
International sales: Totem Films hello@totem-films.com
Producer: Caroline Bonmarchand
Editing: Nicolas Desmaison, Esther Lowe
Cinematography: Jacques Girault
Production design: Mila Preli
Music: Ulysse Klotz
Main cast: Aliocha Reinert, Antonie Reinartz, Melissa Alexa, Ilia Higelin