A miltary man and part-time boxer gets ready to tread the boards in Jannis Lenz's documentary feature debut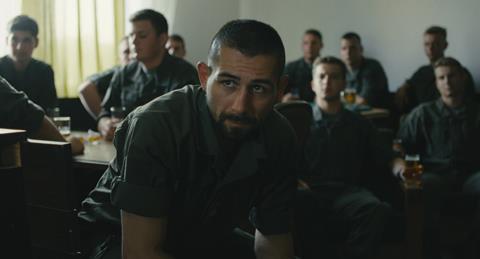 Dir/scr: Jannis Lenz. Austria 2021. 76 minutes
Echoes of Marlon Brando pervade Jannis Lenz's brisk documentary Soldat Ahmet, an empathetic character study of a 30 year-old Turkish-Austrian man getting ready to play Stanley Kowalski in a stage production of A Streetcar Named Desire. Subtly probing issues of masculinity, identity and performance via the eponymous Ahmet, a military paramedic by profession who also excels in the boxing ring, Vienna-based German writer-director Lenz makes a quietly auspicious transition to feature length after a smattering of well-received shorts.
Simsek has considerable star quality
Documentaries focusing so squarely on a single person inevitably rely heavily upon the charm, character and distinctiveness of the individual in question. Fortunately for Lenz, Simsek has considerable star quality - easily enough to sustain our interest over 76 minutes. Indeed, many viewers may find this duration excessively economic.
Best known for the multi-award-winning Wannabe (2017), Lenz also attracted attention for 2015's Shadowboxer (2015), in which 23-year-old Ahmet is shown coming to terms with his violent criminal past. Last year's Battlefield, meanwhile, offered a quizzically detached portrait of a military base. Soldat Ahmet thus combines the protagonist of Shadowboxer with the khaki-clad milieu of Battlefield and feels like a logical, organic culmination of Lenz's work to date.
Soldat Ahmet comprises short scenes offer glimpses into various aspects of Simsek's carefully compartmentalised life: most sequences are concerned either with his military day-job, or with preparations and rehearsals for the Tennessee Williams play. In the latter, Simsek's inability to produce tears (for the climactic scene) poses challenges for the play's director.
By the end of the film, the buzz-cut, bearded thespian has successfully unlocked long-suppressed vulnerabilities, and indeed seems if anything prone to fits of the waterworks. But throughout he is an engaging, genial and intriguing presence, with a ready smile and twinkling brown eyes. His irrepressible good humour is such that he amusingly struggles to achieve a suitably menacing game-face for the benefit of a photographer after a triumphant bout ("people shouldn't see your bright side!").
These boxing exploits — foregrounded in Shadowboxer — are allotted a relatively restricted share of the run-time here; ditto Ahmet's family life. He clearly enjoys warm and supportive relationships with his parents, and is an ideal rough-housing uncle for his nephews and nieces. His relatives do express some concern about the fact that, despite already being 30, Simsek is yet to marry — let alone have children of his own.
And while Soldat Ahmet has aspects of a multi-dimensional chronicle of one man's multiple facets, there remains something naggingly missing: Simsek seemingly has no romantic attachments, and the only "intimate" bedroom moments involve him affectionaly playing with his pet tortoise. Lenz's adoption of the documentary format's tried-and-tested, self-negating, fly-on-the-wall approach means he cannot address such matters directly. But they loom considerably large in their absence; an elephant in the room.
While the homoerotic aspects of Simsek's military and pugilistic exploits never exactly reach Beau Travail territory, Lenz (freely deploying a breathily percussive, mostly a capella score by Benedikt Palier) strongly emphasises the theatrical, performative aspects of the military world, the choreographic elements of its macho denizens' movements in their matching uniforms/costumes.
Production company: Panama Film
International sales: Lemonade Films, Vienna
Producers: David Bohun, Lixi Frank
Editing: Jannis Lenz, Roland Stottinger, Nooran Talebi
Cinematography: Jakob Fuhr
Music: Benedikt Palier