Romance blossoms in a south Thailand coastal town affected by climate change in this tender if unfortunately-named debut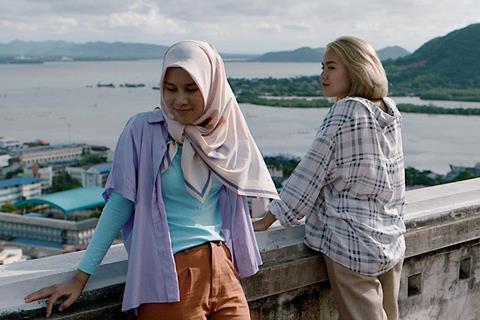 Dir: Patiparn Boontarig. Thailand. 2023. 93mins
A tentative romance unfolds against the frontline realities of climate change in Patiparn Boontarig's debut feature, a predictable, low-key affair elevated by the sensitivity of the direction and an accomplished control of mood and atmosphere. Festival attention should follow a Busan premiere, with particular interest from both environmental and queer-focused events. The unfortunate title may, however, prove an additional challenge in markets where the possibility of solids by the seashore has a rather different meaning.
A predictable, low-key affair elevated by the sensitivity of the direction and an accomplished control of mood and atmosphere
Boontarig was an assistant director on Manta Ray (2018) and Anatomy Of Time (2021) and has directed a number of shorts and documentaries including television documentary The Mermaid's Tears which confronted the corruption and conflict in dealing with climate challenges. Solids By The Seashore is a fictional tale informed by similar issues and rooted in a coastal town in south Thailand. Here, the "solids" are poorly built seawalls designed as coastal defences but responsible for further soil erosion. Drone shots hover over the solids as they stand guard against the incoming tides.
Making the most of the natural sunlight, cinematographer Benjamaporn Rattanaraungdetch captures an appealing portrait of a community where the beach is a central part of life. There are alluring images of red-hued sunsets, crashing waves, rugged rocks and the varied creatures who inhabit rock pools. This is an idyllic location for picnics and romance, fishing, flying kites and skim boarding along the shore – but one ruined by the negligence and failures of local politicians.
Shati (Ilada Pitsuwan) is a young Muslim woman whose life is also constrained by barriers. When we first see her, she is conscientiously pinning a hijab in place. In her room, a copy of the Quran is prominent on the bookshelves and a caged bird sings. Shati is under pressure to conform to the expectations of society, friends and her family, who are all encouraging her to accept a marriage proposal from "nice young man" Faisal (Khalid Midam).
Shati's job at a local art gallery brings her into contact with artist Fon (Rawipa Srisanguan) who returns to town to complete an exhibition she has decided to call End Effect. Fon is more carefree and confident; her hair is uncovered and her wardrobe is casual and unhindered by propriety. There is the tiniest hint of attraction between the two women that progresses in shy smiles and affectionate stares. Boontarig allows the credible, slow-burn relationship to grow organically; spending time together allows the women to share confidences and find common ground. There are always reminders of what is expected of Shati, however, whether from the well-meaning interference of her parents or the visits from Faisal who is seen as progressive and promises a marriage of equals.
Which path Shati might choose is central to a film that handles the modest material with a light touch and a tender regard. The secondary concerns with climate change are effectively folded into the bigger picture, and Boontarig also successfully strays into magic realist territory towards the climax.
A television news anchor and talk show host in Thailand, Ilada Pituswan is impressive in her first major film role capturing the gentle presence and serious nature of Shati. Rawipa Srisanguan was previously seen in Anatomy Of Time (2021) and effectively underplays the more liberated Fon. The chemistry between the two women enhances the appeal of a love story rooted in a culture and a landscape constructed to keep them in their place.
Production companies: Diversion, Mit Out Sound Films, Error Brothers
International sales: Diversion. sales@diversion-th.com
Producers: Chatchai Chaiyon, Mai Meksawan
Screenplay: Patiparn Boontarig, Kalil Pitsuwan
Cinematography: Benjamaporn Rattanaraungdetch
Production design: Praewploy Kapkaew
Editing: Nisarat Meechok
Music: Apichai Tragoolpadetgrai, Sathapat Teeranitayapap
Main cast: Ilada Pitsuwan, Rawipa Srisanguan, Khalid Midam