Matt Porterfield shifts towards a more conventional crime drama in his fourth feature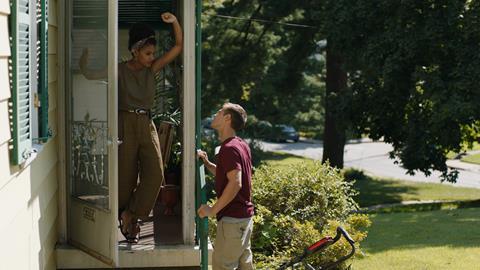 Dir: Matt Porterfield. US/France. 2017. 101 mins
Redemption proves tantalisingly out of reach in Sollers Point – as, arguably, does conventional narrative resolution. But that's part of the appeal of this fourth feature by Baltimore-based writer-director Matthew (or, as he's previously been billed, Matt) Porterfield. While stylistically and in spirit, it's very much of a piece with his previous, loose-hanging ensemble pieces Putty Hill (2011) and I Used to Be Darker (2013), Sollers Point periodically shifts towards more conventionally focused crime drama.
Lombardi's moody blankness plays well in a film that suspends its hero's fate teasingly
Porterfield's achievement in this characteristically moody, downbeat essay is to hang back from expected narrative payoffs, while offering the appeal of a character study rooted in a specific American working-class milieu. This slight shift toward genre won't make the film any more a commercial firework than Porterfield's previous features, but a charismatic star in McCaul Lombardi – previously seen in American Honey and Patti Cake$ - brings some iconic appeal that might enhance its life beyond festivals.
Lombardi plays 24 year-old Keith, who has just – as indicated by an early shot of the tracker device on his ankle – been spending time under house arrest at his father's home in suburban Baltimore, after a spell in prison. Keith has previously been running with a white punk gang, one of whose members, Aaron (Tom Guiry), is nursing a serious beef against him. But Keith's deeper affinities seem to be with black friends and neighbours, like ex-girlfriend Courtney (Zazie Beetz) and rap musician Marquis (Brieyon Bell-El), who stands up for him in a tight spot. While his widowed father, former steel worker Carol (Jim Belushi), irascibly tolerates Keith's presence at home and his current limbo state, grandmother Ladybug (Lynn Cohen) insists on dispensing loving wisdom, whether Keith will listen or not.
Determined to live a straight new life, Keith displays a patient, painstakingly well-mannered demeanour, but it's clear that he's suppressing intense anger – and a series of run-ins with Aaron are the trigger for him losing his cool. As Keith gradually lapses into old dangerous habits, the film takes a shift into more recognisable crime territory – echoes of the underworld depictions of The Wire or Breaking Bad - when Keith visits local gang supremo Mom. This white-clad pseudo-priestly figure dispenses verbose philosophical lore in a scene that briefly threatens to send the film spinning off its axis, although Michael Rogers gives a performance of mesmerisingly creepy weirdness (there's no explicit reference to white supremacism, but there are certainly fascistic overtones to Mom's rhetoric of nobility).
The episodic narrative essentially shows Keith tested by a series of emotionally charged encounters, including a tryst with a stripper, a tentative spark with arty student girl Aurora (Maya Martinez) and reunions with his sister (Marin Ireland), niece and beloved dog. Jim Belushi largely stays in the background as a terse, scowling patriarch, but comes into his own – revealing Carol's real tenderness towards his son – in a terrific two-hander scene with Beetz.
As for Lombardi, whose blue-eyed wolfishness lies somewhere between French art hunk Nicolas Duvauchelle and a young, skeletal Daniel Craig, he's extremely watchable if sometimes enigmatically impassive, one of his most potent modes of expression being his tensed walk. His Keith emerges potently as a nervy, energetic survivor, notably in a scene in which he stages what can only be called a daring escape – something you don't often see in a Porterfield film. Otherwise, Lombardi's moody blankness plays well in a film that suspends its hero's fate teasingly, even while the end credits roll.
Production companies: Hamilton Film Group, Le Bureau, Ouverture Films, Ike No Koi, Dreamalliance Entertainment
International sales: The Bureau Sales, sales@lebureaufilms.com
Producers: Eric Bannat, Alexandra Byer, Gabrielle Dumon, Jordan Mintzer, Ryan Zacarias
Executive producers: Nancy Dwyer, Jack Dwyer, Wally Hall, Le Tong, Eric Franklin, Alexandro Bell
Screenplay: Matt Porterfield
Cinematography: Shabier Kirchner
Production design: Sara K. White
Editor: Marc Vives
Main cast: McCaul Lombardi, Jim Belushi, Zazie Beetz, Tom Guiry, Marin Ireland