Jim Carrey ups the ante in this long-awaited family film based on the beloved Sega game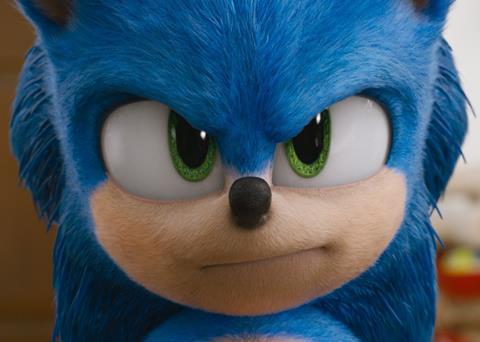 Dir: Jeff Fowler. US. 2020. 99mins.
The mildly-entertaining Sonic The Hedgehog is, ironically, most weighed down by its speedy protagonist. James Marsden and Jim Carrey make for an enjoyable supporting cast, but Sonic himself (voiced by Ben Schwartz) proves to be an overbearing, cynically conceived creation — in the leap from video game to franchise hopeful, he's undone by Hollywood assumptions about what children find funny. Despite some sweetness and playful absurdity, this big-screen outing feels mostly like derivative, fussed-over product.
Sonic is either achingly hip or cloyingly naïve, depending on what the script requires.
Opening February 14 in the UK (to coincide with half-term holidays) and the US, Paramount's action-comedy will target family audiences fresh from Dolittle and the Jumanji sequel. Carrey's box office appeal (although diminished in recent years) could help, as will familiarity with the Sega game. But the film — delayed after vociferous online criticism of the way animators had designed Sonic, who was initially given more creepily humanlike characteristics — may not be the smash hit the studio needs to justify sequels.
Sonic is an alien who has landed on Earth after being hunted on another world because of his powers (he's capable of creating tremendous amounts of energy and is super-fast). But after a decade spent in seclusion in gorgeous rural Montana, he finally risks interacting with a human: kindly local cop Tom (Marsden), who dreams of doing some real police-work in the big city. Although Tom is initially freaked out by this talking critter, they soon have to go on the run when a maniacal scientist, Dr. Robotnik (Carrey), becomes obsessed with tracking down the extra-terrestrial so he can dissect him in his lab.
For those not familiar with the nearly 30 year-old Sega property, the Sonic we meet in the film is an adorable-looking blue creature with big, expressive eyes and an impish streak. Unfortunately, as conceived by director Jeff Fowler (making his feature debut) and writers Pat Casey and Josh Miller, he's also a receptacle for lazy, pop-culture-heavy punch lines.
Schwartz, an Emmy-winning stand-up comedian, actor and writer, can't do much with Sonic's tiresome assortment of pseudo-zeitgeist-y allusions and smart-alecky asides. Frustratingly, the movie doesn't even follow its own internal logic for the character: Sonic is well-versed in corporate entities such as Amazon and Olive Garden, and seems to possess a sophisticated sense of how Earthlings behave from watching movies and TV shows, and yet he has no idea what a bucket list is or exactly what Tom's job as a cop is. The character is either achingly hip or cloyingly naïve, depending on what the script requires.
As a result, Sonic The Hedgehog is one of the rare family films in which the central character is the least interesting. Fowler (who was Oscar-nominated for his animated short Gopher Broke) tries to wring some comedy out of the road-trip hijinks that ensue when the mismatched Sonic and Tom head west to find special rings that will teleport Sonic to a new planet where he'll be safe. But much of the humour actually comes from Marsden, a solid straight man slowly being driven crazy by his companion's impudent shenanigans. The actor doesn't have consistently great lines — the dialogue is frequently dumbed-down, not trusting the intelligence of its young audience — but his ability to convey Tom's growing frustration generates laughs.
Likewise, Carrey is fairly delightful as Robotnik, whose oversized, ridiculously curly moustache is just one indication of his eccentric personality. The performance is a bit of a throwback to the actor's roles from the 1990s — the elastic Ace Ventura, the conniving villainy of the Riddler — but even if it's familiar, Carrey's witty portrayal of this condescending, foolish super-genius keeps things breezy.
Sonic The Hedgehog features obligatory action scenes, none particularly memorable. (Fowler copies the recent X-Men films, which included clever slow-motion sequences starring Quicksilver, who moves so fast that he can make the ordinary world feel like it's standing still.) Predictably, Tom and Sonic will bond during their odyssey, while at the same time learning some life lessons about the importance of appreciating what you have. The film projects enough benign cheerfulness that the experience is never unpleasant, but one can't help but feel the filmmakers' strain in crafting a sly action-comedy for audiences expecting over-the-top spectacle and nonstop quips. Sadly, Sonic isn't swift enough to deliver.
Production companies: Original Film, Marza Animation Planet, Blur Studio
Worldwide distribution: Paramount
Producers: Neal H. Moritz, Toby Ascher, Toru Nakahara, Takeshi Ito
Screenplay: Pat Casey & Josh Miller, based on the Sega video game
Production design: Sean Haworth
Editing: Stacey Schroeder, Debra Neil-Fisher
Cinematography: Stephen F. Windon
Music: Tom Holkenborg
Main cast: James Marsden, Ben Schwartz, Tika Sumpter, Natasha Rothwell, Adam Pally, Neal McDonough, Jim Carrey