Working again with writer Paul Laverty, Ken Loach delivers one of his best films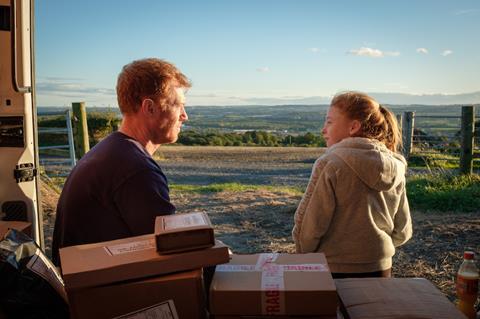 Dir: Ken Loach. UK/Fr/Bel. 2019. 100mins.
Political passion and human compassion burn bright Ken Loach's Sorry We Missed You, an angry skewering of today's gig economy as well as a moving drama about a loving family on the verge of implosion which is easily is one of Loach's very best films. It stands as a glowing tribute to the director's long-standing working relationship with scriptwriter Paul Laverty, and a masterful example of how to spark empathy via a cast of non-professional actors.
It's in the quiet observation of a frayed couple of working parents and their two children that Loach's latest achieves real, nuanced emotional engagement.
Like I, Daniel Blake, Sorry We Missed You is set in the not exactly booming city of Newcastle in England's north-east, and it shares that Cannes Palme d'Or winner's concern with the way ordinary, decent peoples' lives are jeopardised by a system that has outsourced care and built indifference into the very software that runs it. Loach and Laverty have been occasionally strident in their support for their underdog heroes in the past; even the fine I, Daniel Blake was not immune to that fault. That's not the case here. This is a film about family dynamics as much as it is about what we sacrifice as a society for the convenience of next-day Amazon deliveries. And it's in the quiet observation of a frayed couple of working parents and their two children that Loach's latest achieves real, nuanced emotional engagement.
The family lives in cramped rented accommodation in a dilapidated terraced house. Abby (Debbie Honeywood) is a carer, paying house visits to the old and infirm, working on a zero-hours contract that factors in no extra time or pay for emergencies or small acts of kindness. Former builder Ricky (played by self-employed plumber and part-time actor Kris Hitchen) has just, when we meet him, made the leap into the gig economy by getting himself a van the family can't really afford and becoming a 'freelance' parcel delivery driver, working out of a depot run by the hard-as-nails Maloney (Ross Brewster).
When money is so tight, everything has a knock-on effect. Ricky paid for the van by selling Abby's car. This means she has to take the bus between what the social-service agency insists on calling her 'clients'. Ricky himself is a slave to delivery schedules and the hand-held scanners that monitor not just the packages he delivers but his own punctuality. As a result, both parents leave the house early and get home late, and most of their parenting has to be done long-distance, over the phone, just at a time when Seb (Rhys Stone) is kicking against authority, skipping school, hanging with a graffiti crew and shoplifting spray-paint canisters. Though she's the youngest and the most vulnerable, it's Liza Jae (an astonishingly natural performance by Katie Proctor) who is the peacekeeper of the family and its emotional bedrock.
Loach's trick of shooting in sequence and keeping key plot twists from his actors is well known, and well used here. If there's a big scene in his latest to set against the devastating 'food bank' sequence from I, Daniel Blake, it's one where the normally calm Abby blows up in a hospital waiting room. But there's plenty of humour in the mix too, and it's smaller, less obvious moments that steal the show – like the entirely unexpected way in which a policeman's cautioning of Seb becomes a passionate sermon about life choices. There's nuance too in the film's critique of technology: Seb's iPhone, as his mum points out, can be used like a paintbrush as opposed to working like a cage.
Ricky's job serves to sketch in, for the audience, a city of grim concrete flyovers, council flats, empty lots and Victorian terraces, but there are moments of urban beauty in a tough film that is strangely suffused with light thanks to Robbie Ryan's photography, even when he's forced to find tight angles in the family home. Loach even allows himself the rare indulgence of a soundtrack by established British composer George Fenton (The Blue Planet), which is kept in tight emotional check until the final ten minutes.
Production companies: Sixteen Films, Why Not Productions, Les Films du Fleuve
International sales: Wild Bunch, ediederix@wildbunch.eu
Producer: Rebecca O'Brien
Screenplay: Paul Laverty
Production design: Fergus Clegg
Editing: Jonathan Morris
Cinematography: Robbie Ryan
Music: George Fenton
Main cast: Kris Hitchen, Debbie Honeywood, Rhys Stone, Katie Proctor, Ross Brewster