Dir. Zhang Yang, China, 2016, 142 minutes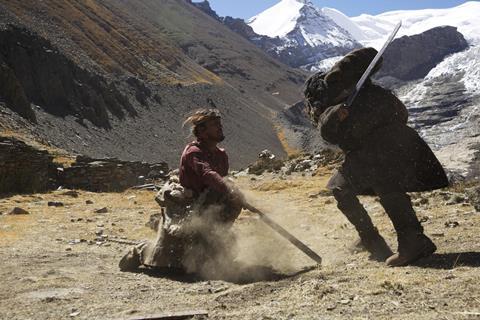 In Soul on a String, directed by Zhang Yang, a brooding loner treks through the Tibetan landscape to find a resting place for a sacred object that he carries on a string. In the tradition of the American western genre which is one of the film's inspirations, some killers are determined to get him before he gets there.
The landscape of Tibet; has rarely looked so striking. It reminds you why the Tibetans are so attached to their land.
This panoramic film – for once the adjective is absolutely precise – won the cinematography award at the 2016 Shanghai Film Festival and Soul on a String is visually stunning. It shares a high elevation and the spirit of revenge with The Revenant, and its heroine played by Quni Ciren has an irresistible appeal, but this Tibetan-language epic will be a hard sell beyond festivals and specialised audiences. Those who find their way to it will see breathtaking surroundings that shape the film's drama.
At the drama's core – or leading its uphill narrative trail – is Tabei (Kimba), a self-described sinner carrying a sacred stone to cleanse himself of sin at the end of his journey. Tabei doesn't want company, but Chung (Quni Ciren) attaches herself to him, ending up pregnant after she shares his bed. Also along for the ride is diminutive Pu, who can't speak but communicates with high-pitched squeaks and a guitar-like instrument, all serving a mood of magic realism.
The film's central pilgrimage plot, which shifts in and out of the present, has plenty of appendages. Two brothers trail Tabei to avenge the killing of their father. They are so ardently vengeful that they kill another man named Tabei who had nothing to do with the crime. That mistaken killing, the butt of a few jokes, gives you a feel for the film's humor.
Also on the trail are two more brothers, and a solitary traveller, Gedan, with a dog called General who lightens the mood from time to time.
The large cast of Soul on a String may confuse those who watch the film without full concentration, but the ensemble brings variety and personalities to a long hike through the landscape – the film runs almost two and a half hours.
As Tabei, Kimba is as trail-hardened as any Western cowboy, and the weak pressures of political correctness in China make it easy to lock him and Quni Ciren into the conventional warrior and camp cook roles. Ciren brings a hard-bitten humor to the role of Chung, and looks radiant when a scene calls for a campfire, even she's wearing filthy animal skins.
Secondary characters don't go much beyond the one- dimensional, a description that could just as easily fit most westerns.
Zhang, who adapted the script with the writer Tashi Dawa (a half-Tibetan writing in Chinese) from several of Tashi Dawa's stories, focuses on Tibetan folklore and honour codes more than on the local Buddhism and history. In this tale of violent revenge, he avoids the high-flying martial art balletics of so many Chinese period dramas. The fight that provides the film's crescendo is downright crude, and seems deliberately so.
Some critics on blogs with a Tibetan nationalist bent have faulted the film for a Chinese prejudice – Zhang is Chinese and Tashi Dawa is half Chinese. If so, this is more by omission than commission, using majestic settings to tell conventional stories of sin and the pursuit of forgiveness in a region with a more urgent political tale to tell.
That criticism could still undermine the film's chances for an audience outside China. The public in North America and Europe that is interested in Tibet tends to look favourably on the Dalai Lama and Tibetan autonomy. That informed audience might just skip this one.That said, the landscape of Tibet, though the lens of DP Guo Daming has rarely looked so striking. It reminds you why the Tibetans are so attached to their land.
Production companies: Helichenguang International Culture Media (Beijing) Co.,Ltd., LeTV Pictures (Tianjin) Co.,Ltd., Le Shi Internet Information & Technology Corp., Beijing Yunnan Shang Li Culture Communication Co.,Ltd., Horgos Helichenguang Film Produce Co.,Ltd., Shanghai He Li Television Media Co.,Ltd., MaiSong Film Investment (Beijing) Co.,Ltd.
International sales: Asian Shadows contact@chineseshadows.com
Producers: Li Li, Zhang Yang
Executive producers: Li Li, Zhang Zhao, Gao Fei, Yu Rongcai
Screenplay: Tashi Dawa, Zhang Yang
Cinematography: Guo Daming
Editor: Yang Hongyu
Production Designer Suen Li
Composer Zhang Jian
Main cast: Kimba, Quni Ciren, Siano Dudiom Zahi , Solange Nima