Dirs: Jerry Rothwell, Reuben Atlas. US/UK/France. 2016. 86 mins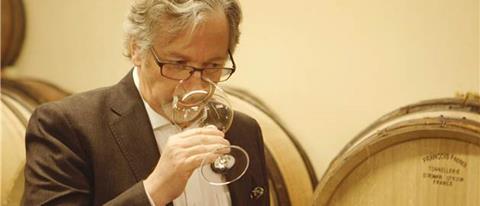 In recent decades, wine has become the investor's best friend. Forget gold, art or jewels, there is more profit in a Petrus than a Picasso. America's taste for fine wine at status symbol prices boomed during the years of giddy stock market highs and multi-million dollar bonuses, and the lure of great profits inevitably attracted the opportunistic and unscrupulous. Jerry Rothwell and Reuben Atlas's splendidly-titled documentary Sour Grapes unravels the tale of a charming man who fooled most of the people most of the time with his very expensive counterfeit wines.
The narrative has the tang of an Elmore Leonard novel as it pieces together Rudy Kurniawan's story.
The story of Rudy Kurniawan feels like a page-turner of a novel filled with memorable characters, jaw-dropping revelations, insights into the folly of unfettered wealth, noble heroes and an intriguing, resourceful central figure who never entirely surrenders our sympathy. Rothwell and Atlas are smart enough to realise they have a great story on their hands and run with it, playing their cards with aplomb, knowing just the right of information to feed the viewer and just what to withhold for maximum impact. The result is an approachable, entertaining documentary with the jaunty manner of a slick caper and an appeal that stretches far beyond the connoisseur. Commercial prospects are full bodied.
Sour Grapes concisely sketches the backdrop to the fine wine boom as a symbol of American excess. Novelist and wine writer Jay McInerney notes the rise of a (largely white, male and wealthy) culture, willing to spend thousands of dollars on a single bottle of a rare vintage or congregate together to drink $100,000 worth of wine in a single evening. Indonesian Rudy Kurniawan was the perfect man for the times. Described by an FBI agent as a "Generation X Great Gatsby", Kurniawan was thought to be independently wealthy and bought wine in a reckless way that sent prices soaring. He had a excellent palette and an affable manner that allowed him to befriend California big hitters including Rush Hour producer Arthur Sarkissian and television director Jef Levy. Even now, both men can barely comprehend that their drinking companion and good friend was a crook.
The narrative has the tang of an Elmore Leonard novel as it pieces together Kurniawan's story. When billionaire collector Bill Koch paid $100,000 a bottle for counterfeit Kurniawan wine, he had the resources and the motive to bring him to justice. French winemaker Laurent Ponsot also realised that Kurniawan was selling vintage burgundies that couldn't possibly exist. Throughout, there is a constant sense of the tensions between the Americans and the tradition and authenticity embodied by French winemakers. The scenes in Burgundy are all misty mornings, gnarled vines and workers in fields that have been family owned for more than two centuries. By contrast, America is the land of dodgy wine auctions, conspicuous consumption and brazen fakes.
The film nicely skewers the pretensions and pomposity of an elitist wine culture from the purple prose descriptions of the complex layering of flavours in fine wines to the ill-informed individuals prepared to equate price with quality. There is more than a hint of the emperor's new clothes about many of the transactions.
Rothwell and Atlas failed to secure an interview with Kurniawan but there is so much footage of him that it never feels like an omission. They have assembled a wide-range of talking heads from wine experts to journalists, collectors and private detectives, who are all good value, but the priceless moments come from Kurniawan's utterly shameless defense lawyers as they attempt to excuse his multi-million dollar fraud.
Sour Grapes winds up telling a complicated story with clarity, commendable economy and good humour making it a very quaffable proposition.
Production companies: MET Film, Faites Un Voeu
International sales: Dogwoof vesna@dogwoof.com
Producers: Al Morrow, Catherine Simeon
Cinematography:Simon Fanthorpe, Jerry Rothwell, Frank Larson, Jean-Michel Dury, Jerome Huguenim-Virchaux
Editor: James Scott
Music: Lionel Corsini ( aka DJ Oil)