Dir/scr: Richard Tanne. US. 2016. 80mins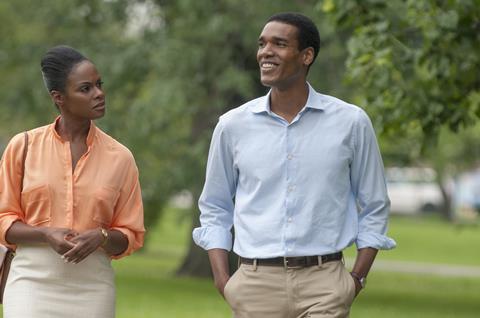 An origin story of sorts that dramatises the beginning of Barack and Michelle Obama's relationship, Southside With You is an affectionate look at two young people on their first date, unaware of what history has in store for them. To be sure, first-time feature filmmaker Richard Tanne's dialogue-heavy movie is really only engaging because it's about the future President and First Lady of the United States, but that ends up being the point: this fictionalized reimagining seeks to remind viewers that, not that long ago, they were just two young people with their whole lives stretching out in front of them.
Though sometimes achingly on-the-nose in its attempts to foreshadow these characters' destiny, Southside With You radiates enough wistful charm to overcome the well-meaning earnestness.
Screening in Sundance's US Dramatic competition, the film will surely be a lightning rod for political commentators, especially in a presidential election year in the United States. Expect responses to break down by party lines — Republicans will probably be a lot less enamoured than their Democratic brethren — but beyond that, the fact that the movie has no stars and is very modestly scaled will mean a limited commercial visibility. (And it's hard to say if there would be significant viewer interest outside of the US.) However, a keen domestic distributor would do well to angle Southside With You as a Before Sunrise-like gabfest starring the Obamas.
Parker Sawyers plays Barack, who, in the summer of 1989 is a temporary associate at a Chicago law firm. He has asked one of the firm's lawyers, Michelle (Tika Sumpter), to hang out with him on a weekend afternoon. Insistent that it's not a date — technically, she's supposed to be mentoring him at the firm — Michelle spends the day and part of the evening with this endearing, slightly cocky young man.
It's pretty clear from the outset that Southside With You will be a favourable depiction of the Obamas, and Tanne (who also wrote the screenplay) can sometimes overdo the expositional dialogue that offers obvious peeks into these two people's back stories while also providing hints of the political figures they will become. The movie gets away with this a little, however, simply because Barack and Michelle are getting to know one another over this day, and a first date can naturally lead to conversations about one's past and aspirations.
Still, Southside With You is better when it's not trying to analyse its characters but, instead, strip away their legend to reveal these young people as they were when they went on this date. (She was 25; he was 27.) The movie doesn't pretend to be a precise recounting of the date — although some now-famous particulars, such as the fact that they saw Do The Right Thing that night, are included — and this frees Tanne and his cast to look at Barack and Michelle as individuals struggling with office politics, racism, sexism and the usual uncertainties that visit bright, ambitious twentysomethings.
Both actors bear a striking resemblance to their real-life counterparts. (Sawyers mimics Obama's toothy grin, while Sumpter channels Michelle's mixture of sexiness and seriousness, and she has the same intense stare as the future First Lady.) But there's a noticeable self-consciousness to the performances, as if these actors felt the weight of playing such famous people.
Southside With You has a winning lightness during several of the movie's conversations — a debate about whether Innervisions or Talking Book is the superior Stevie Wonder album, for instance — but the film (for better and for worse) never stops being awed by the realisation that we're eavesdropping on the first date between the President and the First Lady.
Despite its limitations, Southside With You represents a clever, more rewarding way to do a biopic than the typical cradle-to-grave treatment: By focusing on one pivotal day in these people's lives, Tanne asks us to consider all the cultural and personal factors that brought them together. Southside With You won't change anyone's opinion about this president or his wife, and it's not meant to. But by aiming to humanise them, Tanne succeeds in suggesting the core decency that would lead them to great things.
At a time when American politics are so fractious, this film's simple graciousness can feel a bit like a tonic.
Production companies: IM Global, Fermion Films, Get Lifted Film Company
Worldwide sales: WME, sracanelli@wmeentertainment.com; and IM Global, sales@imglobalfilm.com
Producers: Robert Teitel, Tika Sumpter, Richard Tanne
Executive producers: Stuart Ford, Matt Jackson, Glendon Palmer, John Legend, Mike Jackson, Carrie Holt De Lama, Tracey Bing
Cinematography: Patrick Scola
Production design: Lucio Seixas
Editor: Evan Schiff
Music: Stephen James Taylor
Main Cast: Tika Sumpter, Parker Sawyers, Vanessa Bell Calloway