Dir. Bavo Defurne. Belgium-France-Luxembourg, 2016, 90 minutes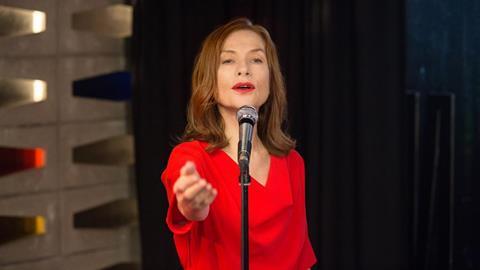 Following memorable turns already this year as a philosophy lecturer in Mia Hansen-Løve's Things to Come and as a videogame company CEO in Paul Verhoeven's Elle, arthouse superstar Isabelle Huppert rounds out a banner 2016 with a delicately heart-tugging performance as a briefly famous pop singer in Bavo Defurne's May-September romance Souvenir. Box office should advance from the Belgian writer-director's modest 2011 feature debut North Sea Texas when this bitter-sweet comeback tale begins its international rollout in France in December, following its current festival run.
Souvenir stays sweetly on track by keeping its feet on the ground, while somehow never exactly daring to soar to the heights.
The film initially gives no hints of protagonist Liliane's glamorous past. She works at a pâté factory by day, returning to her solitary home life where she watches TV quiz shows, medicated with generous pourings of her favourite aperitif. That all changes when a temporary worker at the factory – aspiring professional lightweight boxer Jean (Kévin Azaïs) – immediately recognises her as Laura, the singing star who long ago came runner-up at the Eurovision Song Contest with her song Souvenir, then crashed and burned after splitting up with the husband who was also her composer, manager, producer and accountant. (Eurovision fans will note that since Laura lost 30 years ago to ABBA, the events of this film are set in 2004.)
Jean, 22, has inherited an appreciation of Laura from his parents, and he eventually wears down her reluctance to perform her old hit at a charity fundraiser for the boxing gym where he trains. Considering Liliane initially denies even being Laura, that's a big advance, nourished by a burgeoning mutual affection between the seemingly unlikely pair. Wisely, Defurne gives the audience plenty of time to adjust to this romantic development, throwing in a few early pitfalls to burnish rooting interest. Casting is also key: young Azaïs has an old-soul quality, and a tender machismo that's appealingly retro. (The Les Combattants actor also stars in the upcoming festival title A Tase of Ink).
While Huppert fans will enjoy seeing her sing the compositions of lounge music pianist Thomas Lauderdale, main man of Portland, Oregon combo Pink Martini, some may ponder that her rather sombre past hit Souvenir doesn't feel very plausibly Eurovision. Laura's return to the limelight with a new song composed by her ex-husband Tony (Johan Leysen) introduces us to the insanely catchy number Jolie Garçon ("Arms of concrete/ I say yes/ Heart of candy/ I say yes"), a thematically apt, suitably perky Lauderdale ditty that comes with its own memorable hand choreography. Drag artists of the world, take note.
Keeping the story grounded in the real-life emotions of his characters, Defurne resists the stylisation that a Baz Luhrmann or Pedro Almodóvar might bring to this material – eschewing, for example, a fantasy transformation of mise-en-scène when Laura sings. Production design is kept rooted firmly in a fairly workaday Ostend milieu, flourishing principally for the lavish house belonging to Tony, with his vast, arc-shaped red leather sofa and revolving drinks table. Huppert's stagewear, designed by Belgian stylist Johanne Riss, is similarly restrained – at least relative to the typical Eurovision aesthetic. It all adds up to a film that stays sweetly on track by keeping its feet on the ground, while somehow never exactly daring to soar to the heights.
Production companies: Bonjour Pictures, Frakas Productions, Deal Productions, Avenue B Productions
International sales: Pathe International, sales@patheinternational.com
Producer: Yves Verbraeken
Screenplay: Bavo Defurne, Yves Verbraeken, Jacques Boon
Cinematography: Philippe Guilbert
Editor: Sophie Vercruysse
Production design: André Fonsny
Music: Thomas Lauderdale and Pink Martini
Main cast: Isabelle Huppert, Kévin Azaïs, Johan Leysen, Benjamin Boutboul, Jan Jammenecker, Anne Brione, Carlo Ferrante