Mathieu Kassovitz squares up to the role of an ageing boxer who will take any punishment to provide for his family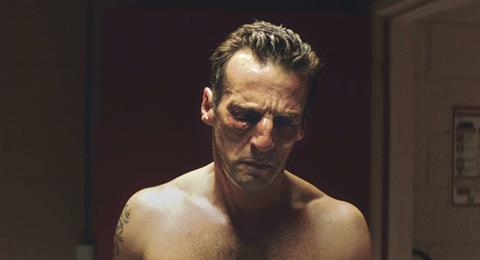 Dir: Samuel Jouy. France. 2017. 95 mins
In boxing movie terms, Sparring is closer to The Champ than Raging Bull. The fighter here (Mathieu Kassovitz) is middle-aged and over the hill but is still prepared to take all the punishment that life has to offer in order to better his family. A minor but pleasing directorial debut from Samuel Jouy, the film offers neither the gritty realism of an indie venture nor the crowd-pleasing bombast of a Rocky and thus could struggle to define its commercial position in the market.
The director's greatest strength may lie in what he achieves with a well-chosen cast
Steve Landry (Kassovitz) is 45 and nearing the end of an inglorious boxing career. He was never considered a contender and his record speaks for itself; 49 matches, 13 wins, three draws and 33 losses. He is such an insignificant figure that he is even unrecognised by the security guards at the venue where he has just lost his latest match.
Devoted to his wife Marion (Olivia Merilahti) and two children, Landry will consider anything that puts bread on the table and provide the finance that could nurture the potential of daughter Aurore (Billie Blain), a grade A student and promising pianist. That's why he accepts a lucrative offer to become a sparring partner for Tarek M'Bareck (Souleymane M'Baye), a boxing champion on the comeback trail. His job is to absorb all the blows that are thrown at him - but then, that is what he has been doing all his life.
Sparring ducks and weaves its way around the familiar cliches of the boxing drama, keeping everything low-key and understated. Jouy seems so determined to underplay the story, and avoid any accusation of melodrama, that he seems prepared to sacrifice the chance of delivering a knockout blow to the emotions. This is not a requiem for a middleweight, but a nod of respect to a stoical professional who understands his place in the hierarchy of the game.
On paper, the lean, fifty year-old Kassovitz seems as likely a screen boxer as Woody Allen when he exchanged fisticuffs with a kangaroo on 1960s television. Yet the actor has clearly trained hard to be in shape, acquits himself well in the ring and adopts all the small mannerisms of a man accustomed to broken bones and aching joints. He is constantly touching his nose or clearing a nostril and the make-up department does a great job with all the puffed up flesh, cuts and bruises that come with the day job.
The best scenes in the film are the ones that build emotional relationships, whether it is Landry's affectionate bond with his daughter or the growing respect between Landry and grandstanding boxer Tarek M'Bareck - even as the latter feels obliged to humiliate him during a bout of public sparring.
Samuel Jouy makes a confident directing debut, achieving a smooth flowing narrative and using the camera in ways that pull the viewer into the intimacy of the fight scenes. His greatest strength may lie in what he achieves with a well-chosen cast. Former WBA super lightweight champion Souleymane M'Baye comes across as a screen natural and there is a great rapport between Kassovitz and Billie Blain as his sensitive, tomboyish daughter. Singer Olivia Merilahti is impressive in her acting debut and contributes a haunting electronic score that contrasts with other soundtrack choices which range from Chopin to The Killers.
Ending on a quiet note of triumph, Sparring pays tribute to a litany of real-life losers who remained dedicated to a boxing career against all the evidence that their talent might lie elsewhere. It is an appropriate final touch to a film that modestly celebrates the underdog.
Production companies: Unité de Production, Europacorp
International sales: Europacorp contact@europacorp.com
Producer: Bruno Nahon
Screenplay: Samuel Jouy, Clement Roussier, Jeremie Guez
Cinematography: Romain Carcanade
Editor: Tina Baz
Production design: Frederic Doublet
Music: Olivia Merilahti
Main Cast: Mathieu Kassovitz, Olivia Merilahti, Souleymane M'Baye