Dir. Sam Mendes. UK, 2015, 148 mins.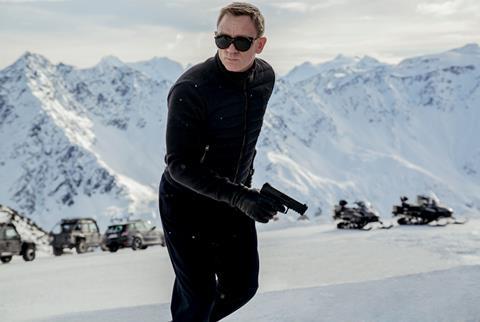 James Bond rediscovers an old nemesis in SPECTRE and, in the process, falls back on the formula to deliver a slightly flat, old-fashioned 007 by the numbers. After the emotional catharsis of 2012's Skyfall – which also released a global box office haul of $1.1bn - Daniel Craig zips up an ever-tighter suit for his fourth outing as the British secret agent with a licence to kill and puts his sports car on cruise control for director Sam Mendes. Bond has seen it all before, this team has done it all before, and the production juggernaut hits every beat with a carefully calibrated precision which can be deeply satisfying but also risks coming across as rote.
Mendes isn't afraid to hurl every trick in the Bond book onscreen to remind us why we love 007.
Opening in the UK on October 26 with the US coming on stream on November 6, SPECTRE can count on an enormous global fanbase, and it delivers audiences a 24th instalment in the franchise which risks nothing: in terms of the series trajectory, SPECTRE is a place-holder. Extravagant locations and stunts, glowing Bond girls, excessive running time, an absurdly extended plot (involving digital surveillance) – they're all here, along with a beguiling Euro-villain in Christoph Waltz, a white fluffy cat, ticking clocks, exploding watches and mute, over-sized henchmen who simply won't stay down.
Mendes isn't afraid to hurl every trick in the Bond book onscreen to remind us why we love 007. Yet matching the emotional intensity of Skyfall was always a tall order, and this Bond relies more on the series iconography for its forward momentum.
SPECTRE's lavish haul of glossy locations kicks off with an immersive pre-credit sequence at the Day of the Dead parade in Mexico City that culminates over the Zocolo in the first of the film's several dizzying helicopter stunts. This leads our hero to Rome, the Austrian Alps, Tangier, the Sahara, and, ultimately, a landmark-filled London by night, as he unravels a complex criminal surveillance network, an eye-in-the-sky challenge for MI5's 'dinosaur' in the digital age (or 'kite in a storm', as Bond is elegantly described).
The plot, which is unveiled langorously and episodically, involves the 00 programme coming under threat from a merger between MI5 and MI6 (headed by Andrew Scott) as Bond goes on an unauthorised personal mission to track down his old nemesis Mr White (Jesper Christensen) who, in turn, leads the secret agent to SPECTRE. And as the first words to flit across SPECTRE's screen read 'the dead are alive', and the film's trailers have enthusiastically revealed the presence of Christoph Walz in the production, it's perhaps no surprise to find out that he's the SPECTRE master puppeteer Franz Oberhauser, the Moriarty behind Bond's recent calamities
Without Judi Dench's M, the Bond ladies are reduced somewhat. 007 interludes this time around include a cursory, slightly glum fling with Monica Bellucci and a more substantial relationship with Lea Seydoux, who breathes life into her scenes. Supporting characters returning for Bond 24 include Naomie Harris as a disappointingly desk-bound Moneypenny, the newly-installed Ralph Fiennes as M and Ben Whisaw as Q, and the team works well together.
Yet even though all the classic Bond ingredients are in the SPECTRE mix, Mendes and his returning scribes (Jez Butterworth is added to the mix) tend to frantically over-stuff the film with franchise staples. With every episode, James Bond's bad-boy irony and unpredictability seem to be leeching out of the series,, and the film suffers from a Dench-sized hole where Skyfall's genuine emotion once lay. The knowing playfulness of Daniel Craig emerging from the surf seems to have long gone, along with the blisteringly non-PC names – Seydoux is a rather Proustian Madeleine Swann, while Bellucci's Lucia Scarria is, in all senses, no Pussy Galore. Ralph Fiennes is awarded a few funny lines, but Craig's Bond is an increasingly serious creature. Reports suggest this may be his last outing.
Physically, Mendes and his production have reimagined the SPECTRE criminal gang for 2015 and it's one of the production's more successful elements. From the tentacled opening credits to the wistfully dramatic Sam Smith song 'The Writing's On The Wall', SPECTRE makes the most of the shadowy organisation which was last seen in 1971's Diamonds Are Forever and has since become an international corporate power.
Cinematographer Hoyte Van Hoytema (Interstellar) joins the Bond gang to present some interesting visuals in a strong amber palette, although Bond 24's shooting style seems, more than Roger Deakins' stylish Skyfall, dictated by the gleeful ambitiousness of its action. These sequences, yet again, hit all the Bond highs, including an extended fight on a train and a snowbound chase sequence. Working out the logistics of the central London night shoot alone would have satisfied most productions, not to mention the Mexico and Austrian sequences, which come complete with a wingless bi-plane.
Returning for the third time, production designer Dennis Gassner again impresses. While all of the location work is distinguished, the desert headquarters of SPECTRE, built in a meteorite crater, will bring a fond smile to those who remember Ken Adam's extravagant volcano creation for 1967's You Only Live Twice, shot at Pinewood, like much of SPECTRE. As with most Bond films, the interior sets have a tendency to look fairly set-like, but that's admittedly part of the fun. Gadget fans will be disappointed with Bond's meagre haul this time around, noting that the Aston Martin DB10, created for the film, is a concept car and unavailable on the open market.
Production company: EON Productions
Contact: Sony Pictures
Producers: Michael G. Wilson, Barbara Broccoli
Executive producer: Callum McDougall
Screenplay: John Logan, Neal Purvis, Robert Wade, Jez Butterworth
Cinematography: Hoyte Van Hoytema
Production designer: Dennis Gassner
Editor: Lee Smith
Costume designer: Jany Temime
Music: Thomas Newman
Main cast: Daniel Craig, Christoph Waltz, Lea Seydoux, Ben Whishaw, Naomie Harris, Dave Bautista, Monica Bellucci and Ralph Fiennes