Kristen Stewart brings her own magnetism to the role of Princess Diana during a lonely Christmas at Sandringham in Pablo Larrain's 'fable from a true tragedy'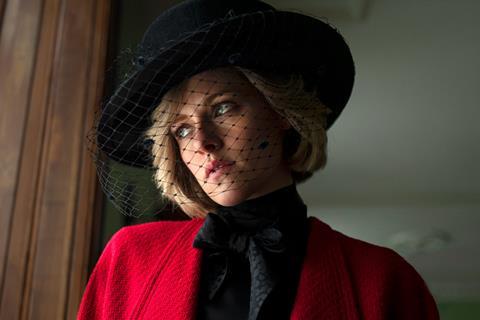 Dir. Pablo Larraín. Germany/UK. 2021. 111 mins.
Pablo Larraín's Venice competition entry Spencer could hardly have arrived with more poignant timing. Its themes are nothing if not current, given recent ructions in the British royal family, while the film premieres 24 years after the death of its subject Princess Diana in a car crash in Paris – literally on the eve of 1997's festival. Given its subject, the film will attract audiences from beyond the usual constituency of Chilean maestro Larraín, although some viewers may be startled to see quite how distant this art film is from the upmarket soap of TV's The Crown. A more than persuasive companion piece to Larraín's previous portrait of a female icon in crisis, 2016's Jackie, the film plays with and deconstructs the familiar repertoire of Diana myths and images, to offer an empathetic, intelligent insight into the prison of fame and privilege, with Kristen Stewart offering a lead performance that is brittle, tender, sometimes playful and not a little uncanny.
Spencer is bound to stand and fall on its central performance
Under the opening subtitle 'A Fable From a True Tragedy', screenwriter Steven Knight (Dirty Pretty Things, Locke, TV's Peaky Blinders) offers a tight scenario that doesn't aspire to broad biopic scope, but limits the action to three days over Christmas, ten years after Diana Spencer's marriage to Charles, Prince of Wales. She's first seen driving through wintry English countryside, solo in her sports car, en route to royal residence Sandringham, and stopping off at a roadside café to announce to amazed diners that she is completely lost. Clearly she means it figuratively as well as literally. Stopping off at the nearby house of her childhood to pick a ragged coat off a scarecrow – one of the many symbols woven through the film – she arrives late for festivities. They are overseen by Major Gregory (Timothy Spall), a royal equerry whose function is partly to monitor Diana's behaviour and make sure she observes protocol at a time when she is under fierce observation by the press.
Diana's experience over the next three days is depicted episodically. She spends much of her time alone, or in more or less hostile company, as we realise how harshly regimented her royal existence is: she is not only given a strict timetable for soul-crushing family meals, but her wardrobe is meticulously pre-arranged for her, with no room for dissent.
Her husband (Jack Farthing) is as painfully uptight as he has generally been painted, and Diana is only too aware that his affections lie elsewhere (there's a glance exchanged with a woman who is clearly meant to portray Camilla Parker-Bowles). Diana nevertheless ekes out the odd moment of intimacy and tenderness: with her sons (played by Jack Nielen and Freddie Spry, sparky and mature in their scenes with Stewart); with chef Darren (Sean Harris), who supervises his kitchen's 'brigade' with military precision; and above all, with her trusted dresser Maggie (Sally Hawkins), who understands Diana better than anyone.
As Diana endures the festivities in a place that's like a nightmarish prison for her – one sequence in the downstairs pantry even alludes visually to the palatial hell of The Shining – the fault lines begin to show in a psyche under perpetual pressure. We see her bulimia and her tendency to self-harm, while her reading about another unhappy royal bride, Anne Boleyn – a distant ancestor – sparks imaginings of the beheaded queen. Visions of Anne and her own childhood selves lead Diana to a moment of truth in her former home, cloaked in darkness and mist – a bold shift to an unexpectedly Gothic register.
This is the third of Larraín's biographical films, following Neruda and his Jackie Kennedy portrait Jackie, which similarly showed its subject as an isolated and misunderstood figure, wandering in a kingdom that is not her own (in Kennedy's case, the White House) and crushed by her own glamorous media image. Spencer is bound to stand and fall on its central performance - which brings unusual pressure, since Kristen Stewart must contend with a vast array of public preconceptions and the whole repertoire of now-mythical fashion pictures. Viewers can decide for themselves how Stewart's version compares with The Crown's much praised discovery Emma Corrin and her soon-to-be-seen successor Elizabeth Debicki. But Stewart brings her own magnetism to the role, as well as presumably drawing upon her own history of contending with obsessive fan and media attention.
Visually, she's made very convincingly Dianaesque by Wakana Yoshihara 's hair and make-up, and by Jacqueline Durran's varied and expressive recreation of the Diana fashion style (leaning a little heavily on Chanel). But above all, Stewart at once draws out her character's troubled fragility and a certain posh-girl loftiness – her line readings perhaps too much on one note, yet carrying a certain self-conscious theatricality that's perfect for the role of a woman trapped by the constant pressure to perform.
Other Royals are presented sparingly – Jack Farthing impressive as a ruefully stiff Charles, with the Queen (Stella Gonet) speaking only to offer a wry comment on image as 'currency'. Timothy Spall is terrific as Major Gregory, essentially Diana's Argos-eyed jailer, although not entirely an unsympathetic presence; while Sally Hawkins comes into her role at the end, as Maggie offers Diana a gift of sympathy and tenderness in a personal confession.
The camerawork, by Claire Mathon – who has recently collaborated with Céline Sciamma and Mati Diop – gives Sandringham's interiors and overdressed festive luxury a deceptive, overbearing warmth, its corridors forming a shifting labyrinth that evokes Diana's own inner torment, and contrasting with the wintry chill of the surrounding landscapes (the film was shot on location at various German location and in Norfolk). As for the music, Radiohead's Jonny Greenwood mixes mock-sentimental piano, austerely dissonant strings and throbbing passages overlaid by jazz saxophone. Given Diana's own musical tastes, she might have been horrified, although the film concludes with a burst of something more up her street, Mike & the Mechanics' 'All I Need is a Miracle' – signifying a moment of merciful freedom that is all the more painfully ironic in the light of subsequent history.
Production companies: Komplizen Film, Fabula, Shoebox Films
International sales: FilmNation Entertainment, info@filmnation.com
Producers: Juan De Dios Larraín, Jonas Dornbach, Paul Webster, Pablo Larraín, Janine Jackowski, Maren Ade
Screenplay: Steven Knight
Cinematography: Claire Mathon
Editor: Sebastián Sepulveda
Production design: Guy Hendrix Dyas
Music: Jonny Greenwood
Main cast: Kristen Stewart, Timothy Spall, Jack Farthing, Sean Harris, Sally Hawkins