Will Smith voices a feathered secret agent in the latest family friendly animation from Blue Sky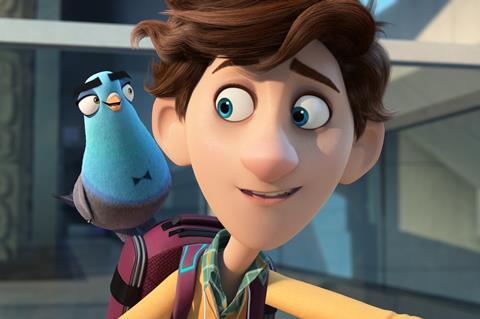 Dirs: Troy Quane, Nick Bruno. US. 2019. 102mins
While one shouldn't underestimate the pleasure of watching Will Smith play a perturbed pigeon, the animated spy actioner Spies In Disguise mostly recycles James Bond tropes for a duly sleek and disposable kids' adventure. As an arrogant lone-wolf agent who will learn that he actually needs other people after being transformed into a bird, Smith is immensely likeable, and this Blue Sky production is noticeably more muscular and visually sophisticated than the company's usual family-friendly fare such as The Peanut Movie (2015) and Ferdinand (2017). But neither the humour nor the script is particularly sharp, although younger viewers may not mind the slapstick simplicity.
Smith ensures that Lance's swagger and self-absorption are amusing rather than off-putting
Hitting theatres across the globe around Christmas, Spies In Disguise faces competition from Jumanji: The Next Level and The Rise Of Skywalker. (And Frozen 2 may still be going strong then, too.) Smith's star power, as well as that of fellow voice actor Tom Holland, will certainly help, but this Disney release could have a tough time breaking out.
Lance (voiced by Smith) is an elite American spy trying to stop super-villain Killian (Ben Mendelsohn), who has obtained a lethal drone for unknown purposes. But when Marcy (Rashida Jones), an Internal Affairs agent, accuses Lance of stealing the drone himself — they have video footage of Lance making off with the weapon, which he swears isn't him — this hotshot must go on the run, teaming up with a nerdy scientist, Walter (Holland), who believes he's perfected a formula that can make Lance disappear. Lance drinks the potion, unaware that it will turn him into a pigeon — a bird so common no one ever pays attention to it.
Inspired by the 2009 animated short Pigeon: Impossible, Spies In Disguise is a silly sendup of spy movies — as well as The Matrix, Men In Black and whatever else directors Troy Quane and Nick Bruno (making their feature debut) can think up. Elaborate gadgets, cool cars, globetrotting adventure, a bad guy with plans for world domination: this light-hearted film trots out every genre convention so it can be lovingly satirised.
Smith gets the tone just right for Lance, who proudly proclaims "I fly solo" — a clue to viewers that they can expect he'll discover the importance of teamwork by movie's end. (The story's rudimentary life lessons are clearly geared to tots as a way to supplement the broad physical comedy and hectic spectacle.) The Oscar-nominated actor ensures that Lance's swagger and self-absorption are amusing rather than off-putting, hinting at the insecurity underneath the bravado. And the odd-couple pairing between Lance and Walter leads to some clever scenes, with Holland believably playing a sweet geek — as he does as Spider-Man in the Marvel Cinematic Universe.
When Lance becomes a pigeon, the filmmakers have fun imagining the comic possibilities of this nightmarish scenario. As a bird, Lance's cocky strut suddenly looks ridiculous, and there are some fowl surprises in store for this freaked-out agent as Walter frantically works on an antidote. But Spies In Disguise doesn't have enough ingenuity after revealing its potentially rich premise, and soon the movie settles for predictable action beats and treacly emotional moments.
Probably best known for the Ice Age films, Blue Sky has never showcased the same risk-taking storytelling or groundbreaking animation that a company like Pixar has made its trademarks. And so, Spies In Disguise relies on glib pop-culture jokes mixed with the occasional bit of racy humour, and the character design and backgrounds tend to be competent rather than stunning.
That said, Quane and Bruno, no doubt recognizing that they're working in the spy genre, give the proceedings a slick, dynamic flair to properly echo Lance's high-tech world of espionage. Spies In Disguise sports a few arresting visuals, although as the film reaches its titanic showdown between good and evil, the action sequences start to drown in overkill. (Give credit to Mendelsohn, however, who essays another dependably evil character.)
Parents may appreciate the film's message about community — and, in Walter's case, embracing your adorably nerdy quirks — but Spies In Disguise rarely challenges its audience or reaches for true pathos. It's a spy spoof that's neither shaken nor stirred — it's mostly just safe.
Production company: Blue Sky Studios
Worldwide distribution: Disney
Producers: Peter Chernin, Jenno Topping, Michael J. Travers
Screenplay: Brad Copeland and Lloyd Taylor, screen story by Cindy Davis, inspired by the animated short film Pigeon: Impossible by Lucas Martell
Production design: Michael Knapp
Editing: Randy Trager, Christopher Campbell
Music: Theodore Shapiro
Main voice cast: Will Smith, Tom Holland, Rashida Jones, Ben Mendelsohn, Reba McEntire, Rachel Brosnahan, Karen Gillan, DJ Khaled, Masi Oka